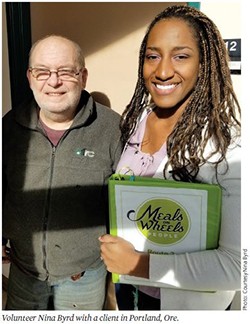 Meals on Wheels has been delivering food to homebound older adults across America since the 1950s. In our country, where 9.5 million older adults are threat­ened by hunger, one in four lives alone and one in five feels lonely, Meals on Wheels volun­teers are a lifeline to these peo­ple. Aging Today spoke with three Meals on Wheels delivery volunteers in October 2019, to discover why they choose to spend their spare time deliver­ing meals. For two of them, it's a lifetime call to service, for the other, it's a chance to help peo­ple who have no one else.
Nina Byrd: Lifelong Philan­thropy
Nina Byrd, 30, is a strategic consultant based out of Port­land, Ore., who comes from a philanthropic family that taught her the importance of engaging in one's community. She has been volunteering since she was 19 years old.
A self-described workaholic, Byrd says her hour and a half twice a month when she delivers for Meals on Wheels People is sacred—her work clients know she's unavailable for meetings during lunchtime on her volunteer days.
Why she does it: "Every­where I go, I encourage peo­ple to support Meals on Wheels, because life is pretty good when you have your ba­sic needs met; a place to live and food to eat," says Byrd.
Who she sees: "The typical clients have always been se­niors who live by themselves. Ninety-five percent of my se­niors are living independently, 70 percent are single men liv­ing in the downtown area. There are a significant num­ber of Vietnam veterans, which is great, because I get to show appreciation for their service … . Capturing their sto­ries from American history in person is so cool."
On bonding with clients: "Lloyd is a vet who reminds me of a family member, he's like a great uncle. He almost died a few times, but made remarkable recoveries in part due to regular visits from Meals on Wheels, and now, at 72, he's full of life. It's so enlivening to see someone like this getting a second chance at life."
"Morris would just yell as soon as he heard my heels, 'Is that Nina?' Then he'd run out and give me a hug, show me pictures of his grandkids, talk about the Portland Trailblazers and the weather, the whole deal."
Her most satisfying outcome: "What's most satisfying is knowing that I'm connected to real community. It's the way we humans lived for a long time, when young and old were together, inter­acting with each other. … They're happier when they see me and so am I. It's always better to give than to receive."
On encouraging others to volunteer: "I've volunteered for all types of organizations, but this is a rich, meaningful experience that makes life fulfilling. When serving, if you lean into the experi­ence and get to know people, you can see them all like family … . Plus it will bring you more joy than any Facebook 'like' could ever do. That's what life's about."
Donna Reuss: Helping Those with No Family
Donna Reuss, 64, was an emergency planner for the federal government before she retired; she lives in Alexandria, Va. In her 40s, she had a serious car accident, then a serious illness that kept her homebound. But at that time, she couldn't find resources for assistance.
Reuss wanted to volunteer with Meals on Wheels as a way of helping others in similar situa­tions and those who don't necessarily have family nearby to visit them. An ancestry hobbyist, she also thinks people in the Washington, D.C., area often have lived fascinating lives.
Why she does it: "People get into situations where they can't help themselves, so they need someone to help."
On bonding with clients: "One client told me she's Catholic, and I'm Catholic, so we started chatting. I asked her if she was going to the upcoming multicultural event at her parish, and she didn't know about it. She's wheelchair-bound, but moves with a walker. She knew there was a new bishop, and I told her he would do the Mass and say hello to everyone there. She was so ex­cited, so she talked her son into bringing her to the Mass, to get a photo with the Bishop and with me—she had a frame ready to [put it in]."
Her most satisfying outcome: "It makes me happy to help people out, especially knowing what it's like from personal experience to have no one to help and no one to visit you. There's a real joy I feel engaging with people [here]. There are so many interesting lives—even in a three-to-five minute visit you can learn so much, and help people think about the happier times in their lives. I hope their families are taking time to listen and document their stories."
On encouraging others to volunteer: "It takes so little effort to make people so happy. Just a bit of time even, just once a month, helps you to know your community better."
Amanda Dudley: A Need to Give Back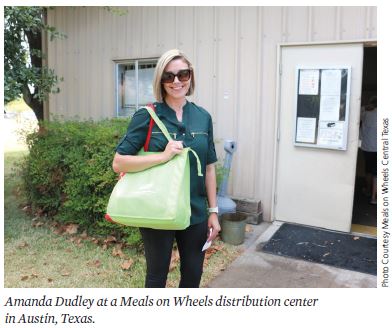 Amanda Dudley, 38, a talent selection manager at a real estate firm in Austin, Texas, was raised by a mother who impressed upon her the need to give back. She has been volunteering or fundraising her entire adult life.
Why she does it: "Two years ago, I made it my New Year's resolution to give back to Meals on Wheels Central Texas, which had helped my mother-in-law. I signed up for a weekly route on Mondays, and then signed up for a substitute route for every day of the week."
Who she sees: "One route has six to nine families—I like to call them families, not clients, be­cause it's not a business—we're providing a service that is meaningful to them. Generally, a 'family' I see is just one person. Last year, I had a husband and wife, and became really close to them. They loved it when my daughter joined me, the wife would squeeze on her and love on her."
On bonding with clients: "Marie, the woman from the couple I mentioned, her husband was on hospice care, and I'd deliver two hot meals to both of them. The husband passed last year. After he died, I encouraged Marie to continue with the service, because she was living alone, and she did, for about a year."
Her most satisfying outcome: "Marie was so heartbroken when her husband passed away. They were married 72 years. Her kids asked, 'Mom, why are you still having Meals on Wheels come, dad's not here.' She said, 'Because I don't have anyone to talk to.' "
On what volunteers contribute: "Sometimes I'm the only person they've seen, or the only person they've seen since their Friday delivery [on a Monday]. One gentleman is a vet, his family is an hour and a half away, and he's at home by himself. I'll ask about visitors, he'll say, 'No, the kids didn't come by this weekend.' It's so rewarding to know that I've brought a smile to his face. One time he opened the door—the house is very dark—and he was almost blinded by the light, so I said, 'Come on out, let's sit on the front porch and chat.' "
On encouraging others to volunteer: "I'll take a photo of my car [packed with meals], and send a note to friends saying, 'It's one of funnest ways to start my week!' Friends would see it and say, 'What does that entail?' I'd say, 'Kindness is free, it's easy to give out!' I've had several friends join Meals on Wheels." 
To learn more or to volunteer, click here.