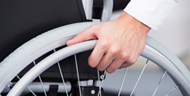 Medicare, the healthcare program long relied upon by older adults, also covers 9 million people who are younger than age 65 living with disabilities, and who comprise 17 percent of the Medicare population (Kaiser Family Foundation, 2010). While the disability population has always existed in the shadow of older adults—at least in the public's conception of the program—Medicare has long been critical to supporting the health of people with disabilities.
Few could reconcile the opportunities, life prospects, and ability to lead meaningful and independent lives that existed for people with serious disabilities fifty years ago with the lives that millions of Americans with significant disabilities lead today. In the intervening years, several major civil rights laws have been enacted, including the 1990 Americans with Disabilities Act, that have led to a transformation of the popular conception of what it means to live with a disability. As health and healthcare are critical enablers of community engagement, Medicare—along with its sister program, Medicaid—has been critical to spurring this progress. Medicare has been, and we believe will continue to be, a major facilitator for improving health outcomes and promoting the independence and civic engagement of people with disabilities.
This article examines the historic role of Medicare in serving people with disabilities who are younger than age 65, and seeks to identify challenges and priority policy questions that must be addressed for Medicare to remain relevant and successful at meeting the health needs of its beneficiaries.
Medicare Over Time
Since its inception in 1965, Medicare has played a critical role in providing health coverage to older adults who previously had found it nearly impossible to access private health insurance. It was not until 1972, however, that Medicare was extended to include people younger than age 65 who receive Social Security Disability Insurance (SSDI) benefits. Before the Social Security Amendments of 1972 extended Medicare to working-age people with disabilities, this population was highly dependent upon segregated public institutions, charity care, or a handful of state government programs (Master and Taniguchi, 1996). Medicare now provides vital health insurance protections for people with disabilities who are younger than age 65—individuals who would otherwise face significant difficulties obtaining coverage in a medically underwritten private insurance market (Kaiser Family Foundation, 2010).
As it expanded Medicare to people with disabilities, Congress established waiting periods before these people became eligible for coverage. This provision was designed to keep costs down and avoid replacing coverage for a worker with disabilities still receiving benefits under a private group health plan (Medicare Rights Center, n.d.). To qualify for Medicare on the basis of disability, an individual must first qualify for SSDI. Once that stringent disability determination is received for SSDI, unlike people older than age 65, people with disabilities are not immediately eligible. First, they must wait five months to receive SSDI benefits to prove that their condition is permanently disabling, and then they must wait an additional twenty-four months, after the first receipt of SSDI benefits, to access Medicare. Note that there are limited exceptions for certain groups with significant disabilities to avoid the waiting period, and many others with low incomes turn to Medicaid during this time. In addition to the population of those younger than age 65 who qualify through SSDI, Medicare also covers certain younger widows and widowers with disabilities, as well as disabled adult children of retired, deceased, or disabled workers (Williams, Claypool, and Crowley, 2005).
A Closer Look at Medicare Beneficiaries
Medicare covers a diverse population of working people younger than age 65, and its role in serving this population has evolved over time. In 1975, only 8 percent of the program's beneficiaries were younger people with disabilities, but by 2010, people with disabilities increased their relative share of the Medicare population to 17 percent (Kaiser Family Foundation, 2010). This growth demonstrates not only the overall importance and value of this program for millions of individuals with disabilities, but also shows that our country has faced an increasing urgency to respond to the needs of this population. Further, changes in Medicare spending also demonstrate the transformation of Medicare into a program with a greater focus on meeting these needs.
Twenty years ago, most Medicare spending was linked to hospital services, primarily for heart disease (Thorpe, Ogden, and Galactionova, 2010). Recent spending data, however, show that the program's emphasis has been more attributable to chronic conditions (Thorpe, Ogden, and Galactionova, 2010). In fact, the fastest growth in eligibility on the basis of disability relates to musculoskeletal and connective tissue disorders, including back pain and arthritis, and mental health and mental disorders (Council for Dis-
ability Awareness, 2014).
Medicare also has played a critical role in responding to emerging disabilities and the changing healthcare exigencies of Americans. Since 1985, Medicare funding for HIV/AIDS has increased from $5 million to an estimated $7 billion in 2015 (Kaiser Family Foundation, 2015). Medicare is now the second largest source of financing for HIV/AIDS care after Medicaid, and when counting only federal contributions, the federal government spends more for HIV care through Medicare than any other program. Approximately one out of every five HIV-positive Americans receiving regular medical care depends, at least in part, upon the Medicare program (Kaiser Family Foundation, 2009).
Mental health coverage also has greatly expanded since 1975 to meet Medicare beneficiaries' needs. According to the Social Security Administration, more than 13 million Medicare beneficiaries each year experience some mental disorder (Social Security Administration, 2012). Significant mental health disorders, including bipolar disorder and schizophrenia, are especially prevalent among beneficiaries who are younger than age 65 and eligible for Medicare based on their disability (Center for Medicare Advocacy, 2013). In addition, approximately 37 percent of all Medicare beneficiaries with a disability have a significant mental disorder, and mood disorders were the second leading cause of disability in 2011 (Center for Medicare Advocacy, 2013).
Medicare's Essential Coverage
The relative comprehensiveness of Medicare's acute care benefits package and the broad access to primary care and specialist providers play an important role in allowing beneficiaries to lead more autonomous, independent lives. Medicare, due to the diverse populations it serves, must offer a varied array of healthcare services. Such diversity fosters unique benefits, expansive provider networks and medical staff, and broad coverage options.
Medicare benefits are structured in different and distinct ways, and cover inpatient hospital stays, some skilled nursing facility care, physician visits, preventive services, durable medical equipment (DME), prescription drug coverage, and some home healthcare services (Centers for Medicare & Medicaid Services, 2015). Although beneficiaries now generally choose to receive these benefits in a traditional fee-for-service model, some people with disabilities opt for Medicare Advantage (MA) plans, where services are delivered through private health plans such as health maintenance organizations (HMO) or preferred provider organizations (PPO).
Historically, managed care Medicare offered access to distinct provider networks and extra services, such as outpatient prescription drug coverage, that was not obtainable elsewhere. But now that prescription coverage can be wrapped into traditional Medicare, enrolling in a MA plan solely for the purpose of obtaining a limited prescription drug benefit has become a less relevant factor, as all Medicare beneficiaries have the option of purchasing fairly comprehensive prescription drug coverage through the Medicare Part D program.
Today, nearly 70 percent of younger beneficiaries with disabilities are enrolled in a Medicare drug plan (Kaiser Family Foundation, 2010). In establishing the Part D program, Congress was mindful of the importance of this benefit and the need to ensure that access was affordable for all, including low-income individuals, as it includes substantial premium and cost-sharing subsidies to make prescription drug coverage affordable.
The scope of Medicare's post-acute care benefits offer beneficiaries with disabilities access to home healthcare and therapies that can enhance quality of life and independence by further integrating people with disabilities into a community setting. Although Medicare has a requirement that beneficiaries must first be "homebound" to receive skilled home healthcare, homecare aides also may provide limited personal assistance services—such as assistance with dressing, bathing, and managing medications—that allow people with disabilities to better support themselves (Center for Medicare Advocacy, 2015). Further, the coverage of DME, such as wheelchairs, hospital beds, and portable oxygen increases beneficiary mobility and independence. These benefits serve as an example of how we can continue to build on Medicare
to make a more comprehensive health benefit for all beneficiaries.
Issues and Challenges Facing Beneficiaries
Medicare has been a lifeline for millions of younger people with disabilities. That does not mean the program works perfectly and, in many cases, it has not been designed with their needs in mind. As the Kaiser Family Foundation has noted, Medicare beneficiaries often report good access to care across a number of standard measures. Nonetheless, for those Medicare beneficiaries who report access problems, they are more likely to be younger people with disabilities than older adults (Kaiser Family Foundation, 2010). People with disabilities are especially likely to report having challenges with paying for the cost of needed care, receiving necessary long-term services and supports (LTSS), and locating a specialist provider (Kaiser Family Foundation, 2010). Despite its successes, the following are areas where policy makers must urgently focus increased attention to better support Medicare beneficiaries with disabilities and to realize improvements in quality and effectiveness of care for this population.
Long-term care and its interaction with Medicaid
Fifteen percent of Medicare beneficiaries require LTSS (Komisar and Feder, 2011). When provided in a home- or community-based setting, assistance with activities of everyday life, such as bathing and dressing, managing a home, and others maximize an individual's ability to live and function independently. Medicare's coverage of such services is limited to short-term, post-acute care through its skilled nursing facility benefit and home healthcare benefits (Williams, Claypool, and Crowley, 2005). These post-acute services focus on medically related skilled nursing and therapy services some patients need after hospital or outpatient treatment (Komisar, 2013). While the types of services delivered are the same or similar, this is a very different benefit than a long-term services benefit designed to assist individuals with disabilities in maximizing their independence over their life course.
Because of this glaring gap in Medicare coverage for a benefit primarily needed by Medicare beneficiaries, Medicaid has assumed a major role in financing and delivering LTSS in the United States. In 2012, 40 percent of national LTSS spending was financed by Medicaid—double what Medicare spent on post-acute care, representing 30 percent of Medicaid's overall spending (Musumeci and Reaves, 2014). Access to community-based LTSS always has been more limited than beneficiary demand, raising significant ethical and civil rights concerns. Medicaid could do a better job of meeting the LTSS needs of low-income beneficiaries if it were not almost exclusively responsible for meeting the LTSS needs of Medicare beneficiaries.
Over the past thirty years, with only a few exceptions, Medicare benefits have not changed in significant ways. While the LTSS needs of beneficiaries with disabilities vary, the lack of LTSS is especially challenging for people who need personal assistance with activities of daily living to live independently. To access such services and supports, Medicare beneficiaries must either pay out-of-pocket expenses, rely upon family members, obtain private long-term-care insurance, or, if they are eligible, gain access to Medicaid. Medicaid and states generally provide these personal care services, often through waiver programs, where care is provided in the home as an alternative to institutionalization. This critical benefit for helping those Medicare beneficiaries who are younger than age 65 live independently is glaringly absent when compared to Medicaid.
Limited access to supplemental coverage
Most people with Medicare live on modest incomes and many have multiple chronic conditions, making full and integrated coverage essential. According to the Kaiser Family Foundation (Kaiser Family Foundation, 2014), 65 percent of Medicare beneficiaries live with three or more chronic conditions, and 50 percent report an income below the Federal Poverty Level. While Medicare is a major payer for healthcare services, unfortunately it has significant gaps in coverage including therapy caps and certain costly DME such as wheelchairs, assistive technologies, and personal assistance services. Further, the program contains relatively high cost-sharing requirements and, until the Affordable Care Act (ACA) was implemented, many plans failed to limit beneficiaries' annual out-of-pocket spending (Cubanski et al., 2014).
Unlike older adults, who have an entitlement to guaranteed issue Medicare supplemental coverage, this benefit is denied to beneficiaries younger than age 65, except for residents of a small number of states. For Medicare beneficiaries with disabilities who do not meet the Medicaid eligibility requirements due to asset limits or other factors, their only option (outside of job-based long-term disability coverage) is to purchase coverage from the private insurance market. People who are covered under traditional Medicare may choose to obtain some type of private supplemental insurance—including employer-sponsored retiree coverage—to help cover their cost-sharing requirements (Cubanski et al., 2014). Premiums for these policies can be costly, though, and generally do not offer much assistance in covering the costs associated with DME and home healthcare.
Medicare Advantage
Medicare Advantage plans can deliver integrated services to beneficiaries through private, managed care, and are an alternative to the federally administered traditional fee-for-service model. As the most common types of these plans are HMOs and PPOs, beneficiaries generally are restricted to the specific providers in the plan's network, unlike the traditional program in which any provider that accepts Medicare can be seen. MA plans can be attractive to beneficiaries, especially those with specific needs, as the plans can be more targeted and result in more covered services and lower out-of-pocket costs. As of 2012, 22 percent of beneficiaries younger than age 65 chose this option (Medicare Payment Advisory Commission, 2014; Gold and Casillas, 2014).
While MA plans often cite their ability to manage the healthcare needs of people with disabilities and achieve better outcomes for this population, little research has been done to compare MA and fee-for-service for beneficiaries younger than age 65. Without conclusive research findings supporting this assertion, the research community relies upon several reports in which healthcare access and quality measures were generally rated lower by beneficiaries in MA than in traditional Medicare (Gold and Casillas, 2014). Medicare fee-for-service cost-sharing may be one reason why beneficiaries younger than age 65 look to MA plans offering closed provider networks in exchange for reductions in cost-sharing.
The ACA resulted in a number of demonstration programs designed by states to integrate and align Medicare and Medicaid services for low-income populations eligible for both programs. These integrated care demonstrations are only now beginning to enroll beneficiaries to test the hypothesis that actively managing care for a population often associated with high medical costs can integrate care and reduce cost to the Medicare and Medicaid programs. Until these demonstrations are evaluated, it will be difficult to say conclusively if MA plans are effective (and for which specific populations and settings) in integrating care.
Preliminary data on enrollment rates, however, show that people with disabilities are opting out of MA at higher rates than are older beneficiaries. This not only might present challenges concerning proper evaluation of the demonstrations if a large enough sample of beneficiaries does not exist, but this disenrollment at higher rates may be an indication of their expectations from such a plan and that plan's ability to integrate the necessary services and supports. Still, more must be learned about which beneficiaries have disenrolled and their LTSS needs, to draw definite conclusions regarding the demonstration's ability to provide integrated care for this vulnerable population.
The Affordable Care Act
The ACA fundamentally alters the health coverage landscape in the United States. Many of the law's policies have significant impacts on younger people with disabilities, including its closing of the Part D donut hole—the gap in drug coverage during which people with Medicare were previously required to pay the full cost of their prescriptions out-of-pocket. But the ACA's requirement to have coverage, and the availability of guaranteed issue coverage without regard to health status, are true game changers.
One often overlooked benefit of the ACA is that it offers coverage options for people with disabilities while they are in the Medicare waiting period. The ACA extends commercial health insurance coverage, as well as subsidies for cost-sharing for income-eligible people, to all Americans, including those eligible for SSDI. Where prior to the ACA, more than half a million people remained uninsured while waiting for Medicare coverage to kick in, today most of those people now can gain insurance in the exchange during those twenty-four months (Medicare Rights Center, n.d.).
Nonetheless, questions remain about the ACA's interaction with Medicare, moving forward, including concerns about reimbursement levels, provider networks, and cost-sharing. Analyses should be conducted around cost, benefits, and consumer protections to ensure that Medicare and coverage made available by the ACA interacts in a manner that does not disadvantage this vulnerable population.
Medicare, Moving Forward
The United States has not yet achieved its goal of full integration and inclusion of people with disabilities. Nonetheless, we are traveling along a path that has greatly expanded the opportunities for people to lead full and meaningful lives. Some of this progress has been marked by the determination of individuals to fight for their civil rights and demand inclusion. Public policies, however, have been critical to this progress. Because a defining characteristic of disability relates to impairments that are addressed by healthcare services, healthcare programs such as Medicare are essential facilitators and detractors in our nation's progress along this path. We can assess Medicare's successes and acknowledge its failures. Just as the health system is perennially in flux, so must the Medicare program continue to adapt to new national needs, new understanding of disability and disease, and new technological advances.
We believe that now is the time for policy makers to take a fresh look at how to address the needs of Medicare beneficiaries with disabilities, both younger and older than age 65. Through addressing such issues, we can ensure that this program remains relevant, effective, and efficient at providing critical healthcare services to working age people with disabilities.
---
Eva LaManna, J.D., is the policy manager at the American Association of People with Disabilities in Washington, D.C. Jeffrey S. Crowley, M.P.H., is Distinguished Scholar and program director of the National HIV/AIDS Initiative, O'Neill Institute, Georgetown Law, in Washington, D.C. Henry Claypool is principal at Claypool Consulting in Washington, D.C.
Editor's Notes:
The entire Summer 2015 issue of Generations is available on AgeBlog thanks to the generous support of The Benjamin Rose Institute on Aging, Compassion & Choices and Robert Wood Johnson Foundation President's Grant Fund of the Princeton Area Community Foundation. Click here to read more.
This article is taken from the Summer 2015 issue of ASA's quarterly journal, Generations, an issue devoted to the topic, "Medicare at 50." ASA members receive Generations as a membership benefit; non-members may purchase subscriptions or single copies of issues at our online store. Full digital access to current and back issues of Generations is also available to ASA members and Generations subscribers at Ingenta Connect. For details, click here.
---
References
Center for Medicare Advocacy. 2013. "Medicare and Mental Health." Retrieved January 15, 2015.
Center for Medicare Advocacy. 2015. "Home Health." Retrieved January 15, 2015.
Centers for Medicare & Medicaid Services. 2015. "What Medicare Covers." Medicare.gov. Retrieved January 15, 2015.
Council for Disability Awareness. 2014. "2014 Council for Disability Awareness Long Term Disability Claims Review." Retrieved January 15, 2015.
Cubanski, J., et al. 2014. How Much Is Enough? Out-of-Pocket Spending Among Medicare Beneficiaries: A Chartbook. Kaiser Family Foundation. Retrieved January 15, 2015.
Gold, M., and Casillas, G. 2014. "What Do We Know About Health Care Access and Quality in Medicare Advantage Versus the Traditional Medicare Program?" Kaiser Family Foundation. Retrieved January 15, 2015.
Kaiser Family Foundation. 2009. "HIV/AIDS Policy." Fact Sheet. Retrieved April 20, 2015.
Kaiser Family Foundation. 2010. "Medicare and Non-elderly People with Disabilities." Medicare Fact Sheet. Retrieved January 15, 2015.
Kaiser Family Foundation. 2014. "Medicare at a Glance." Fact Sheet. Retrieved April 20, 2015.
Kaiser Family Foundation. 2015. "U.S. Federal Funding for HIV/AIDS: The President's FY 2016 Budget Request." Retrieved April 21, 2015.
Komisar, H., and Feder, J. 2011. "Transforming Care for Medicare Beneficiaries with Chronic Conditions and Long-term-care Needs: Coordinating Care Across All Services." Washington, DC, and Long Beach, CA: Georgetown University and The SCAN Foundation. Retrieved January 15, 2015.
Komisar, H. 2013. "Medicare Does Not Pay for Long-term Care." AARP Thinking Policy Blog. Retrieved January 15, 2015.
Master, R. J., and Taniguchi, C. 1996. "Medicare, Medicaid, and People with Disability." Healthcare Finan-
cing Review 18(2). Retrieved January 15, 2015.
Medicare Payment Advisory Commission. 2014. "Section 9: Medicare Advantage." Retrieved April 20, 2015.
Medicare Rights Center. n.d. "Fact Sheet: Medicare Two-year Waiting Period for People with Disabilities." End the Two-Year Wait for Medicare. Washington, DC: Medicare Rights Center. Retrieved January 15, 2015.
Musumeci, M., and Reaves, E. 2014. Medicaid and Long-Term Services and Supports: A Primer. Kaiser Family Foundation. Retrieved January 28, 2015.
Social Security Administration. 2012. SSI Annual Statistical Report, 2011. Washington, DC: Social Security Administration, Office of Retirement and Disability Policy, Office of Research, Evaluation, and Statistics. Retrieved January 28, 2015.
Thorpe, K. E., Ogden, L. L., and Galactionova, K. 2010. "Chronic Conditions Account for Rise in Medicare Spending from 1987 to 2006." Health Affairs 29(4): 718–24.
Williams, B., Claypool, H., and Crowley, J. S. 2005. Navigating Medicare and Medicaid, 2005. A Resource Guide for People with Disabilities, Their Families and Their Advocates. Kaiser Family Foundation. .Retrieved January 28, 2015.