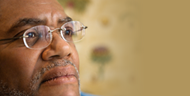 By Cara V. James
When discussing the relationship between Medicare and minority populations, it is impossible not to mention the Civil Rights Movement. Many of Medicare's achievements as they relate to people of color might not have been possible without the Civil Rights Movement's parallel accomplishments. When Medicare was enacted on July 30, 1965, the United States was struggling to achieve equal rights for African American and other minority citizens. For many in the Civil Rights Movement, the focus at that time was not on discrimination in healthcare, but voting rights.
Barely a year had passed since President Johnson had signed the Civil Rights Act of 1964, which prohibited discrimination on the basis of race, color, religion, or national origin, and only four months had passed since Bloody Sunday, when police used tear gas, whips, and clubs to stop marchers in Selma who were headed to Montgomery in support of voting rights. Congress was about to pass the Voting Rights Act, and President Johnson was a couple of months away from signing Executive Order 11246, which prohibited federal contractors and subcontractors from discriminating in employment decisions on the basis of race, color, religion, sex, or national origin. The passage of Medicare, though noted in several African American newspapers at the time, was not a large story in them (United Press International, 1965).
The struggle for civil rights overshadowed discussions of the potential impact of Medicare in the African American community, and Medicare overshadowed discussions about Medicaid throughout the country. Similarly, discussions of the coverage provisions in the Affordable Care Act (ACA) have dominated conversations around the law, resulting in few Americans being aware of the provisions to strengthen the quality of care provided in Medicare and Medicaid, or the provisions aimed at reducing health disparities. Medicare and Medicaid have led to significant improvements in access to care and health outcomes for minority populations, and both programs have a chance to leverage the ACA to further the gains achieved thus far. This article discusses the impact of Medicare on minority populations, and considers the challenges and opportunities for further improvements in
the future.
Improved Access to Care
Prior to Medicare's enactment, many older adults were unable to access healthcare. For African Americans, this challenge was made more difficult, both because of higher poverty rates and due to discrimination by hospitals, which was commonplace. Many hospitals and clinics denied care to African Americans altogether, while others had segregated waiting rooms and wards. Prior to the enactment of Medicare, it was also not uncommon for African American patients to experience long waits before seeing a provider. Speaking on the subject of hospital discrimination in conjunction with a meeting of the Medical Committee on Human Rights, Dr. Martin Luther King, Jr. said, "Of all the forms of inequality, injustice in health is the most shocking and the most inhuman because it often results in physical death" (Associated Press, 1966). Stories like that of Juliette Derricotte, the Dean of Women at Fisk University, who died from injuries sustained in a car accident after she was denied admission to the nearest hospital because it would not admit African Americans, were all too common.
Hospitals also discriminated against African American physicians and nurses by refusing to hire them. To help address the gaps, a network of nearly 200 African American hospitals played a critical role in not only treating the nation's sick and injured, but in training African American physicians and nurses who were denied positions in historically white hospitals throughout the country. Yet, many of these "separate but equal" facilities were anything but—they tended to have worse equipment and worse facilities (Reynolds, 1997a; Pohl, 2000).
The struggle to desegregate America's hospitals was an effort championed by the National Medical Association, the National Association for the Advancement of Colored People (NAACP), and the National Urban League, and used a strategy of challenging the premise of "separate but equal" through the courts in the Hospital Survey and Construction Act of 1946 (or the Hill-Burton Act) (Reynolds, 1997a). This tactic was modeled after the strategy used to desegregate the schools. The Hill-Burton Act of 1946 provided funding to states to build hospitals, and allowed for segregated facilities. A major victory came in 1964, when the Supreme Court upheld a lower court's ruling against the "separate but equal" provisions of the Act.
Another victory came with Title VI of the Civil Rights Act. It stated that "No person in the United States shall, on the ground of race, color, or national origin, be excluded from participation in, be denied the benefits of, or be subjected to discrimination under any program or activity receiving Federal financial assistance" (U.S. Congress, 1964). This was critical because the Hill-Burton Act affected new construction, but there was little the government could do to existing facilities. Title VI affected all programs.
Realizing that coverage alone was not a guarantee of access for minority communities, the Department of Health, Education and Welfare (HEW) required hospitals to be in compliance with Title VI of the Civil Rights Act as a condition of participation in Medicare. In other words, to receive payments from Medicare, hospitals and other providers had to offer minority patients care through all hospital services provided, give minority physicians hospital privileges, and provide employment opportunities without regard for race, color, or national origin (Reynolds, 1997b). This interpretation of the Title VI requirement, along with significant effort on the part of HEW, meant that when Medicare launched on July 1, 1966, 100 percent of hospitals in fourteen states and three territories were in compliance, and among the Southern states, all but five had at least 80 percent of their hospital beds available to Medicare beneficiaries (Reynolds, 1997b). By the end of 1966, most of the nation's more than 7,160 hospitals were in compliance; 215 refused federal funds, thirty-five hospitals were offered a hearing to determine whether they should be denied funding, and HEW was still working with 100 other hospitals to bring them into compliance (Nash, 1968).
Medicare's enactment, bolstered by its enforcement of Title VI of the Civil Rights Act, led to significant improvements in access to care for minority patients, improvements in the quality of care provided to minority patients, and greater diversity among the providers serving them. Ironically, it also led to the closure of many African American hospitals, which were unable to compete with the historically white hospitals. In 1992, only seven remained of the nearly 200 that were built in the early 1900s (Odum, 1992). Disparities in access to care still persist, but the gaps are significantly smaller than they would have been without the combined effects of the Civil Rights Act of 1964 and Medicare.
Better Health Through Better Living
While Medicare's role in improving access to care for older minority adults is clear, its health impact is more nuanced. By paying for medical care, Medicare has given many older minority adults a measure of financial security that has resulted in a longer and better quality of life. Expansions to Medicare over the years have helped older minority adults live longer with chronic conditions, yet feel less burdened by them.
One of Medicare's main goals was to improve financial security for older people. In 1966, just shortly after Medicare was enacted, an estimated 55 percent of elderly African Americans and 26 percent of elderly whites were living in poverty (U.S. Census Bureau, 2014). This made it very difficult for them to purchase coverage and to pay out-of-pocket for treatment received in a hospital or in a clinic. Supplemental coverage provided by Medicaid (for beneficiaries dually eligible for Medicare and Medicaid, known as dual eligibles), the Medicare Savings Programs, and the Medicare Part D Low-Income Subsidy Program have helped low income older minority adults maintain coverage and obtain needed care by assisting with costs such as Medicare premiums, deductibles, co-insurance, copayments, and prescription drug coverage costs.
In 2009, African Americans and Hispanics accounted for 30 percent of the dual eligible population, but only 9 percent of non−dual eligible Medicare beneficiaries (Congressional Budget Office [CBO], 2013). Today, as a result of Medicare and its added benefits, older Americans are less likely than other age groups to delay medical care or fill prescription due to cost, and compared to 2010, there are fewer older adults today who report not getting their prescription drugs due to cost (National Center for Health Statistics [NCHS], 2014). This means older adults have more resources to spend on food and housing, which affects their health indirectly. Nearly fifty years after the enactment of Medicare, only 18 percent of elderly African Americans and 7 percent of elderly whites live in poverty (U.S. Census Bureau, 2014).
Life expectancy is a reflection of the overall mortality of a population. In 1960, just 6 percent of African Americans were age 65 years or older as compared to 10 percent among whites (see Figure 1, below). Older African Americans could expect to live an average of 13.9 years more, as compared to 14.4 years for whites (NCHS, 2014). By 2010, more African Americans were living to age 65, and while life expectancy at age 65 had increased, so too had the gap between older African Americans and whites, with older African American adults living 17.7 years as compared to 19.1 years for whites. Some of these gains can be attributed to improvements in coverage and healthcare made possible by Medicare.
Figure 1
Death rates from heart disease, cerebrovascular disease, and all causes, have dropped significantly between 1960 and 2010 for minority populations, while death rates for cancer have increased for African American men and women, dropped for white men, and remained the same for white women.
Medicare has evolved from coverage of basic healthcare (e.g., hospitals, physicians, etc.) to include treatment for end-stage renal disease in 1972, the additional prescription drug coverage (which took effect in 2006), along with the provision of preventive services for beneficiaries with no cost-sharing, and the closing of the Part D doughnut hole in 2010. These changes have significantly improved coverage and helped secure better access to care and a better quality of life for older Americans living with chronic conditions. Today, more older adults are living with one or more chronic conditions such as diabetes, end-stage renal disease, hypertension, or high cholesterol and, for many of these conditions, minority populations experience higher disease rates (NCHS, 2014). Compared to fifteen years ago, fewer older African Americans and whites are living with at least one complex activity limitation (defined as having difficulty with one or more of the following: activities of daily living, social, or work), but rates have increased for older Hispanics. Regardless of how the rates have changed, a greater share of older African Americans, Hispanics, and Asians are living with a disability relative to older whites (NCHS, 2014).
Older Americans also are more reliant upon prescription medications to manage their conditions. Nearly 90 percent of older individuals take at least one prescription medication, 67 percent take three or more prescriptions, and 40 percent have five or more. Rates for older African Americans and Hispanics are comparable to whites because of low-income subsidies and Medicare Part D.
Despite living with these complex health conditions, fewer older adults today report their health as fair or poor compared with older people twenty years ago. A greater proportion of older African Americans and Hispanics report their health as fair or poor compared with older whites, but the number is still fewer compared to a few years ago (CDC, 2011). This decline may be due in part to the evolving treatments available to help manage chronic conditions, and the expansions in Medicare coverage that help make treatment more affordable.
Despite the significant gains for older adults in access, health, and financial security, disparities in Medicare persist. Older minority adults continue to experience a greater disease burden for many conditions, and experience worse care (NCHS, 2014; Agency for Healthcare Research and Quality [AHRQ], 2015). Evidence suggests that some disparities are smaller in Medicare as compared to the non-Medicare population (McWilliams et al., 2009), but disparities persist across a variety of healthcare settings, including health plans, hospitals, nursing homes, Medicare prescription drug plans, and dialysis facilities. African American patients are more likely to receive care in nursing homes having large proportions of African American patients, and which tend to provide worse quality of care, including being less likely to provide preventive services (Smith et al., 2008; Luo et al., 2014; Chisholm et al., 2013). As data have become available for older adults in other racial and ethnic populations, studies find persistent disparities among them as well (Ng et al., 2014).
While healthcare quality is improving for all populations, disparities between racial and ethnic minorities and whites remain largely unchanged (AHRQ, 2015). Figure 2 (below) summarizes the differences between people of color and whites on more than 100 measures of healthcare quality (eighty-eight measures for American Indians and Alaska Natives). It shows that compared to ten years ago, gaps in quality between people of color and whites have largely remained unchanged and, in some cases, they have grown larger. As Medicare evolves over the next fifty years, a focused effort on eliminating disparities is needed, and the changing healthcare landscape presents a myriad of opportunities.
Figure 2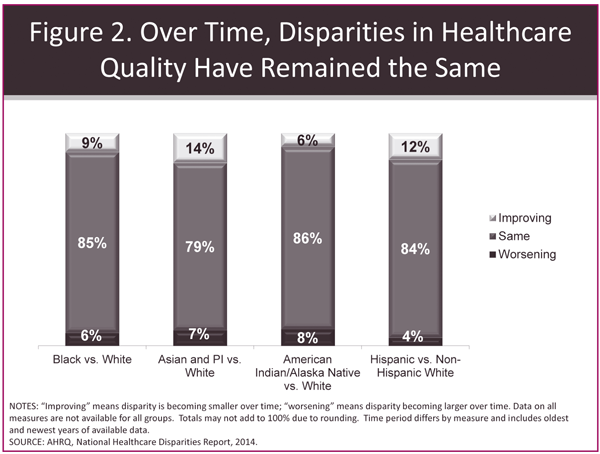 Medicare Post-ACA: Working to Achieve Health Equity
Many of the public conversations around the ACA have focused on expanding coverage to the millions of uninsured Americans through the Health Insurance Marketplace, Medicaid, and Small Business Health Outcomes Program (SHOP). But significantly fewer conversations have centered on the opportunities related to Medicare, and even fewer have focused on the potential of the ACA to reduce disparities and improve health outcomes for minority beneficiaries.
The ACA aims to lead to better health through better care and smarter spending. Similar to Title VI of the Civil Rights Act, Medicare can leverage the ACA to significantly improve health and healthcare for minority beneficiaries. As a result of the ACA, there is a National Quality Strategy, a National Prevention Strategy that includes the elimination of health disparities as a strategic direction, and an HHS Action Plan to Reduce Racial and Ethnic Health Disparities. The ACA established the Federal Coordinated Health Care Office, in the Centers for Medicare & Medicaid Services (CMS), to facilitate better coordination of care for individuals covered by Medicare and Medicaid, who are disproportionately African American and Hispanic (CBO, 2013). The ACA also created the Center for Medicare & Medicaid Innovation (CMMI), also in CMS, to test models of care that will improve healthcare quality and reduce costs. Several projects funded by CMMI are focused on health disparities.
There also is an increased focus on improving the delivery system by providing high-quality healthcare, providing information to consumers to help them make better choices, and increasing attention on prevention and wellness. As we move toward a greater reliance on value-based care and payment incentives, it is important to monitor access to care for minority populations to ensure that disparities do not worsen. Over the next few years, the Department of Health and Human Services (HHS) will examine the role of socioeconomic status and other social factors on quality to obtain a better understanding of the potential impact payment incentives and penalties could have on providers who disproportionately care for minority and other underserved populations.
The ACA also includes a number of provisions specific to health disparities, including the establishment of data standards for the collection of race, ethnicity, primary language, sex, and disability; loan repayment programs for providers from underserved communities; the establishment of Offices of Minority Health within a number of agencies under HHS; and, the permanent reauthorization of the Indian Health Care Improvement Act. This Act, among other things, aims to improve the health of American Indians and Alaska Natives by supporting community health worker programs, making it easier for tribal-run facilities to obtain third-party payments, improving access to healthcare facilities, and improving behavioral health out-
comes. Improvements in the collection and analysis of demographic data will help to identify existing disparities, and to monitor progress in our efforts to eliminate them. These efforts are a good start, but we still have much work to do to ensure that all older adults have access to high-quality equitable care.
New programs being implemented as a result of the ACA provide an opportunity to be intentional in our efforts to reduce health disparities, which already are underway through programs such as Partnership for Patients, which seeks to make hospital care safer. In 2014, participating hospital engagement networks were required to identify and reduce disparities. CMS also is working to embed health equity into existing Medicare programs, such as the Quality Improvement Organization (QIO) Program, which seeks to improve the care delivered to people with Medicare. Under the current program, the work of each Quality Innovation Network (QIN−QIO) will include initiatives to reduce healthcare disparities. 
In the coming years, the U.S. population will become increasingly diverse, emphasizing the importance for Medicare to evolve in a way that meets the population's needs (see Figure 3, below). 
Figure 3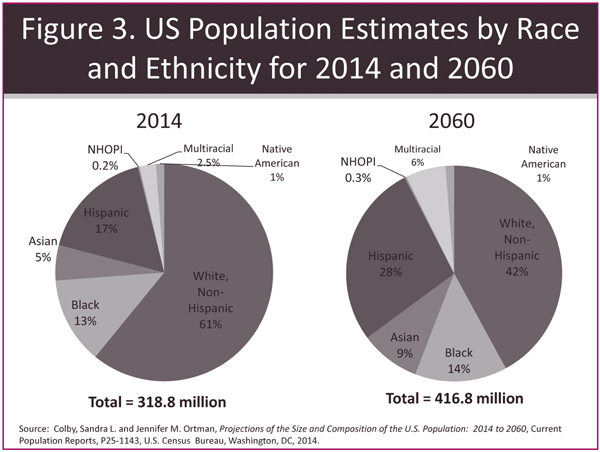 But this diversity goes beyond race and ethnicity. By 2020, it is estimated that one in seven older adults will speak a language other than English at home (Ortman and Shin, 2011). A number of these individuals will have limited English proficiency, making it more difficult to navigate the healthcare system to get the care they need. Medicare's changing diversity also comes from sexual and gender minorities. In response to the Supreme Court's ruling against the Defense of Marriage Act, Medicare has begun processing some enrollment applications for same-sex spouses (CMS, 2013). The first large-scale national health survey that fielded questions related to sexual orientation was conducted in 2013; it reported nearly 1 percent of adults ages 65 and over identified as gay, lesbian, or bisexual (Ward et al., 2014). As Medicare's population becomes more diverse, there will be a continued need to understand the health and utilization patterns of these populations, as well as a need to develop culturally and linguistically appropriate programs and services.
Conclusion
The past fifty years have resulted in improved access to care, reductions in poverty, and better health outcomes for the nation's older adults. Title VI of the Civil Rights Act provided Medicare the leverage needed to ensure that these gains were shared by minority elders. Despite these gains, disparities persist, and there still is work to be done to achieve health equity in Medicare. Eliminating disparities requires a focused effort on the gaps, and solutions that address the social factors related to the health of older people. It also requires an understanding of the changing demographics of the Medicare population and beneficiaries' evolving needs resulting from these changes. The passage of the ACA and the changes in the health system provide unique opportunities to build health equity into programs as they are created. By leveraging these opportunities the same way the implementers of Medicare leveraged Title VI of the Civil Rights Act, we can eliminate disparities in Medicare.
---
Cara V. James, Ph.D., is director, Office of Minority Health, Centers for Medicare & Medicaid Services, Baltimore, Maryland. She can be contacted at cara.james@cms.hhs.gov.
Editor's Notes:
The entire Summer 2015 issue of Generations is available on AgeBlog thanks to the generous support of The Benjamin Rose Institute on Aging, Compassion & Choices and Robert Wood Johnson Foundation President's Grant Fund of the Princeton Area Community Foundation. Click here to read more.
This article is taken from the Summer 2015 issue of ASA's quarterly journal, Generations, an issue devoted to the topic, "Medicare at 50." ASA members receive Generations as a membership benefit; non-members may purchase subscriptions or single copies of issues at our online store. Full digital access to current and back issues of Generations is also available to ASA members and Generations subscribers at Ingenta Connect. For details, click here.
---
References
Associated Press. 1966. "King Berates Medical Care Given Negroes." Oshkosh Daily Northwestern, March 26, p. 22. Retrieved February 28, 2015.
Agency for Healthcare Research and Quality (AHRQ). 2015. 2014 National Healthcare Quality and Disparities Report. Rockville, MD. Retrieved April 19, 2015.
Centers for Disease Control and Prevention (CDC). 2011. Behavioral Risk Factor Surveillance System Survey Data. Atlanta, GA: U.S. Department of Health and Human Services.
Centers for Medicare & Medicaid Services (CMS). 2013. "Important Information for Individuals in Same-sex Marriages." Retrieved March 27, 2015.
Chisholm, L., et al. 2013. "Nursing Home Quality and Financial Performance: Does the Racial Composition of Residents Matter?" Health Services Research 48(6 Pt 1): 2060−80.
Congressional Budget Office (CBO). 2013. Dual Eligible Beneficiaries of Medicare and Medicaid: Characteristics, Health Care Spending, and Evolving Policies. Washington, DC: Congress of the United States.
Luo, H., et al. 2014. "Racial/Ethnic Disparities in Preventive Care Practice Among U.S. Nursing Home Residents." Journal of Aging and Health 26(4): 519−39.
McWilliams, J. M., et al. 2009. "Differences in Control of Cardiovascular Disease and Diabetes by Race, Ethnicity, and Education: U.S. Trends from 1999 to 2006 and Effects of Medicare Coverage." Annals of Internal Medicine 150(8): 505−15.
Nash, R. M. 1968. "Compliance of Hospitals and Health Agencies with Title VI of The Civil Rights Act." American Journal of Public Health and the Nation's Health 58(2): 246−51.
National Center for Health Statistics (NCHS). 2014. Health, United States, 2013: With Special Feature on Prescription Drugs. Hyattsville, MD: U.S. Department of Health and Human Services.
Ng, J. H., et al. 2014. "Beyond Black and White: Race/Ethnicity and Health Status Among Older Adults." American Journal of Managed Care 20(3): 239−48.
Odum, M. 1992. "7 Black Hospitals Struggle to Find A Modern Role." The New York Times, August 12.  Retrieved April 19, 2015.
Ortman, J. M., and Shin, H. B. 2011. "Language Projections: 2010 to 2020." Paper presented at the American Sociological Association Annual Meeting, August 19, 2011, Las Vegas, NV. Retrieved April 19, 2015.
Pohl, L. 2000. "Long Waits, Small Spaces, and Compassionate Care: Memories of Race and Medicine in a Mid-twentieth Century Southern Community." Bulletin of the History of Medicine 74(1): 107−37.
Reynolds, P. 1997a. "Hospitals and Civil Rights, 1945−1963: The Case of Simkins v. Moses H. Cone Memorial Hospital." Annals of Internal Medicine 126(11): 898−906.
Reynolds, P. 1997b. "The Federal Government's Use of Title VI and Medicare to Racially Integrate Hospitals in the United States, 1963 Through 1967." American Journal of Public Health 87(11): 1850−8.
Smith, D. B., et al. 2008. "Racial Disparities in Access to Long-term Care: The Illusive Pursuit of Equity." Journal of Health Politics, Policy and Law 33(5): 861−81.
United Press International. 1965. "Urged to Apply for Medicare." Washington Afro-American, August 3. Retrieved April 19, 2015.
U.S. Census Bureau. 2014. Poverty Status of People, by Age, Race, and Hispanic Origin: 1959 to 2013. Current Population Survey, Annual Social and Economic Supplements. Washington, DC: U.S. Census Bureau.
U.S. Congress. 1964. Public Law. 88-352: Civil Rights Act of 1964. (July 2). Washington, DC: 88th Congress, 2nd Session, U.S. Government Printing Office.
Ward, B. W., et al. 2014. Sexual Orientation and Health Among U.S. Adults: National Health Interview Survey, 2013. National Health Statistics Reports (No 77). Hyattsville, MD: National Center for Health Statistics.