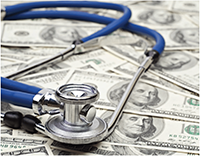 By Carol Levine
Hundreds of thousands of Medi­care beneficiaries who received "observation services as an out­patient" after January 1, 2009, may be eligible to participate in a class-action lawsuit to appeal those financially costly decisions. On July 31, 2017, in the case Alexander v. Price, Judge Michael P. Shea, of the U.S. District Court of Connecticut, ruled in their favor over the objections of the U.S. Department of Health and Human Services (HHS). 
Being part of a class-action lawsuit means that someone has been harmed in some way, probably financially, and that conventional methods of redress have failed. Being in a large group of similarly affected people means the chances of financial recovery or policy change are bet­ter than they would be as an individual.
What Are Observation Services?
Suppose someone with Medicare cover­age has a nasty fall and goes to the nearest hospital Emergency Department (ED). Eventually a doctor says, "Well, the CAT scan is clear but your blood pressure is very high. We're going to keep you in the hospital for a little while but it's just for observation." On the surface, that's poten­tially good news.
The person may spend a day or two in a hospital bed on a regular floor, or the ED may have a special unit for observation ser­vices. But when the person is ready to go home, she will find that Medicare Part A won't cover the stay because she was never formally admitted to the hospital. All ser­vices received will be billed separately un­der Part B, as if they had been delivered in a doctor's office. Prescription drugs wouldn't be covered and the hospital wouldn't let the person bring in prescription medications from home. The hospital bill could run to several hundred dollars or more.
An even worse scenario occurs if the person spends several days in the hospital and then is transferred to a skilled nursing facility (SNF) for further physical therapy and monitoring. While there, she would find out that because she was never an ad­mitted hospital patient, she does not meet the separate three-day hospital stay re­quirement for Medicare coverage of SNF services. One of the plaintiffs in the law­suit mentioned above spent 39 days in the hospital, and then was sent to a SNF. She now owes the SNF thousands of dollars.
In the case of Alexander v. Price, the issue was whether "Medicare beneficiaries have a right to administrative review of the decision to treat their hospital stays as 'observation' rather than 'inpatient' …" Judge Shea ruled that a class-action law­suit to resolve that issue could proceed.
The class certified under the Federal Rule of Civil Procedure includes "[a]ll Medicare beneficiaries who, on or after January 1, 2009: (1) have received or will have received 'observation services' as an outpatient during a hospitalization; and (2) have received or will have received an initial determination that the observation services are covered (or subject to cover­age) under Medicare Part B." Excluded from the class are Medicare beneficiaries who meet these requirements, but who pursued an administrative appeal and received a final decision from the HHS Secretary before September 4, 2011.
Appeal Decision Not for the Faint of Heart
Notification is an essential step, but then what is the person to do? Leaving the hospital may be medically risky. Staying may be financially risky. Demanding to be admitted may be counterproductive. And there is little time for making an informed decision. Most professionals would advise asking the hospitalist for the best clinical judgment about the level of risk involved in going home and forgoing observation services. If the hospitalist warns that leaving would be against medical advice—that would be one measure of how impor­tant it is to elect for observation.
There is no reliable way to challenge the decision—that's the crux of the Alexan­der v. Price lawsuit. What counts as admin­istrative appeal is cumbersome, confusing and unreliable. As an example, Judge Shea cited the experience of one Medicare ben­eficiary's son: "[He] allegedly attempted to challenge her coverage determination by communicating with the hospital, the skilled nursing facility, the Centers for Medicare & Medicaid Services (CMS) re­gional office, the state Medicare counsel­ing office, and a Medicare contractor; none could provide him with a 'clear method of addressing or challenging his mother's hospital classification.' He ultimately con­tacted his congressperson, which led CMS's regional office to steer him to some 'redetermination' forms that he used. Even then, however, he did not secure a review of the merits of the denial of Part A cover­age by the Medicare Appeals Council."
At the end of this process, which most people would not have had the de­termination to pursue so doggedly, the hospital bill still has to be paid. And collection agencies can be persistent and annoying.
The decision in this lawsuit is only a step in a longer process. Eventually some sort of appeal process should be estab­lished. An even more radical notion is that the whole observation concept should be revisited. The goal of observation ser­vices—cutting down on hospital costs—should not override the basic needs of patients for appropriate care.
Carol Levine directs the Families and Health Care Project of the United Hospital Fund in New York. This past October, the Center for Medicare Advocacy issued a toolkit on observation status.
Editor's Note: This article appears in the November/December, 2017, issue of Aging Today, ASA's bi-monthly newspaper covering issues in aging research, practice and policy nationwide. ASA members receive Aging Today as a member benefit; non-members may purchase subscriptions at our online store.