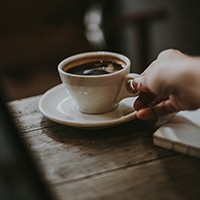 By Beth Soltzberg and Susan McFadden
The COVID-19 pandemic has taught us all a lot about isolation, but research had already demonstrated the dangers it poses to health and well-being. People living with Alzheimer's or a related dementia, and their care partners, are at particular risk of social isolation. Dementia can make it hard to continue everyday activities, but stigma and lack of public awareness about dementia create even more formidable barriers. Luckily, these are barriers that we can tear down.
A memory café, sometimes called an Alzheimer's scafé, can be a wonderful component in a dementia-friendly community. A memory caféis a social gathering spot for individuals living with dementia, along with their family and friends, and professional care providers (if they have one).
Cafés welcome guests at any stage of disease progression and whose dementia is due to any underlying condition. Cafés strive for an atmosphere that's more like a coffee house or a neighborhood party than a clinical program. Typically, guests are not asked their diagnosis. This way, people who have not been diagnosed or are not comfortable with their diagnosis feel included. While information about resources and services is available for those who seek it, cafés focus on strengths, rather than on disease and disability.
Cafés typically take place weekly or monthly for an hour or two, and meet in a wide variety of settings. Accessible spaces used by people in all walks and stages of life, such as libraries or community centers, are particularly favorable locations. Each caféis unique, because it is tailored to the unique culture, language and interests of its local community. Cafés also work hard to welcome people with varied life experiences and needs, for example, LGBTQ guests, guests from varied cultural and linguistic communities, those with younger onset dementia, and those with intellectual or developmental disabilities in addition to dementia.
Bere Miesen started the firstmemorycaféin 1997 in Holland, and they have since spread worldwide. Massachusetts and Wisconsin are home to the largest numbers of cafés, and providers in these states have developed networks to share ideas and resources.In some regions, those who wish can attend a café every week, or even more often.
When the COVID-19 crisis struck, memory cafés closed their physical doors, but many have reorganized as virtual programs. Café coordinators are working hard to help their guests obtain devices and Internet access and to get comfortable using this technology. Some are providing cafés via telephone,as well as online. A silver lining is that some guests find it easier to attend virtual cafés, because of the challenges of getting out the door, finding transportation, dealing with traffic and distance evaporate.
While there has not yet been a large-scale multi-site evaluation of the memory café model, café coordinators consistently report on the transformative power of friendship, companionship, acceptance and joy, all of which are found in great supply at a memory café. In the words of one memory café guest, "I've made so many friends here. This is what we need—a place where we're treated like everybody else."
Help is available for those who would like to attend or consider starting their own café. A national directory has created a special section for virtual cafés. Both Wisconsin and Massachusetts offer free toolkits, as well as recorded webinars and regular idea exchanges where café coordinators can ask questions and share their wisdom. Many of these materials are available in Spanish.
While there is not yet a cure for dementia, together we can reduce social isolation, even during physical distancing.
---
Beth Soltzberg, LICSW, MBA, is a social worker at Jewish Family & Children's Service in Boston. She is the founding director of the Percolator Memory Café Network and runs the Dementia Friends program for Massachusetts.
Susan McFadden, Ph.D., is a retired psychology professor who taught courses on adult development, aging and dementia for many years. She is a co-founder of Fox Valley MemoryProject, a nonprofit organization creating a dementia-friendly community in northeast Wisconsin.