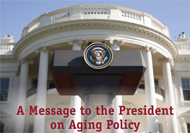 Aging was not discussed in the presidential campaign leading up to the 2016 election. But the rapid and substantial aging of the American populace requires quick action. The Winter 2016–17 issue of Generations (sponsored by LTC Partners, LLC) includes fifteen articles that lay out actionable policy plans for the new Administration regarding the economic impact of aging, protecting retirement income, ensuring affordable healthcare, and finding realistic ways to pay for long-term care.
We are offering full access to this important issue of Generations, which includes the following articles, and more:
In "The Economic, Fiscal, and Financial Implications of an Aging Society," G. William Hoagland demonstrates how the new President's ability to achieve campaign promises will be circumscribed by demographics. The aging of the nation will shrink the labor force, and Social Security, Medicare, and Medicaid will account for 73.8 percent of the growth in federal spending over the next decade, making it difficult for policy makers to garner or maintain public support for investment programs that could increase productivity.
Alicia Munnell, in her article "Restoring Public Confidence in Retirement Income," pens a five-point plan on how to restore public confidence and predictability in our retirement income system by: maintaining Social Security; making 401(k)s fully automatic; covering the 50 percent of current private-sector workers who have no retirement plan; encouraging people to use their homes as equity for retirement income; and encouraging longer working lives. Munnell proves the feasibility of this plan, stressing that the United States has the ability and financial infrastructure to meet the challenge.

ASA gratefully acknowledges the generous support of LTC Partners, LLC, for the Winter 2016-17 issue of Generations.
The rising cost of healthcare is one of the greatest economic, fiscal, and moral challenges facing the United States for coming generations. John Rother, in his article, "Top of the Administration's Agenda: Stem the Rising Cost of Healthcare," provides a step-by-step approach to lower existing and future healthcare costs. Even if we continued on the current path of reform, our health system still requires major additional reforms to change its cost trajectory by 1) more efficiently and effectively caring for the chronically ill, including at the end of life; 2) addressing high specialty drug costs and the out-of-control prescription drug market through R&D process transparency, competition, and paying for value; and 3) curbing demand for healthcare by changing people's unhealthy behaviors like smoking, drinking, overeating, and opioid abuse. Reforms focused on high-cost, high-need patients, measures to keep prescription drugs affordable, and successful public health prevention initiatives could be the single most important set of actions this incoming Administration could take to benefit all Americans.
G. Lawrence (Larry) Atkins, Anne Tumlinson, and Walter Dawson, in their article, "Financing for Long-Term Services and Supports," tackle the biggest topic now in aging: how to pay for long-term care. Americans remain at risk for devastating long-term-care costs not covered by Medicare or private health insurance. Family caregivers struggle to provide the majority of care, endangering their own retirement. Medicaid remains the payer of last resort, and private long-term-care insurance meets the needs of only a few. In-home care costs about $50,000 per year and nursing facilities can run up to $125,000 annually. A comprehensive plan to integrate healthcare, behavioral health, and long-term care would reduce medical expenses and fiscal pressures on Medicaid and Medicare. This article offers the best hope for an affordable solution.
And Ai-jen Poo and Carol Whitlatch detail the current state of caregiving in their article, "Caregiving in America: Supporting Families, Strengthening the Workforce," which offers recommendations for federal policy to prepare for America's changing caregiving needs through training, paying living wages to homecare workers, fostering state-level innovation, research, and a legal path forward for the immigrant caregiving workforce.
ASA is pleased to offer this latest issue of Generations, which will be reaching ASA members and subscribers in late January to early February.