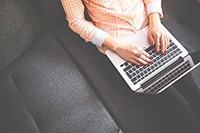 By Jay Newton-Small
I was winding down the marathon of covering a presidential election in 2016, when I met with my editors at TIME Magazine to discuss what I would cover after the election.
"How about aging?" I suggested. My editors hesitated: How about the White House? Or, at least, politics?
For many legacy news outlets like TIME, diminished profits and shrinking staffs have forced hard decisions and marginalized topics like aging.
But hunger for news about aging is growing, as more people experience firsthand the challenge of caring for a loved one or making tough decisions for themselves about when and how to retire or move into long-term care.
I had cared for my father during his final years living with Alzheimer's, and had struggled with how little information I could find about his disease and how to navigate each stressful decision. That experience led me to reorder my priorities for what constituted essential news.
Coverage of Aging Wanes, Moves Online
The shrinking of newsrooms has meant fewer people dedicated to covering older adults and issues that affect them. While large outlets such as The Washington Post and The New York Times have continued to devote resources to the beat, smaller newspapers have been much harder hit.
A topic editor for the Association of Health Care Journalists who advises reporters covering aging issues, Liz Seegert says local newspapers increasingly rely on national wires for news on ag­ing, leaving a large void when it comes to educating local communities about policies that affect elders or introducing them to resources that could help.
And while many newspapers have made strides to innovate and invest in growing younger audi­ences, few have gone out of their way to tailor coverage to the older adults who already comprise a loyal part of their readership. (The Pittsburgh Post-Gazette was a notable exception when in 2016 it launched a new "
Aging Edge
" digital section, catering to that region's higher than average older adult population.)
Under-resourced and spotty coverage nationally often means an oversimplified and negative narrative about what the new age of longevity means for society, says Paul Kleyman, past director of the Ethnic Elders Newsbeat at New America Media and also a former editor of
Aging Today
.
Few major media outlets are reporting issues "beyond the doomsday defaults of illness and socio­economic burden—the notion of a 'silver tsunami' about to swamp our national resources," Kleyman says.
As many traditional news outlets are struggling, however, new outlets are coming online, adding new energy and nuance to the beat.
STAT
, a health-oriented news website launched in 2015 by the owner of
The Boston Globe
, is helping to translate and analyze scientific discoveries that underpin what is known about longevity and illness, as well as report on politics surrounding the pharmaceutical industry, and other stories important to older readers.
And
Next Avenue
, a news site launched in 2012 by PBS, bills itself as news and information for people older than age 50. It hosts channels about health, caregiving, personal finance, careers and lifestyles.
Richard Eisenberg, the site's managing editor and senior web editor, says in the past six years he has seen growth in coverage on aging issues more broadly. He cites investigative work from Pro­Publica on age discrimination in the workplace and a recent series of pieces on dementia and Al­zheimer's by CBS' "60 Minutes."
Paula Span, who writes the "
New Old Age
" column for
The New York Times
, agrees that coverage in aging overall appears to be on the rise with stories from leading newspapers—as well as a con­tinuous flow of documentaries and podcasts from outlets such as Kaiser Health News and NPR.
Aging Beat Poses Potential Pitfalls
Aging is a challenging beat to cover well. It can involve analyzing scientific re­­search and avoiding stereotypes and semantic pitfalls as aging baby boomers are working to reframe the language used to describe older adults.
Seegert, who advises reporters on the beat, says other common pitfalls include lumping elders together as a group—conflating the lifestyle and abilities of someone who is age 65 and getting up for work every day with someone who is 30 years older and far more frail. And, she says, even in stories about aging, many reporters minimize older people's opinions and participation. "Even peo­ple with chronic disease and dementia still are people," she adds.
In under-resourced and fast-moving newsrooms, it can be hard to get beyond easy-to-sell sto­ries about "super agers" who are 103 and still driving or climbing mountains to more complex stories that explain the daily challenges faced by millions of older Americans or family caregivers who lack resources—such as long-term care insurance or paid family leave, Seegert says.
For me, rather than going back to covering my third White House, I de­­cided I wanted to con­tinue reporting on aging.
Inspired by my experience caregiving for my father, I started a company called MemoryWell to tell life stories for older adults with the goal of improving their care. I found when I shared a profile that I wrote of my father, his caregivers connected with him in a much more powerful way.
Now we are growing and launching a news platform to provide information for people across the country, who need, like I did, quality information to help them understand diagnoses and make often difficult treatment decisions.
Coverage of aging may overall be in­­creasing, but I know there are a lot of people out there who feel as I did when I was looking for answers in caring for my dad: alone and scared. Even profes­sionals in the aging sector, when confronted by caregiving, often don't know what to do, or where to find answers.
Stay tuned to
MemoryWell's website
in the coming months for a new journalistic voice on aging. We hope to let no one ever feel alone or without answers again.
Jay Newton-Small is a journalist who writes for TIME Magazine. She founded MemoryWell, a Web-based platform featuring stories, videos, photos and music that tell the life stories of people with de­­mentia, to help professional caregivers connect to them in a deeper way.
Editor's Note: This article appears in the July/August 2018 issue of Aging Today, ASA's bi-monthly newspaper covering issues in aging research, practice and policy nationwide. ASA members receive Aging Today as a member benefit; non-members may purchase subscriptions at our online store.