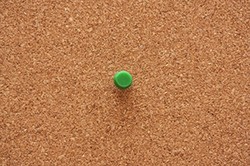 By Lynn Gold
Mom was already growing tired of yet another round of Chemo. I had not been able to visit nearly as often as I'd wished, especially now that she was alone in our family home. When I had last visited, Mom focused more on the ever-running TV than on conversation. Discussing feelings was never her strong point.
My therapist suggested my making a picture board, like the Dream Boards I'd created for future planning. She'd been helping me with some pretty significant issues, and the impending loss of my bigger-than-life Mom now took front stage. She suggested I cut any pictures, words, or phrases from magazines or ad material that reminded me of my Mom or of our relationship. Then peruse them all, looking for some pattern by which I could organize most of them, and glue them in that pattern onto poster board. She suggested that this visual could help guide a meaningful conversation with my emotionally locked-in mother. 
How could this work? Mom was known for her irritability, and now she was facing some intense life decisions. What pictures could I possibly find to communicate with her, especially in her present state?
I gathered a large variety of magazines, any I could find, and a handful of mailers with splashy color. I started snipping: woman playing golf (she'd been a champion golfer), fruits and veggies (nutrition a passion for her), children playing with their families (family had always been highest priority,) stacks of money (fiscal responsibility ever in mind coming from a hard-working immigrant family during WWI.)  I cut out the words and phrases that resonated: "Good Nutrition", "The secret's in the short game," and "Smart Investments." They each reminded me of Mom, our family, or our history.  Only when I started sorting through them all did the pattern reveal itself. I was excited by what lay before me. I was able to fit almost all those pieces into 5 categories, each representing one of Mom's talents or values.
I'd arrived at the house alone, surprisingly, and greeted Mom with a hug and kiss, impacted by how much smaller and weaker she seemed since I'd seen her months ago. I hadn't arrived with my sisters, who lived in town and had attended to Mom regularly, even as fiercely independent a woman she as was. They were each loud, enthusiastic, and always seemed to be bubbling over with their experiences and impressions of them. It was usually hard to get a word in. 
I appreciated the quiet as I opened my suitcase to retrieve the "Appreciation Board" I'd been able to fit inside after just one fold. With Mom's permission I turned off the TV and opened the picture collage before her on the kitchen table. Still sharp as a whip, she immediately turned her attention to the pie-shaped array of colorful, detailed pictures and labels. She listened intently to the description of my process and intent in creating this collage of memories of her. She asked questions to better understand, but mostly beamed with appreciation as I reflected for her how I saw the person that she was and had been all my life. 
We shared stories that the pictures generated, stories detailing the characteristics represented by these magazine pictures. One pie piece reflected what an athlete she was, playing tennis and horseback riding. My dad had taught her golf early in their marriage. She went on to win Club Championships, local tournaments and, later, National Senior Ladies Golf Title in the 55-60 year category. I saluted her. She laughed as I recounted how anxious she'd told us she'd been before every tournament, sick to her stomach, yet so often the victor! 
That story dovetailed into the pie piece representing the responsible Mom she was, always preparing savory pots of nutritious meals and making certain she was home in time for us four kids when we returned from school. When we were older, on tournament days, she left a detailed note of her ETA. I don't think I'd ever told her before how reassuring they were. 
In later years, when my own family's visits home arrived late, she'd leave the front door unlocked and freshly baked rhubarb custard pies cooling on the counter, with a note for us, of course. She would dismiss our exuberant thanks the following morning. Not this time. Now was heart-to-heart time.
To fully honor all her skills there was her "Miracle Worker" section. As an R.N. she healed all our ails except broken limbs, tended to the beautiful flowers, shrubs, and vegetation around the house, repaired the electrical and plumbing issues, and even changed the oil in the car. THAT section of the Mom Pie was especially detailed and colorful, and she loved every story we recounted. I told her how her unique tenderness with her early patients, before she retired to raise the four of us, had impacted my own development as a Speech Pathologist. She hadn't realized how much she had touched me.
Another piece showing musical notes and instruments, dancing and laughing, reflected her love of music. She laughed as I recounted her story as a twenty-something, sitting on the hood of their convertible, facing her husband and friends inside, conducting the Philharmonic's Beethoven symphony that blasted through the radio. She added even more sweet detail.
It was as if the pictures and our stories were transporting us back many decades, her laughter and emotional involvement reawakened by those memories. She was fully receiving my loving appreciation of all her talents, her accomplishments, and her values.  She was recognizing mine and my family's admiration for all she had done for us. We were indeed sharing that precious one-on-one connection that I had so longed for.
And then my sister burst loudly through the door...
Lynn Dickson Gold earned her Master's Degree in Speech Pathology and Audiology at California State University Los Angeles. She's a member of the American and California Speech/Language and Hearing Association. During her 50 years of professional work she has provided services to patients with speech, language, hearing and voice disorders through a Home Health Agency in Los Angeles and Private Practices in New Mexico, Orange County, and the greater San Francisco area. She has also taught graduate students of Communication Disorders at Cal State Northridge and CSU Long Beach and school-aged students in New Mexico and California school districts. Her Life Review Board is a creative way for an adult child to appreciate an older loved one through multiple modalities. After creating the visual picture board, the gifter describes the loved one and their life events verbally, using mostly non-verbal pictures for mutual focus