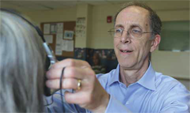 By Alison Biggar
Dan Cohen, founder and executive director of Music & Memory in Mineola, New York, originally thought managers of nursing homes and other institutions housing older adults would take his simple idea—having people with advanced dementia listen to personalized sets of music via iPod—and run with it. After all, Cohen had found that this activity clearly brought happiness to the listeners, with an immediate effect not seen with medication or other activities.
Almost as soon as Cohen placed headphones on people and turned on the music, which was custom-programmed to have a connection with their past, he saw their features soften as they began to sway and dance and sing along, transported to another time and way of being. Being able to escape from their current reality had a dramatic calming effect. The right mix of music is selected either by interviewing older adults prior to advanced dementia setting in, or through a process of elimination using birthdate, cultural background, place of residence and other significant life markers.
Failure to Launch—at First
In 2006, Cohen, who spent much of his career in technology, was listening to a radio journalist talk about how ubiquitous iPod use had become. His first thought was that although that might have been true for young people, it wasn't so for older people—especially those living in nursing homes. And he knew that if he ever was to live in a nursing home, he would want to listen to his favorite music.
After Googling and finding no instances of iPod use in nursing homes, Cohen called a 600-bed county facility in nearby Uniondale to ask if he could test out his theory, to see if there was any value for older adults with dementia in listening to personalized music. As someone who has "always loved introducing technology to those not using it," after one short trial, Cohen was hooked on music's happy, calming effect on elders.
Unfortunately, he met with resistance from those in charge of facilities he approached with his idea; administrators assumed it would be prohibitively expensive to supply the iPods, and then there was the risk of loss and theft, which happens frequently in long-term-care settings (e.g., with glasses, dentures and other small portable objects). One nursing home told him they'd have to win the lottery to pay for a program like Music & Memory, but meanwhile, Cohen noticed, they were spending money to upgrade 500 televisions.
Knowing that approximately 40 percent of people in nursing homes have dementia, Cohen couldn't understand why there was so little help for their behavioral issues or thought for their happiness. There were many programs designed to entertain those with early-stage dementias, but nothing for those who were in the advanced stages—people usually inclined to just sit, disengaged from everything. Initially, it took Cohen years to get his program launched in just 56 nursing homes.
Happiness Gets a Boost
In 2008, with funding from the Shelley & Donald Rubin Foundation, Cohen bought 200 iPods and took them into four New York long-term-care facilities to test the program and, in 2010, launched Music & Memory as a nonprofit. But the biggest boost to his work came from writer/director/filmmaker Michael Rossato-Bennett, who asked if he could follow Cohen around for a day. Moved by what he witnessed, Rossato-Bennett ended up shadowing Cohen at work for three years.
The ensuing film, "Alive Inside: A Story of Music and Memory," came out in 2012 and won the Sundance Film Festival Audience Award. As is the way of the modern world, a clip of Henry, a subject in the film with advanced Alzheimer's who is re-awakened from a nearly catatonic state and smiles and sings as he listens to Cab Calloway, went viral, with more than 11 million views. This thrust Music & Memory into the spotlight.
Commenting on the nursing home's residents' reactions to listening to their individual soundtracks, the film's narrator says, "Music is a back door to the brain." And the part of the brain that processes music is the last to lose function in Alzheimer's disease, says neurologist and writer Oliver Sacks in the film.
"I've spent 38 years working on Alzheimer's disease, and I haven't done anything for patients that's as effective as the music therapy," says Peter Davies, director of Litwin-Zucker Center for Study of Alzheimer's Disease and Memory Disorders, at New York's Feinstein Institute for Medical Research. "I wish I had, and I'm still trying, but I really haven't seen anything as positive as [Music & Memory]."
Researchers at Brown University studied the effects of the Music & Memory program in almost 100 facilities using the program, as well as similar facilities not using it. There was shown to be about a 20 percent reduction in antipsychotic use in those facilities implementing Music & Memory programs, as well as an 11 percent increase in improvement of behavioral and psychological symptoms of dementia, including agitation and aggressive behavior.
So why the continued resistance? Gerontologist Bill Thomas, who appears in the film, links it to the pharmaceutical industry. "What we're spending on drugs that mostly don't work dwarfs what it would take to deliver personal music to every nursing home resident in America," Thomas says. "The real business is in the pill bottle."
Replication in Action: Training and Volunteerism
But Cohen persisted and, given the film's high profile, soon began getting iPod donations (Music & Memory receives about 200 to 300 per month). He now has the program at work in more than 3,000 facilities in the United States, Canada, Australia and Europe.
To establish the program, Music & Memory provides extensive training for interested facilities; the curriculum involves three 90-minute webinars covering pragmatic issues, including where to get the iPods, legalities, etc. Cohen checks in with nursing homes that have had the program up and running for a while, because of high staff turnover. Music & Memory offers refresher courses via webinar and many facilities have taken to training interdisciplinary teams of managers to ensure someone will know how to continue the program if other staff leave.
Cohen also is busy matching volunteers with nursing homes to perpetuate Music & Memory. He works with high school and college students, as well as other volunteers who visit and help staff to run the program. Music & Memory got a recent boost from the Centers for Medicare & Medicaid Services (CMS), as the program meets CMS's newly required standards of care for person-centered care and improved safety for long-term-care facility residents.
Music & Memory's future looks promising and Cohen is optimistic. "In five years, my hope that all 67,000 healthcare organizations in the United States will make personalized music available as a standard of care," he says.
Editor's Note: This article appears in the July/August, 2017, issue of Aging Today, ASA's bi-monthly newspaper covering issues in aging research, practice and policy nationwide. ASA members receive Aging Today as a member benefit; non-members may purchase subscriptions at our online store.
Article photo courtesy of Michael Rossato-Bennett.