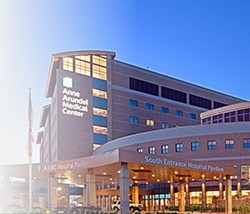 Editor's note: The John A. Hartford Foundation, the Administration for Community Living and The SCAN Foundation fund the Aging and Disability Business Institute, led by the National Association of Area Agencies on Aging (n4a). The mission of the Aging and Disability Business Institute is to build and strengthen partnerships between aging and disability community-based organizations (CBO) and the healthcare system. As partners in the Aging and Disability Business Institute, ASA and n4a are collaborating on a series of six articles and case studies in Aging Today that highlight the Age-Friendly Health Systems initiative.
Complex, vexing problems—e.g., how to keep older adults out of the hospital, or when a hospi­tal stay is necessary, how to get them home as quickly and safely as possible—often can be at least partially solved with simple, inexpensive solutions. Such is the case with a collaboration between the Anne Arundel County Department of Aging and Disabilities and the Anne Arundel Medical Center (AAMC), both in Annapolis, Md.
AAMC is one of five Age-Friendly Health System Pioneers, systems chosen from across the country by The John A. Hartford Foundation and the Institute for Healthcare Improvement to help determine the parameters of an age-friendly health system.
As AAMC was revving up its age-friendly work, it started advisory groups composed of older adults in the community. One group member recommended that the group moderator contact his daughter, Susan Shelton, who at the time was program director for the Assisted Living Program at the Anne Arundel County Department of Aging and Disabilities. Shelton, he said, had a worthy idea that the group might consider.
An Age-Friendly List: What Matters Most
In 2017, Shelton's father had come down with pneumonia, and was placed in AAMC's Acute Care for the Elderly (ACE) unit. Shelton made a list of personal information about her father so the ACE staff would know what mattered most to him: e.g., he is hard of hearing and must be spoken to face to face so he can read lips; he needs closed-captioning on television; and he's sensitive to the cold and requires extra blankets. Also on the list was the proviso that, if her fa­ther became agitated or distressed, staff should tell him that his daughter Susan was at home, and to call her there. After writing all this informa­tion on a white board in the room, Shel­ton left for the evening.
The next morning, Shelton says, staff had moved the whiteboard list from inside the room to the room's en­trance, and many staff members commented on how useful it was to know such personal specifics about a patient. Shelton thought, wow, if it works at a hospital, it might also work in assisted living facilities.
As an information resource for as­sisted living facilities, Shelton and her staff, Jen Jackson, who was recently named assisted living program director following Shelton's retirement, and Carol Clemmens, the program's human services specialist, oversaw 85 small as­sisted living residences, housing 720 residents. They decided to create a simple tool that would capture the same information she had provided about her father, but that would be applicable to assisted living facilities, to highlight resident needs and track what matters most to them.
The My Story Snapshot
With input from other programs at the Department of Aging and Disabilities, Shelton, Jackson and Clemmens sat down together to create the form, which was dubbed My Story due to its storybook format, and was meant to capture information about residents likes and dislikes, along with what was important to them—essentially, anything a caregiver might need to know to make the older adult as comfortable as possible. The two-page storybook also would give staff a snapshot into a person's personality, and what they enjoyed doing in life.
My Story also provided a way for assisted living residents living with dementia to communicate their needs and preferences when they were no longer able to communicate. Staffs at assisted liv­ing facilities and in hospitals could use this tool, which would "travel" with older adults to what­ever residential or care setting they might inhabit.
When the form was complete, Shelton and her staff started a pilot program with five 4- to 16-bed community-based assisted living facilities in Anne Arundel, Howard and Baltimore counties. Shelton's team conducted presentations for assisted living facility staff on how to use the question­naire to generate a person's story and how best to complete the form by sitting down and having a conversation with the resident and her or his family.
The assisted living facilities then completed an evaluation of the form. Residents and patients en­joyed these conversations with staff, and staff appreciated the break from focusing solely on care tasks. In filling out the form, assisted living staff found they could better connect with residents, as they dis­covered new information about their longtime residents.
No Downsides to Be Found
Though the My Story implementation proved to be a positive, bonding experience, there was a fear that using the form would consume too much staff time. This proved to be false, as filling out the form took only 15 to 20 minutes. Within 30 days, all the assisted living facilities participating in the pilot program had completed forms on their residents and completed evaluations.
According to AAMC, one or two elders with dementia had ended up in their ER during this time and ER staff there found that knowing calming techniques from the My Story form prevented the use of chemical or physical restraints.
AAMC's Vice President, Nursing, and Chief Nursing Officer Barbara Jacobs calls the form "tre­mendously helpful, especially for patients who can't tell us what they need. It allows us to imme­diately know a bit about what matters to this patient and family."
After reading the evaluations, Jackson tweaked the My Story form, eliminating questions about allergies (residents often would say they were allergic to foods they disliked) and medical informa­tion to be in compliance with HIPAA.
Using feedback from multiple agencies, including assisted living facilities, hospice care facili­ties and nursing students from the University of Maryland, the Department of Aging and Disabili­ties adjusted the form, and changed the design to be more user-friendly and to comply with ADA guidelines. The expanded form now included background information such as marital status, mil­itary service and languages spoken. And they added questions of functional status, such as can the person can walk independently, do they need a walker, can they communicate verbally and feed themselves, etc.
"It's very calming for the resident to feel like people already know them [when they enter the hospital]," says Shelton.
My Story Takes Off
The My Story form is now widely dispersed throughout assisted living facilities, skilled nursing facili­ties, home healthcare agencies and health systems in Anne Arundel County, but, more importantly, it is online for anyone in the community—older adults and their care­­givers—to access at aacounty.org/services-and-programs/my-story. And, as the form travels with the patient, it also appears in rehabilita­tion facilities, and can be updated as the patient's status changes.
Jackson has a piece of advice for assisted living facility managers who would like to implement My Story: "[Do] check in at some point and ask if staff needs any help or more materials." Larger facilities may have a dedicated social worker who would welcome being the point person on using the form, but for smaller facilities, managers often play multiple roles and need more support to run the My Story program successfully. "Anyone interested in using My Story can contact us di­rectly and we'll give them all the information they need," Jackson says.
In using the My Story form, Jacobs says that "caregivers want patients and families to not just receive care but to feel cared for as people. My Story is a positive for caregivers as it allows us to give the patient very personalized care."