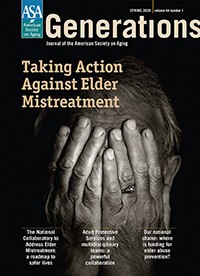 An estimated 1 in 10 older adults in America and across the globe are affected by elder mistreatment. Elder mistreatment can be physical, psychological or sexual abuse—or it can manifest as neglect and financial exploitation. This appalling statistic makes it imperative that we find solutions to this scourge.
The Spring 2020 issue of Generations, "Taking Action Against Elder Mistreatment," includes the article, "A Roadmap Toward Safer, Happier Lives: The National Collaboratory to Address Elder Mistreatment," by Kristin Lees Haggerty, Rebecca Jackson Stoeckle, and Terry Fulmer. The article frames the issue's content and describes how The National Collaboratory, a group of elder mistreatment experts, innovators, researchers, and clinicians, are working together to prevent, intervene, and ultimately eradicate elder mistreatment.
To raise awareness about elder mistreatment, and to encourage support for World Elder Abuse Awareness Day on June 15, 2020, we are offering free access to this article.
Read or download the article for free.
The American Society on Aging (ASA), The John A. Hartford Foundation and the Education Development Center (EDC) have collaborated to present this issue of ASA's journal, Generations, which offers powerful action strategies and effective models against elder mistreatment and is a cutting-edge resource for clinicians and care providers who want to prevent such abuse and to forge treatment programs that yield successful results.
Read or download the entire issue for free.
The issue also has nearly two dozen other articles that outline person-centered approaches and strategies, that trace an older adult's typical journey through care systems, and that offer perspectives from elder mistreatment experts, key federal stakeholders and—most importantly—from older adults themselves.
ASA also offers open access to its COVID-19 Resources page.