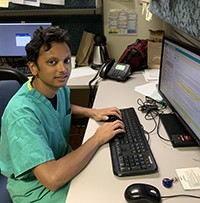 Faced with the outsized impact of the COVID-19 virus upon the Navajo Nation, this past April the University of California, San Francisco (UCSF), sent a team of healthcare workers (seven physicians and 14 nurses) to Arizona and New Mexico to work with Diné struck by the disease. The University has a long-standing relationship with the Navajo Nation, as it regularly rotates medical residents and other healthcare workers through the reservation to supplement dire doctor shortages.
Hospitalist Abhisake (Abhi) Kole spoke with ASA in mid-May about his experience at Arizona's Tuba City Regional Health Care—for Kole, this was his second time in Tuba City, as he had a residency rotation there. Kole, originally from Calcutta, graduated from Emory University's medical school, has a doctorate from the University of Oxford and did an internal medicine residency at Emory. Currently, he's a Clinical Fellow at UCSF and is part of its Health Equity, Action, Leadership (HEAL) Initiative, a two-year fellowship for healthcare workers who are committed to working with disadvantaged rural communities.
Tuba City, about an hour and fifteen minutes north of Flagstaff, has the largest hospital on the western half of this Navajo reservation, and is the location where most Diné COVID patients from that quadrant of Arizona are sent.
When Kole arrived on April 22, he found the hospital had restructured their workflow with temporary barriers denoting a "non-infected" side and an "infected" side, the infected side holding patients who are COVID-positive. Physicians on that side don protective gear, see patients, speak with nurses, spend about 2 to 3 hours at a time working, remove the gear and then use the non-infected side for note-taking and breaks.
By late April, the Navajo Nation had the third highest coronavirus infection rate in the United States, coming in line just after New York and New Jersey. And although as of May 11 there were 3,204 cases of COVID-19 in the Navajo Nation and 102 deaths, Kole found the patient load unexpectedly reasonable due to hospital management adhering to their strict nurse-to-patient ratio of 3 to 1, or 5 to 1 at most. Because nurses are in even higher demand on the reservation than are doctors, the number of nurses available to work had limited the number of patients that could be treated.
A healthcare provider shortage exists all across the reservation. The day Kole spoke with ASA, the hospital had 24 acute care patients, five ICU patients (capped at nine) and more arriving at the Emergency Department, some of whom were referred to other hospitals.
Kole noted that although it seemed the virus' surge had already peaked in Tuba City and was on the downslope, members of the Navajo Nation are now seeing a surge outside of Gallup, New Mexico, and UCSF healthcare workers also have been sent to that location.
As in the rest of the country, older adults living on the reservation are disproportionately affected by COVID-19. "The bulk of my patients are over 65, but we still see people in their 30s to 50s," Kole said. "About 50 percent of my patients are older than age 65, and we're probably underestimating that number as well, because lots of them elect not to come into the hospital if they are older. They prefer to be taken care of at home."
Culturally, Kole said, it's also less common on the reservation for older adults to to live in a nursing home, and the closest one to Tuba City is on the eastern side of the reservation, whereas Tuba Indian Medical Center is in the west.
So why is the Navajo Nation seeing such a heavy caseload? Kole says that although one might presume that a reservation—which is its own land, with its own rules—might be sheltered from a virus, the reality is that due to economic conditions, working-age reservation residents must travel outside to border towns for work. They then return to their families, and spread the virus within housing units. Also, many people on the reservation lack sources of running water, making maintaining proper hand-washing and other safety recommendations difficult.
The Navajo Nation has taken stricter precautions than many municipalities, enforcing a daily curfew from 8 p.m. to 5 a.m. and a weekend curfew of 8 p.m. on Friday through 5 a.m. on Monday morning. Yet, due to the double jeopardy of visiting border towns for work and needed services not available on the reservation, virus spread keeps occurring at home.
When asked, Kole agreed that such spread was much like what has been reported in the Bronx and in Queens, New York, and in San Francisco's Mission District—anywhere with a majority working-class populace, who are unable to work from home while sheltering-in-place protocols remain in force.
Kole's one-month voluntary assignment in Tuba City ends in late May, but he had some wise advice for people working in the aging services sector, especially those who might be in a position to influence older adults. Essentially, says Kole, everyone, but especially older adults and particularly those living on the reservation, need to have goals of care and end-of-life plans written down.
"Usually I'm able to have these discussions in person with the family, and [am able to] read their facial expressions, but because of COVID, we can't do it in person or in a group." Kole is conducting a lot of one-on-one phone calls, and patients' families are having a hard time making difficult decisions without being able to be with their loved ones.
Kole would appreciate having guidelines on how to have family discussions remotely, and ideas for ways of making this very difficult process a bit less onerous, especially on the reservation, where older people are highly valued and respected individuals in the community. "Their relatives have an even harder time of not being able to be at their bedside when they are dying.
"Death is one of the most important parts of someone's life, and [family members] having to miss that is traumatizing," Kole said. He expects an additional burden will be the long-term effect of the aftermath of "all these family members with extended bereavement because they didn't get the closure they wanted."
As is mentioned in a Centers for Disease Control and Prevention paper, "some tribes do not talk about terminal illness for fear that talking about terminal illness will cause it to happen"—a situation Kole has encountered. "Families don't want to talk about the prognosis or if someone is going to die. I find myself making a lot of hypothetical statements like, 'If someone were to get sick, do you think they would want this?' I'm not good at it, but it takes a lot of skill to have these conversations," said Kole.
Kole also would like ASA members to understand that the problems that exist in the Navajo Nation (i.e., economic insecurity, multigenerational homes, lack of running water) will still exist long after he leaves and long after the pandemic ends.
"It is urgent that people don't stop caring after this is over," Kole said. "Because whatever the next crisis is—whether it's a flood or an earthquake or another pandemic—things are worse on the reservation than they are in the rest of the country. And the Navajo Nation could be better prepared if we planned for it."