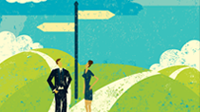 By Bernadette Wright
Accountability! Quality care! Save money! Sound familiar?
Growing numbers of federal agencies, states, and private payers are offering potential opportunities for service providers to become a part of new, complete systems of "accountable care," where providers collaborate to offer more integrated, better quality care and share in the savings. Many studies and experts give advice to attain these hoped-for results, with each source claiming to offer a better answer.
Unfortunately, all these potentially useful resources are disconnected. This makes it difficult for providers to make sense of the vast amount of raw data and find the right strategies for themselves.
It is as if you were an explorer planning a trip to an uncharted land. Many people might have expert knowledge of specific places. One person might tell you about the roads, while another tells you about the dangers. Unfortunately, no one has a complete map of the entire terrain. This problem is multiplied when you are innovating new ways of doing things. You are not travelling the easy road; you are exploring new territory, with no clearly marked road to success. Or, in the words of Captain Kirk, you are "going where no one has gone before."
The challenge is to piece together relevant data and facts from all the different "maps" to create your own map that shows how to get from where you are now to your desired destination. Also, we need a way to tell if a map is likely to work in practice. Unfortunately, methods to do this are not well developed or widely known.
But, lucky for you, at ASK MATT, our work focuses on a simpler, yet scientific, approach to assess and integrate competing "maps." To develop this method, we've drawn on ideas from many fields including conceptual systems, psychology, complexity theory, systems perspectives, philosophy, and evaluation research. Although this method has been enthusiastically received in a growing number of publications and presentations, it has not yet been formally introduced to audiences in the field of aging.
That is why we expect to see you—those who are industry leaders and those who want to become game changers in the aging field—at our AiA14 presentation, "Toward Complete Systems of Care: From Conflicting Models to Accountable Collaboration." It's on Thursday, March 13, 2014, 4:30-5:30pm, in the Nautical Room, 4th floor, Harbor Tower (1 CEU credit).
Using a few examples from recent studies, attendees will work together to map and assess competing models of accountable care. They will learn ways they can use results to maximize their success:
Find the best approaches for their organization
Show stakeholders the value they bring
Determine reliable outcome measures for contracting arrangements and rewards systems
Gain new and useful insights into strengths, weaknesses, and opportunities within accountable care
To get an idea of the technique we'll be presenting, see the overview, detailed explanation, and samples on our new ASK MATT website.
---
Bernadette Wright, PhD (Twitter: @BernWrightPhD) and Ladel Lewis, PhD are with Meaningful Evidence, LLC; Steven E. Wallis, PhD is Founder of Foundation for the Advancement of Social Theory, Adjunct Faculty at Capella University, and is available on the Fulbright Specialist Roster. They can be reached at askmatt@meaningfulevidence.com.