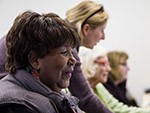 By Terri Worman
Every year, ASA constituent group councils work to bring together daylong cohesive workshop presentations and gatherings at the Aging in America Conference that highlight their professional and personal interest areas. 2020 is no exception and the members of the Network on Environments, Services and Technologies (NEST) council invite Atlanta conference attendees to join us on Wednesday, March 25 for our NEST Program Day entitled Intervention to Innovation: Technology-Driven Solutions for Aging in Community. You can attend the entire day's presentations or choose your favorites and mix-and-match with other conference sessions. Be sure to check your Conference Program for times and locations for the NEST Program Day sessions!
We all know our aging populations continue to want to stay in their own homes, their own communities with the services needed to age in place with dignity and independence. Municipalities, service agencies, policy makers, businesses and the older adults themselves are looking for creative and cost-effective ways to build the communities and connections they deserve. Our NEST Program Day takes a look at interventions and innovations that enable older adults to thrive as they age in community.
NEST sessions will explore technology-enabled solutions as tools to maintain and improve health, independence, and quality of life. We will describe how city planning and interactive mapping create real time benefits to older people. You also will learn about virtual platforms and apps that can support older adult education and connect people with each other and community-based organizations.
The day starts at 11:00am with Intervention to Innovation: Implementing Scalable and Sustainable Technology-Enabled Solutions for Older Adults, taking a global look at innovative technology-enabled innovation hubs that have developed health technologies, including telehealth, assistive technologies, sensor/monitoring technologies, mHealth, and data analytics. Results will be presented from technology innovation ecosystems from the U.S. as well as global innovation centers (e.g., Denmark, Japan, China, Singapore, and Canada). 
Next up is a discussion on Living Environments: Age-Friendly Innovations from Places to Spaces. Innovation in approaches to aging in place are enhancing the opportunities to support the well-being and quality of life of older adults. Our panelists tackle smart city planning and interactive mapping at the macro level that help to create real time benefits to older people and decision makers. Artificial intelligence and data technology solutions that make long-term independent living an option are also explored.
In our current era of smart phones, self-driving cars, and robotic care-giving, many see technology as a barrier to social connection. An ever-growing body of research and applied sciences have shown that technology gives us the ability to encourage social connections, expand creativity, and positively impact wellness. We continue our NEST Program Day program with Creative Aging without Walls: Wellness at Your Doorstep, a presentation that will discuss how virtual platforms can support older adult education and connection. Attendees will learn practical ways in which these concepts can be applied in their work.
We round out our day of programming with Community-Wide Technology Supported Innovation: Enabling Aging in Community for All Ages and Abilities and a look at an innovative program of technology-enabled support being replicated and expanded across Michigan communities. In each community, 25 organizations and all residents can use, at no cost to them, a "SuperApp" connecting people with each other, and with vital community based organizations (CBOs). Improvements in social determinants of health (SDoH), important lessons learned, new features for 2020 including "eVolunteering" and Video 211, and opportunities for replicating in other communities will be presented.
Still not had enough of NEST and our shared constituent group goal of maximizing functional capacity and promoting independence for elders through appropriately designed environments, services and technologies? Wednesday is also the home for NEST peer group meetings starting at 6:30 pm. These meetings offer conference attendees a chance to network and share exciting projects and ideas with other professionals around a specific topic focus.
Your will find NEST Council members hosting two different discussions that evening. The "Age-Friendly Livable Communities" Peer Group will focus on models and approaches of collaboration for community development that are generative and promote livable communities for all through age-friendly and dementia friendly lens. Attendees are encouraged to share what is happening in their community and state.
Our second Peer Group "Technology and Aging," kicks off a discussion on the exciting and growing field of technology and aging. Participants are invited to discuss their favorite products, showcase new and existing companies and share exciting opportunities and upcoming trends. Networking will abound as this diverse peer group offers opportunities to meet other "techies," find out the latest and greatest in our field and identify new opportunities.
Want to know about NEST and find ways to connect throughout the year? Go to https://www.asaging.org/nest for more information.
Terri Worman, MA, is an Associate State Director, Advocacy & Outreach with AARP Illinois and a NEST council member. She received her Master of Arts, Learning & Emerging Technologies from SUNY Empire State College in 2016.