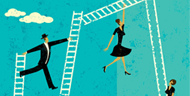 By Philip B. Stafford
It has been more than 45 years since Sherry Arnstein published her seminal article, "The Ladder of Participation" in the Journal of the American Planning Association. At base, the article was about the distribution of power in society, and advocated for goals of empowerment—moving public-citizen participation in decision-making beyond tokenism (the ubiquitous advisory councils) to real empowerment (e.g. juries and citizen-based budgeting).
In the field of aging, how far up the ladder have we come? Have we gotten beyond the "citizen input" stage of public participation?
In the coming year NEST (ASA's Network on Environments, Services and Technologies Constituent Group) hopes to address that question and give us all a little push up the ladder.
I would suggest there is a fundamental difference between designing for and designing with the folks we presume to serve. In designing for we reserve the right, as experts, to make decisions on others' behalf. This is not to say we don't have good intentions. And with limited resources and not enough time to plan, we have to stop at some point and come up with a product.
Co-design—the process of designing with—questions just who are the experts and suggests there is an entire new universe of tools that can be applied to solve human problems. Co-design takes the ideal of participation to a higher rung on the ladder. Instead of including people in ubiquitous (albeit helpful) focus groups, it brings end-users to the drafting table, to the factory line, to the boardroom and, in the end, serves more people, not fewer. And it results in better products—a win-win. Do promising practices exist?
How about in the design of services? In its most radical form, the Village Movement is about older adults taking things into their own hands. In its more typical form, it's about empowering older adults to exercise more authority in determining what the service sector should be doing for them and with them. This authority is seen to emerge from organizing and not from the former isolating practices of "public input" traditionally made available by bureaucracies and business. It's the aging version of "Nothing about us without us."
In the field of design for environments, citizens are moving beyond the traditional charrettes—"Thank you for your ideas. Now we'll go design"—to new collaborations that can turn older adults into developers. Perhaps the cohousing, intentional community movement is one of the best and earliest examples. I believe new approaches are in our future as self-organizing groups of older adults together identify their needs and desires and proceed to hire the expertise required to fulfill those aims. They will demand the public policy changes necessary to expand the range of housing options in their communities—group shared housing, accessory dwelling units, tiny houses, intergenerational pocket neighborhoods and others.
Co-design for new technologies is a rapidly growing movement based on the observation that many Silicon Valley innovations are simply not user-friendly for what may be at least a third of the market for products and information services—people older than age 50. Some companies are bringing older adults onto development teams (e.g. Barbara Knickerbocker-Beskind, age 90+ designer at IDEO); some companies and universities are taking design workshops to the streets, setting up storefront design and maker space open to all (University of Limerick's FAB LAB).
In the coming year NEST will strive to elevate the discussion about participation among ASA membership. Be on the lookout for web seminars and blogs created through NEST; and attend AIA17 next March in Chicago, where the NEST program day will include multiple sponsored sessions and events organized around the subject of participation and co-design—of environments, services and technologies—the EST of NEST.
Come participate!
---
Philip B. Stafford, Ph.D., is director of the Center on Aging and Community at the Indiana Institute on Disability and Community, Indiana University in Bloomington, Ind., and chair of the NEST Council.