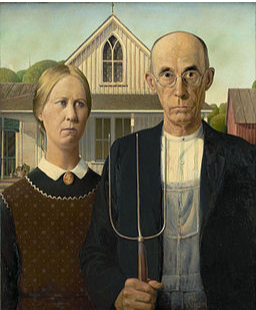 By Mercedes Bern-Klug
Living in Grant Wood's home state of Iowa, and being on the faculty at the University of Iowa where the famous painter taught for a dozen years, I often drive visitors to Eldon, Iowa (popu­lation 908). We go there to stand before the house whose façade served as the backdrop for Ameri­can Gothic, the famous portrait of an older man (Wood's dentist) holding a pitchfork and standing next to a younger woman (Wood's sister). The original painting hangs in the Art Institute of Chicago, but parodies of this iconic image pop up constantly.
I'd like to suggest yet another adaptation, in which both subjects are portrayed as older adults, to embody the face of American caregiv­ing, because, as discussed in this Fall 2018 issue of Generations, many of today's—and certainly tomorrow's—caregivers will come from the ranks of older adults.
This issue of Generations takes a common topic in gerontology—caregiving—and shifts the perspective to consider older adults as care providers, rather than the usual trope of older adults as care receivers. Tapping some themes that have dominated the caregiving literature for decades, in particular the costs and benefits of engaging in caregiving, this issue of Genera­tions breaks new ground by compiling informa­tion and insights particular to the experience of caregiving as an older adult. At this later stage of life, engaging in caregiving can accrue added suspense, because the caregiver may be challenged by diminished physical, social, and financial reserves amid changing social expec­tations and uncertain supports. Older care­givers, however, can draw upon decades of experience, creatively leveraging these assets 
to deal with new challenges.
Although this is the first issue of Genera­tions devoted entirely to older adults as care­givers, such caregiving is not new. The average age of caregivers in the United States is just one year shy of AARP membership—age 49—and the Family Caregiver Alliance (2018) reports that more than one-third of all caregivers have reached age 65. Furthermore, data from The Partnership for Solutions (2004) show that the number of hours dedicated to caregiving is highest among the oldest age groups; the aver­age caregiver ages 75 and older is providing more than thirty hours of care per week.
While older adults are caregivers to per­sons of all ages, many care for a same-generation spouse or sibling; and the average age of spou­sal caregivers is 62. In every corner of America, older adults already are a firm part of the care­giving structure that supports persons in need of care—especially those in need of long-term care.
In This Issue
The articles that follow this introduction were selected to illumine considerations particularly germane to older adults engaging in caregiving. Carlson and Lang lay out an overview of public benefits available to older adults and caregiv­ers, underscoring policy changes needed to facilitate caregiving. Dawson and Nash discuss community-based services, focusing on Oregon's innovations in the state's service arrangements and funding.
Many of the articles speak to the issue of older adults caring for grandchildren. Scott describes a Kansas City–based public housing option developed for grandparents who are car­ing for their grandchildren. And an article from Peterson Lent and Otto discusses grandparents caring for grandchildren in the face of the par­ents' substance abuse and addiction problems. Kropf reviews mental health concerns that can contribute to the need for caregiving. Peterson writes about African American grandparents raising grandkids, and points out challenges and inherent strengths in those situations.
Other articles address circumstances in which older adults provide care to their adult children. Byram writes of the social and emotional issues involved in caring for an adult child with an intel­lectual or developmental disability, and Scharp and Curran give an overview of family conflict, which includes a focus on the extreme case of fam­ily estrangement. The article by de Vries reminds readers that friends play an important caregiving role, one that society often overlooks or underval­ues. Levy and colleagues describe the "medical foster home" approach initiated by the Veterans Administration, in which people open their homes to veterans in need of care, helping this population to avoid nursing home admissions. Klippel and Sullivan explain Post Traumatic Stress Syndrome (PTSD) and detail the issues that can arise in the context of providing care to veterans with PTSD.
Although unpleasant to think about, mis­treatment within the context of a caregiv­ing relationship can occur. Twomey addresses abuse, as perpetrated by older adults, and also writes about the older adult victims of abuse.
This issue of Generations also contains infor­mation on tools older adult caregivers may wish to consider. Wood explains guardianship and why it should be an option of last resort. Flow­ers speaks to the challenges of dealing with debt as an older adult and as a caregiver, and shares information about resources to help pre­vent debt and to recover one's financial footing. VanderVeen offers a primer on legacy and estate planning, bearing in mind a caregiver's concern for the continued care of a dependent adult child. Beyer and Seltzer instruct on how to create an estate plan for the continued care of a beloved pet. Hector gives thorough guidance on finding a nursing home for an adult child. And, recog­nizing the importance of respite from caregiving responsibilities, Moses describes a special travel scholarship available to older adult caregivers.
Championing 21st Century Caregivers
Caregivers of all ages continue to benefit from advances in technology, especially in the areas of communication and service delivery. And we expect technological advances, including broader use of artificial intelligence and robots. Such supports are welcome, but are insufficient for tomorrow's caregivers. In addition to social and organizational policies that facilitate care­giving, there is room for improvement at the individual level: excellent personal and interper­sonal skills to navigate challenging relationships can be crucial.
We need twenty-first century social and communication skills that take into account the complexities that exist within many contem­porary family and friend relationships because of divorce, remarriage, co-habitation, step-parenting, etc. People in need of either epi­sodic or long-term care can benefit from enhanc­ing these skills so they can better articulate the type of care they desire and the conditions under which they will accept that care. We need new tools that can help people anticipate their own care needs and know how to deploy resources.
Caregivers would be well-served by hon­ing their ability to articulate the types and amounts of care they are prepared to provide, and under what conditions. Our society needs better social and communication tools specifi­cally for caregivers—techniques and strategies that focus on drawing and maintaining healthy personal boundaries, dealing with crisis situa­tions, assisting with medical decision-making, discussing finances, protecting time, and iden­tifying other resources for leisure and learning (for both caregiver and care receiver).
Especially important are tools that fos­ter personal and interpersonal awareness of the emotional issues that can interfere with, or enhance, the caring experience. If society is suc­cessful in getting more people involved in shar­ing the caring—and in creating the supports to help primary caregivers coordinate multiple caregivers—this may prevent or postpone pri­mary caregiver burnout.
The twenty-first century toolkit must help people understand that not everyone is cut out to be—or is capable of being—a primary caregiver, yet most people are able to contribute some time, money, or skill to support at least one aspect of caregiving. But better ways must be found to include non-primary caregivers.
Building and maintaining a sound caregiv­ing network is a skill and an art, and is made more complicated because of the ever-changing nature of caregiving. As a society, we must ask: Are we are doing enough to support and honor informal (mostly unpaid) caregivers so that we elevate—not penalize—them for their service?
Before joining the faculty at the Univer­sity of Iowa Grant Wood lived in Cedar Rapids, Iowa, in the upstairs of a carriage house with his mother and sister. It was in this place (now a museum) where he painted American Gothic. Wood remodeled the 900-square-foot space, which served as both residence and art stu­dio, with his mother's comfort in mind, ensur­ing her room was close to the furnace to ward off the cold Iowa winters, but adjacent to win­dows that would let in a welcome cross-breeze to soothe the hot Iowa summers. And then, through his paintbrush, he depicted the Mid­west for the world.
Mercedes Bern-Klug, M.S.W., Ph.D., is professor and director at the Aging & Longevity Studies Program at The University of Iowa's School of Social Work in Iowa City.
This article is taken from the Fall 2018 issue of ASA's quarterly journal,
Generations
, which takes a look at older adults who provide caregiving, not receive it. ASA members receive
Generations
as a membership benefit; non-members may purchase subscriptions or single copies of issues at our online store.