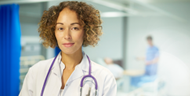 By Kathleen Mitchell
Struggling with congestive heart failure and readmitted to the hospital for the third time in two months, the older African American man realized he was nearing the end of his life. He insisted he did not want to live in a nursing home, or be "connected to machines." But he was unwilling to fill out advanced care planning paperwork in the hospital because he feared his doctors would stop taking care of him and let him die.
This deep-seated mistrust of the healthcare system is one of many common culturally based anxieties that can make it challenging to treat minority patients at the end of life. African Americans and Hispanics are less likely to take advantage of advance care planning, but a new guide for these crucial discussions—nicknamed A REFLECTION—can help doctors address patients' concerns, as they become more aware of their own cultural biases. The goal is to help reduce disparities in end-of-life care.
Minority Patients Less Likely to Plan for End of Life
In advance care planning, patients with life-threatening illnesses have discussions with their doctors or other healthcare providers about goals and wishes for living life in ways that are most meaningful and important to them, and develop a plan to do so. The process includes advance directives, in which patients spell out the type of care they desire when they are not able to make their own decisions, such as whether they want to be placed on a ventilator when independent breathing is no longer possible, or resuscitated if their heart stops.
The American Association of Hospice and Palliative Medicine emphasizes the importance of advance care planning. It has been shown to improve quality of life by giving decision-making control to patients and clarity and peace of mind to their families. Misconceptions about advance care planning are common, particularly among minorities, who are less likely to take advantage of it. Consider the following research:
Upon hospital admission, African Americans are half as likely as whites to have do-not-resuscitate (DNR) orders (http://goo.gl/XrReZi).
While hospice enrollment has increased in the past five years among minority and non-minority patients, the percentage of African American and Hispanic patients enrolled remains stagnant, even as these minorities make up a greater percentage of the U.S. population (http://goo.gl/vhzod8).
While only 20 percent of white Americans think medical staff should do everything possible to save a patient's life in all circumstances, more than half of African Americans and Hispanics think they should (52 percent and 59 percent, respectively) (http://goo.gl/guKqkW).
Ideally, now that the Centers for Medicare & Medicaid Services is paying for advance care planning (), doctors will be more likely to have these conversations with their patients. While A REFLECTION can help providers discuss this sensitive topic with any patient, it is designed to increase their cultural humility to help acknowledge mistrust and fear about end-of-life decisions and move past these issues to ensure the patient receives the best care.
A Guideline for Good Discussion
A mnemonic tool that provides doctors a framework of essential discussion elements to keep in mind as they talk to patients, A REFLECTION stands for: allow, reflect, empathize, facilitate, listen, engage, compassionately bridge, trust, inquire, open and name needs. It guides doctors in allowing patients to talk openly about their concerns and fears and to focus on self-reflection to determine their wants, needs and goals, allowing them to decide how they want to live the rest of their lives.
The idea is not to direct scripted conversations with patients, but to be sure nothing important is missed. For example, while meeting with the African American man with congestive heart failure, a healthcare provider using the guide would:
Allow the patient to express his thoughts and emotions (including his mistrust);
Reflect on his values, within the context of their values as providers of care and as fellow humans;
Empathize with him about his fears;
Facilitate discussing the patient's goals and the challenges to meeting those goals;
Listen to the patient, being conscious of both his and their body language;
Engage the patient gently in this difficult process;
Compassionately bridge to statements that let the patient know his concerns are respected;
Create a context of trust;
Inquire about the patient's thoughts, beliefs, concerns and dreams;
Remain open to all responses to get to the truth and foster trust; and
Name the emotions, fears and barriers encountered, validate them and negotiate the patient's needs to determine how the medical team can fulfill them.
There are many scenarios besides the congestive heart failure patient in which this tool might be beneficial: an 89-year-old Hispanic patient with a blood infection and heart problems whose wife doesn't want to discuss signing a DNR because "what happens is in God's hands"; or a 76-year-old Asian American woman who has advanced cancer and whose daughter doesn't want doctors to tell her mom the bad news.
The guide also meets the Institute for Healthcare Improvement's Triple Aim: improving the patient experience of care, improving the health of populations and reducing the per capita cost of healthcare (by reducing unnecessary, unhelpful and unwanted tests and other procedures).
Many people express the wish to have a peaceful death, but aren't able to experience this because doctors may not have the skills to discuss choices early on in disease progression, and in a way that reduces barriers to that peaceful death experience. A REFLECTION can help.
---
Kathleen Mitchell, M.D., is an attending physician in the department of hospice and palliative medicine at Jamaica Hospital Medical Center, in Queens, N.Y. She helped develop the A REFLECTION guide along with co-developers Gina Basello, D.O., associate director of Palliative Care Medicine, and Alan Roth, D.O., chairman of Palliative Care Medicine and program director of the Palliative Medicine Fellowship at Jamaica Hospital Medical Center.
Editor's Note: This article appears in the July/August 2016 issue of Aging Today, ASA's bi-monthly newspaper covering issues in aging research, practice and policy. ASA members receive Aging Today as a member benefit; non-members may purchase subscriptions at our online store or Join ASA.