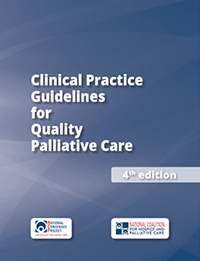 By Kathy Brandt
Many older adults receiving treatment for a serious illness, such as heart failure, lung disease, cancer or another illness, don't have access to palliative care, which can improve the way they feel physically, emotionally, and spiritually.  Timely access to palliative care anticipates, prevents, and manages the symptoms and suffering associated with advanced aging and serious illness. People can receive palliative care in all care settings and in conjunction with curative or life-extending treatments to maximize quality of life. 
The newly revised and expanded Clinical Practice Guidelines for Quality Palliative Care, 4th edition encourages aging service organizations, clinicians, and healthcare providers to integrate palliative care into the services they provide for all people living with serious illness, regardless of their diagnosis or prognosis. These revised guidelines emphasize the importance of palliative care availability in all settings, including: outpatient clinics, cancer centers and long-term care facilities, office practices, homeless shelters, dialysis units, hospitals, and at home.
The NCP Guidelines features eight domains of palliative care: structure and processes of care, physical access of care, psychological and psychiatric aspects of care, social aspects of care, spiritual, religious and existential aspects of care, cultural aspects of care, care of the patient nearing the end of life, and ethical and legal aspects of care. Several key themes are woven throughout the guidelines, including caregiving, coordination of care, and care transitions.
One of the best features of the revised NCP Guidelines is the inclusion of numerous tools and resources, as well as Practice Examples to demonstrate the application of the guidelines in diverse settings and patient populations.  Below is a Practice Example from Domain 1: Structure and Processes of Care:
A Federally Qualified Health Center recognizes that its aging population will benefit from the integration of palliative care into its care model. The leadership of the organization accesses training in palliative care for the nurse care navigators and two express interest in pursuing advanced certification in hospice and palliative care to serve as "champions" within the health center. The navigators traditionally assist patients with coordinating services and ensuring appointments with specialty providers, as well as primary care follow-up. Each navigator is the primary contact and liaison between patient and providers, thus ensuring that the patients' needs are met. With enhanced palliative care skills, navigators learn to screen for unmet needs in all the domains of care in the NCP Guidelines and then facilitate assessments and access to support as indicated. The navigators serve as contacts for hospital-based palliative care programs to enhance coordination of care post-discharge. They also have relationships with community home health and hospice programs to facilitate referrals and care coordination to traditional home health and hospice services, as well as home-based palliative care.
Aging network organizations can use the NCP Guidelines to:
Learn more about palliative care and how it is being delivered in communities

Review your policies and procedures to see if the care and services your organization provides aligns with the NCP Guidelines

Integrate palliative care into your services

Find tools and resources to help you serve seniors
You can download or read the NCP Guidelines free of charge www.nationalcoalitionhpc.org/ncp.
Kathy Brandt is Founder and Principal of the kb group.