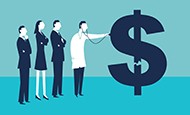 By John Cutler
When there is a new Administration in office it is always a good time to address pressing issues. And this occasion also coincides with a new Congress intent on making good on their promises.
For the aging services sector, this Administration's focus on the private sector may prove problematic. It is no secret that Republicans want to move decisions out of Washington. On the table are block grants for Medicaid, premium support for Medicare and, for purposes of this article, relying more upon private insurance. Health insurance reform also is on the table, but I'll leave that to other Aging Today authors to address.
Originally, it seemed there might not be enough legislative time and attention for action on all these items right off the bat. But it appears now that we may be in for a "shock and awe" kind of legislative first year. The congressional leadership, backed by an amenable Administration, may well be able to move forward in all these areas mentioned above. And if they do, they will shift away from social insurance and move toward shifting risk to the beneficiary (or in the case of Medicaid, to the states). It's an open question whether the beneficiaries want that opportunity, or can do a better job. But if this is the route taken, what will these efforts look like?
Medicaid Block Grants
There are two issues here. One is how much money is made available by the federal government. President Trump is supposedly supportive of block grants, and it may be that this can be done in a way that makes governors feel comfortable. Former Republican Centers for Medicare & Medicaid Services (CMS) head Gail Wilensky has advocated for per capita caps as opposed to plain block grants, because capping the amount on a per person basis would still allow for funding to grow if more people enrolled, for example, during a recession. However, those on the Hill may opt to structure the program more simply and leave states the issue of how to spend the money.
The other issue lies in control over how to deliver services, and it is not as if we haven't been heading down this road already; the Obama Administration never met a waiver request it didn't like. And half the states already have begun the process of moving their population into managed long-term care (MLTSS). Expect that trend to continue.
But we know the states are at different places in their abilities to manage costs, but still deliver quality care. We all know the roster of states at the forefront: in 2004, it was Arizona, Minnesota and a half dozen others, and then, by 2012, the list included California (especially with the duals), Washington, Tennessee and another half dozen. Ten to 12 more are in the pipeline or implemented since then. I won't go into those on the other end of the spectrum; they know who they are, and we probably need to appreciate that it may not be for lack of trying. Support from state capitols is sorely lacking in many places.
At the national level, what might be interesting is whether states continue to get support grants from the federal government. These often come via CMS' Center for Medicare and Medicaid Innovation (CMMI). There has been criticism that CMMI is just a spigot. But we know people on the Hill like being able to spend federal dollars when they can get credit for it. So maybe CMMI goes away, but this critical support function continues.
Medicare Modernization, or Premium Support
A change in Medicare to premium support essentially means beneficiaries will be given a voucher to either buy directly from insurance companies or send it back to retain original Medicare. Over time, the problem is that the formula used to keep the voucher up with inflation may prove inadequate, and individuals either get less insurance for their dollar or have to contribute more to keep their coverage the same. While this is a concern, critics miss two things. One is the movement now by individuals into Medicare Advantage. They are voting with their feet to go in the same direction the House Republicans want to go.
More important is that this shift is better than what we have been seeing the last few years. In order to corral the growth in Medicare post acute coverage, we've seen CMS make program design changes that are quite anti-beneficiary. They include imposition of the homebound standard, as well as the need to show improvement, and then the imposition of observation days as part of the three-day requirement. The bottom line is that premium support is a transparent way to deal with Medicare cost increases. These kinds of rules are not.
But we may also see low or no-cost efforts to enhance Medicare coverage as opposed to simply trying to control cost growth. There are some policymakers and advocates seeking other ideas that would reform delivery and-or financing with more innovative and beneficiary friendly ideas. The National Academy of Medicine has advocated adding caregiving to the Medicare preventive care benefits. And Minnesota, the Bipartisan Policy Center and the Commonwealth Fund all have ideas to add a basket of LTC-like benefits to Medicare or as a gap product similar to Medicare supplemental insurance. Actuarial work done for the Bipartisan Policy Center and Minnesota will be out in early to mid-2017, so stay tuned for that.
Private Long-Term-Care Insurance
The traditional long-term-care insurance market has cratered. But keep in mind the biggest market failure of the current products was in trying to offer comprehensive coverage, and price this across a time span of decades. Where the market could go, with supportive federal and state policies, would be in creating products of shorter duration, priced on an annual (term) basis like health insurance. With that kind of structure, they could easily morph into a Medigap-like addition to Medicare as mentioned above. Add tax breaks into the mix and a reduction in regulatory barriers and suddenly what had been finished may revive. But, as with other ideas above, only time will tell.
Where to Now?
There is no way to end a piece like this with a conclusion, because there really is no conclusion this early in the game. For the academic and advocacy community, the key question revolves around how best to explain how current practices came to be and defend them where they make sense. But we are all on notice that we also have to think anew. So what could be changed in Medicare and Medicaid that would add value for recipients? And what can be taken from private sector solu­tions, especially insurance, that would add value? Game on!
John Cutler is a senior fellow at the National Academy of Social Insurance (NASI) in Washington, D.C. The views expressed here are solely those of the author in his private capacity and in no way represent the views of the NASI or any other organization with which he is affiliated.
Editor's Note: This article appears in the March/April, 2017, issue of Aging Today, ASA's bi-monthly newspaper covering issues in aging research, practice and policy nationwide. ASA members receive Aging Today as a member benefit; non-members may purchase subscriptions at our online store.