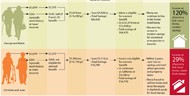 This article is brought to you by the Editorial Board of ASA's LGBT Aging Issues Network (LAIN)
by Holly Deni
George and Maria live on a quiet, tree-lined street in Yourtown, USA. Married for 45 years, they are excited to begin a new phase of their lives as retirees. Their neighbors, Christine and June, a committed couple for 43 years, have also recently retired.
Both couples lead frugal lives with very modest expenses. George and Christine are receiving equal Social Security payments of $1,079 a month. Maria and June, who were part-time workers, are eligible for only $264 a month in Social Security benefits as individuals.
But Maria, as George's wife, qualifies for the spousal benefit, which is set at one half of George's monthly payment. June cannot benefit from Christine's higher Social Security earnings because they are not legally married.
Christine and June's combined Social Security monthly income is $1,343, while George and Maria have $1,619 coming in each month. We'll assume that both couples use $15,000 of their benefits to live on, while saving the excess. Over a 15-year period, George and Maria save $66,420; Christine and June save just $16,740.
George and Christine pass away in the same year. Maria and June's cost of living drops to $12,000. Because Maria is eligible for the Social Security survivor's benefit available to married couples, she now receives $1,079 per month, or $12,948 a year. June must get by on her $264 a month, or $3,168 a year. June dips into her $16,740 in savings, and, within two years, cannot afford groceries or property taxes. She must sell her beloved home and apply for public assistance. Maria's income is at 120 percent of the current poverty line, while June's falls at 29 percent.
This simple scenario illustrates just one of the economic challenges faced by same-sex couples in the United States. The example is part of a comprehensive 2010 report titled"Improving the Lives of LGBT Older Adults," authored jointly by the Denver-based LGBT Movement Advancement Project (MAP) and Services and Advocacy for GLBT Elders (SAGE) in New York.
In more than 90 pages, the report details the unique barriers and inequities that make it more difficult for LGBT elders to achieve the three key elements of successful aging:
Financial security.
Good health/healthcare.
Social support/community engagement.
The report provides statistics to support the assertion that, contrary to popular stereotypes, LGBT elders are actually poorer and less financially secure than other American elders. Using statistics from a brief done in 2009 by UCLA's Williams Institute on Sexual Orientation Law, the report shows poverty rates of 4.6 percent of the general population for older heterosexual couples, compared with 4.9 percent for older gay male couples and 9.1 percent for older lesbian couples. Elder heterosexual couples in 2005–6 averaged $17,176 in Social Security income, with elder gay male couples getting $14,116 and elder lesbian couples receiving $11,764.
These inequities in Social Security income, which is the primary government safety net for seniors, result from years of wage discrimination and work at lower-paying jobs. Additional inequities occur because of the exclusions from other types of retirement income that are readily available to same-sex couples (spousal survivor options for IRAs, veteran's pensions, Medicaid spend-down exclusions, employer-sponsored defined benefit plans, estate taxes and inheritance laws). Together, these factors set the stage for LGBT senior couples to struggle economically.
LGBT couples who try to protect themselves legally generally spend $5,500 more than their heterosexual counterparts on a portfolio of documents including wills, trusts, financial/medical powers of attorney and other items that together provide some of the rights afforded for free through marriage.
Single LGBT elders often face amplified financial difficulties, plus added problems caused by social isolation and lack of family support. Most LGBT adults over age 60 are single, compared to only a third of heterosexual elders nationwide. These elders must rely on the prior earnings, savings and investments of only one person as they go through the aging process. While 90 percent of heterosexual elders have children who might potentially help out in times of economic adversity, only 29 percent of LGBT elders have kids. Overall, 42 percent of LGBT elders said that financial problems are a major concern for them. Forty seven percent reported having less than $10,000 in savings or other assets
The MAP report suggests that, to begin to rectify the socio-economic inequities faced by LGBT elders, federal and state policymakers need to examine ways to adapt laws and safety nets to help all older adults. Many of the recommended changes would help heterosexual elders in domestic partnerships as well as single and widowed seniors. Click here to see the full report.
---
Holly Deni is a Certified Senior Advisor with the Elderlife division of Locker Financial Services in Little Falls, N.J.