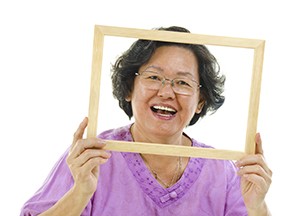 By Kendra Farrow and Pris Rogers
Aging brings about changes in our vision. We find that our arms are too short and that we need more light to complete tasks. These experiences are typical and the adaptations, reading glasses and additional light, are easily accommodated. However, for 6.4% of those 65 and older, vision impairments are such that additional lighting and new glasses do not completely solve the problem (Erickson, Lee, and Van Schrader, 2015). Individuals facing age related vision loss usually have a slow deterioration, beginning with fatigue and moving toward the inability to visually complete tasks. Many are lonely. A recent study in New Zealand indicates that increased loneliness among people who are visually impaired is associated with decreased economic well-being, mental health, satisfaction with activities of daily living, satisfaction with life, and perceived quality of life. (La Grow, Towers, Yeung, Allpass, Stephens, 2015).
The good news is that assistive technology and services to help individuals facing vision loss are available. The bad news is that only a small number of those facing vision loss find those services and that professionals who work in the aging network may not be aware of how to best assist an older person with vision loss. In fact, in a recent survey undertaken by the American Foundation for the Blind (2016), a senior with vision loss stated, "The people at my senior center do not understand visual impairments and seem uncomfortable with it and would rather that I not come so I just get meals-on-wheels delivered to my home. I cannot play cards with them or do a lot of crafts that they do or follow what they are doing in the step exercise routines, so I feel out of place like I don't belong there because I don't know what to do when I'm there. So, I just stay at home most of the time unless someone offers to take me along sometimes...I would like to get out more to concerts, picnics and out to eat more often and go along on trips with the senior center but I need to have a partner as I cannot see very well and need help with reading signs and need to be very careful that I don't miss a step. The staff and other seniors need life skills education about blindness and low vision desperately."
Another example is Anne, an 84-year-old female who is widowed and lives alone. Eight years ago, she was diagnosed with Macular Degeneration. At first, she did not even notice anything different about her vision, but as time passed she began to fatigue when reading for more than an hour and the amount of time she could spend reading slowly decreased until she can only read large print on sunny days beside her dining room window. Once she stopped driving, she had to depend on her neighbor to take her to the grocery store and doctor's appointments. She stopped going to the senior center, no longer attended church, and even stopped interacting with her friends by phone and on face book. Anne was lonely, but did not want to bother others and she could no longer use her computer or telephone. She waited for someone to call her as she could no longer see the telephone buttons or read the numbers from her address book to make calls to her friends.
One day Anne bumped into a friend from church at the grocery store. Her friend asked why she had not been to church recently and when Anne told her about her vision loss and that she could no longer drive, her friend told her about services that had been provided to her sister who also had Macular Degeneration. Anne's friend called and referred her for services. Because of that referral, a professional called a vision rehabilitation therapist visited Anne in her home. She asked many questions about how Anne was able to complete tasks. The vision rehabilitation therapist helped Anne to learn how to dial her phone, gave her magnification aids to help her read printed materials, use her appliances including returning to preparing meals using her stove, access her computer, and get signed up for the Paratransit bus that could provide rides to the doctor, senior center, and grocery store.
Six months later Anne is eager to get up every day. She starts by preparing her breakfast. Later she rides the Paratransit bus to the senior center where she participates in activities and has lunch with her friends. In the afternoon she returns home where she spends time on Facebook and visiting with friends by phone.
The slow progression of vision loss means changes are incremental, only changing slightly, and leading to difficulty admitting to and asking for assistance. Many individuals try to pass, pretending to participate yet avoiding situations that would force them to admit their visual difficulty.
Functional difficulties might include: reading, recognizing faces, functioning in low light situations, seeing the difference between colors like black and dark blue, and moving around without bumping into things. Limiting or eliminating driving often affects an individual's ability to participate in social, recreational, and leisure activities.
Assistive technology includes magnification aids, talking devices, and large print/high contrast materials and accessories. In addition, there are specialized techniques and programs such as use of tactile markings, low vision strategies, and specialized services like the talking book program, which can greatly enhance the quality of these individual's lives.
Programs that serve older individuals who are blind or visually impaired have various names: OIB program, blind services, low vision services, vision rehabilitation services… are just a few. In some regions, services are provided through the state, while other regions have non-profit agencies. Another growing service is low vision services provided by occupational therapists within the medical model. This diversity may make these services difficult to identify and confusing to make referrals as procedures and models of service vary. What is universal is that funding and professionals who specialize in this area are limited, meaning that just because you look for services does not mean that the service is readily available.
Efforts to more closely link aging and vision rehabilitation/low vision services are slowly becoming a reality. Learn more at our presentation, Full Inclusion of Individuals Aging with Vision Loss through Collaborative Models, which will detail collaboration efforts that are occurring in this country and how you might identify and become connected with services that help individuals facing vision loss. Join us at the Aging in America Conference in San Francisco.
Kendra Farrow is a research and training associate at the National Research & Training Center on Blindness & Low Vision at Mississippi State University and Pris Rogers, PhD, is VisionAware program director at the American Foundation for the Blind.
Editors Note: The American Foundation for the Blind will hold a Leadership Conference in Oakland April 6 and 7. The conference includes an aging track that will include information about serving older people with vision loss. As a part of AFB's 21st Century Agenda on Aging and Vision Loss, a national conversation, including seniors with vision loss, will be held at the Leadership meeting on April 7 and service providers are encouraged to attend.
References
Erickson, W., Lee, C., von Schrader, S. (2017). Disability Statistics from the 2015 American Community Survey (ACS). Ithaca, NY: Cornell University Yang Tan Institute (YTI). Retrieved Jan 2, 2018 from www.disabilitystatistics.org
La Grow, Steven & Towers, Andy & Yeung, Polly & Alpass, Fiona & Stephens, Christine. (2015). The Relationship between Loneliness and Perceived Quality of Life among Older Persons with Visual Impairments. Journal of visual impairment & blindness. 109. 487-499.   (https://www.afb.org/jvib/Newjvibabstract.asp?articleid=jvib090606)