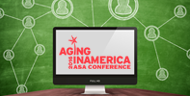 If you couldn't make it ASA's 2016 Aging in America Conference, which was held in Washington DC this past March 20-24, or you just can't get enough of AiA16, you're in luck! Many of the most popular session from this year's conference are being scheduled as web seminars, which are free to ASA members and include complimentary CEUs! Part of the ASA Member Series, these webinars bring AiA16 right to your home or office!
Current schedule of AiA16 Web Seminars
Click on a title of an event, below, to learn more about the presentation and to register online. All web seminars are free to members of ASA. If you aren't a member, but would like to gain access to these events, click here to join ASA or click a title below to register for individual webinars for $99.  
Be sure to check back often–we're adding new events all the time!
Brain Health Matters: Supporting Cognitive Fitness for Older Adults
Thursday, May 5
10:00 AM Pacific – 11:00 AM Pacific
Presenter: Krystal L. Culler, M.A.
Is Talking About Death Good for Life?
Thursday, May 19
10:00 AM Pacific – 11:00 AM Pacific
Presenters: Dan Bulf and Jacquelyn Benson, Ph.D.
Dementia: The Experience of the Male Caregiver
Thursday, June 23
10:00 AM Pacific – 11:00 AM Pacific
Presenters: Amber Rook-Phenis and Megan Keith
Making Senior-Friendly Websites: Challenges and Best Practices
Thursday, July 14
10:00 AM Pacific – 11:00 AM Pacific
Presenters: Marc Zablatsky and David Young