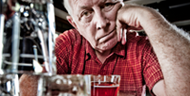 By Patrick Arbore
Through my work I have heard many stories from professionals in aging services regarding older adults who continue to "party" well into their 60s. Substances used often include marijuana, cocaine, methamphetamine, prescription medications and, of course, alcohol. Professionals describe not only observing this behavior in older clients, but also in their own older family members.
Something big is happening with aging and substance abuse. Are we prepared to respond?
Drug Use Set to Grow
According to the NSDUH (National Survey on Drug Use and Health, 2009), rates of lifetime drug use will increase in the next two decades among the baby boom generation, probably because of a reduced stigma among the baby boom generation regarding "illicit" drug use; and because the current cohort of older adults tend to misuse alcohol and prescription medications if they misuse substances at all. As the baby boom generation ages, the cohort's size alone is predicted to double the number of persons needing treatment for substance use disorders. 
The NSDUH report also shows a recent increase in illicit drug use among persons ages 50 to 59. Illicit drugs are defined as marijuana-hashish, cocaine (including crack), inhalants, hallucinogens, heroin or prescription drugs used non-medically.
A 2010 TEDS (Treatment Episode Data Set) Report indicated that older adult admissions to treatment services were still commonly related to alcohol abuse, but the data also reported a higher proportion in 2008 of older adults were admitted to treatment for cocaine, heroin or other drugs. These elders were more likely to report the abuse of multiple substances, including prescription pain relievers, than older adults admitted for treatment in 1992.
Are We Prepared to Respond?
Psychological problems, social problems and physiological issues are all associated with illicit drug use in aging baby boomers. In a 2005 report, Substance Abuse and Mental Health Among Older Americans: The State of the Knowledge and Future Directions, Bartels and colleagues said depression, anxiety disorders and dementia are among the most common psychological problems in older adults. Some older people turn to prescription medications and alcohol as a way to manage such psychological and physical pain. But the pain resurfaces and their cycle of meds and alcohol to dull the pain begins again.
When substance use and abuse are coupled with depressive symptoms, this contributes to the high rate of suicide in older adults, particularly men. A recurrent question asks whether treatment programs are prepared to address the needs of older adults who experience such health consequences. It doesn't look hopeful.
In this age of budget cuts, education and prevention programs targeting older substance users may be underfunded, leading to tighter criteria for admission into treatment and fewer consumers receiving support.
Less often addressed are the needs of older culturally diverse individuals and LGBT elders. The U.S. Census Bureau (in 2000) predicted a dramatic increase between 1990 and 2030 in minority elders ages 65 and older—a 219 percent increase in minority older adults, and a corresponding 81 percent increase for older Caucasians.
Minority populations often avoid seeking help because of a distrust of community treatment facilities or other organizations. Racism, sexism, ageism and homophobia may also play a role for older ethnic minorities and LGBT adults.
Taking Action Against Substance Abuse
To prevent an increase in substance abuse and mental health problems among older adults, and encourage treatment, professionals in aging need to take the following actions:
reduce the stigma preventing older and minority adults from reaching out for help;
increase awareness about the potential for abuse with prescription pain relievers;
educate physicians to inquire about the use of both alcohol and illicit drugs;
discuss the need for treatment programs to focus on the specific needs of older adults, including minority elders and older LGBT adults; and
support integrated systems of care that combine medical, behavioral health, aging and substance abuse programs into the primary care setting.
A number of psychosocial factors, such as social isolation, financial worries, frail health, discrimination and death anxiety combine to increase the risk for substance abuse among older adults. Culturally competent care for minority elders, including sensitive approaches to the needs of older LGBT individuals, and program materials in languages appropriate to the clientele, must be integrated into the language of treatment providers.
One good model is the Tarzana Treatment Center in Reseda, Calif., which is an integrated behavioral healthcare drug treatment program that treats an older Latino population of substance abusers.
What are the implications for those working with an older adult population? The demographic landscape is changing, and the task at hand is for our aging services programs to keep pace with these changes and provide competent care to a diverse population of substance abusers.
---
Patrick Arbore is director and founder of Elderly Suicide Prevention and Grief-Related Services at the San Francisco Bay Area–based Institute on Aging.
Editor's Note: This article appears in the May/June, 2012, issue of Aging Today, ASA's bi-monthly newspaper covering issues in aging research, practice and policy nationwide. ASA members receive Aging Today as a member benefit; non-members may purchase subscriptions at our online store.