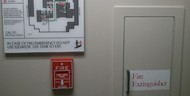 This article is brought to you by the Editorial Board of ASA's Network on Environment, Services & Technology (NEST)
by Lisa Braxton
Developing a plan for responding to emergencies is important for all sectors of our society, including people with disabilities. When emergency evacuation plans are made in the workplace, or fire escape plans are discussed in the home, it is critical to include everyone in the planning and practicing of the escape plan to increase the chances of all escaping safely.
The Public Education Division of the National Fire Protection Association (NFPA) addresses the fire safety needs of people with disabilities with educational materials designed for the fire service, educators, parents, building managers and people with disabilities. The NFPA Fire Safety for People with Disabilities Task Force includes fire and life safety specialists and advocate organizations for people with disabilities. Task force members review existing NFPA fire safety education materials to ensure that messages for people with disabilities are included, that materials are in accessible formats, and that wording of materials is sensitive and accurate. The task force also suggests new educational materials.
The following materials can be accessed free on the People with Disabilities page on the NFPA website:
Emergency Evacuation Planning Guide for People with Disabilities.
Personal Emergency Planning Evacuation Tool for Students with Disabilities.
Safety in the Workplace.
Smoke Alarms for People who are Deaf are Hard of Hearing.
Scenario Card Fire Escape Planning and Practice Lesson Plan for Teachers.
I Know My Fire Safety Plan Fire Safety Social Story for Children with Autism.
Teaching Tips for Fire Safety Educators of Children with Disabilities.
The following can be accessed free from the NFPA website:
Get Ready! Preparing Your Community for a Disaster.
---
Lisa Braxton is the public education project manager of the National Fire Protection Association.