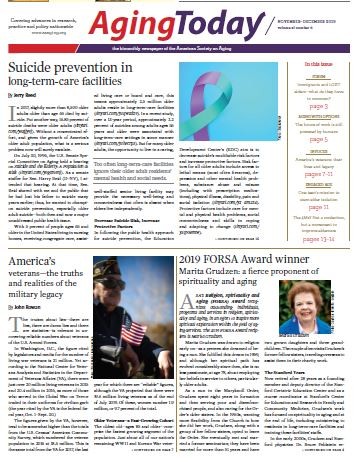 The November–December 2019 In Focus section of Aging Today contains six articles that paint a rather bleak landscape of life for older adult veterans in the United States. John Rowan reveals the truth behind the reporting of veteran demographics; Anica Pless Kaiser, Kelly O'Malley and Jennifer Moye outline how trauma and PTSD manifest in older veterans; and Amy Fairweather and Megan Zotarelli discuss the complex issue of veteran neglect and ensuing homelessness. Other writers for this section address veterans' struggle to recover a sense of purpose post-deployment; explain the reasoning behind the Veterans Bill of Rights; and describe the Wounded Warrior Project's Independence Program and its focus on caregivers of veterans.
Elsewhere in the issue, Jerry Reed exposes the tragedy of elder suicide in residential facilities, how and why it happens and what might be done about it. ASA Board of Directors Chair-Elect Michael Adams and Jared Renteria show how the current Administration's immigration policies may adversely affect LGBTQ older adults. And Monika Eckfield pinpoints the issues behind hoarding disorder and new methodologies for treating it.
Also in this issue: How to Land that Late-Life Job: Tips from a Nonprofit Executive by Betsy Werley.