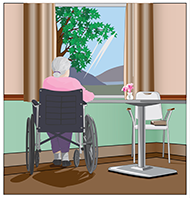 By Joanne Lynn and Terry Fulmer
A large number of nursing home residents will die of COVID-19, and no one can change that fact. This is hard to take, and it has been easier to focus elsewhere, rather than to confront the facts.
Good practices may delay the introduction of the novel coronavirus into a nursing home, but they cannot stop it. Good practices can slow the spread, but still it will spread. Mortality rates vary some, as expected, but most reports find around 20 percent of the residents in a well-managed nursing home outbreak are dying due to COVID-19. In a nursing home with more than 700 beds, if all were full, one could expect that an outbreak would take about 140 lives.
That rate of deaths does not, in itself, indicate any shortcoming on the part of the staff. It is just tragic and sad, but not shocking.
Consider the possibilities of actually preventing the introduction of the novel coronavirus into a nursing home. Let's imagine a typical nursing home with 200 beds and 250 staff in a community with 2 percent infection rate (much lower than New York City), and let's assume that the facility has adequate supplies of conventionally recommended personal protective equipment and that the staff are assiduous in using it. With all that, and unusually cooperative nursing home residents, maybe our example nursing home could get to 99 percent effective prevention.
Let's assume that the staff have 10 direct contacts with residents each day (a very low estimate). So, five staff members are asymptomatically infectious, and they have 50 direct-care interactions with residents each day. Astonishing as it may seem, this yields nearly a 50-50 chance that they will infect a resident that day. If there were a rapid result test to give to all staff at the start of their shifts, perhaps we could detect those five staff members and promptly send them home. But the diagnostic test we have is too expensive, too scarce, too slow, and too inexact (with as much as 30 percent false negatives).
So—we can't effectively keep COVID-19 out of nursing homes once it is in the community. Dementia patients pose the highest risk, because it is simply not feasible nor humane to expect such residents to wear masks at all times and to adhere to total isolation.
Good infection control can slow the spread, compared with sloppy or inadequate infection control, but still, once a COVID-19 infected person is in a nursing home, the evidence is that the infection will be widespread within a week. Around half of the nursing home residents will have either no symptoms or mild symptoms, so again, no one can tell that they are infected without multiple tests. Some residents, however, will get the devastating side of COVID-19, either shortly after showing symptoms or some days later. The evidence so far is that elderly persons who develop serious respiratory disease will be very likely to die, even with optimal medical support.
An investigation may show serious shortcomings in staffing or early response, but the mere fact that a facility has a large number of deaths is not an indication of any shortcoming in clinical care. This level of deaths is to be expected. Until we have herd immunity, immunization or effective treatment, there is no reason to think that the rate will lower. In a large facility in the heart of a major outbreak, with perhaps a quarter of the population infected (and a larger proportion of direct-care workers), the onset of an outbreak and its spread will be quicker. If in addition, the facility could not get enough personal protective equipment or testing materials and if its staffing became precarious (nursing homes in the best of times have high staff turnover), the situation is unavoidably dire. Nursing homes shouldn't automatically be blamed for the high numbers of deaths. Public officials should be supporting them to reduce infections and mortality as much as possible, while helping them deal with the devastating impact of the high mortality rates.
Nursing homes need to have skilled supplemental staffing ready and appropriate supplies and equipment on hand. The HEROES bill now before Congress includes funding for states to provide supportive teams to affected nursing homes, and the Affordable Care Act required more adequate staffing than most nursing homes have supplied.
The current isolation of nursing home residents seems cruel to residents, families and friends, and visiting could again be allowed freely when residents or visitors can be shown to have had the infection, and presumably are immune. And we need to extend sincere sympathy for the residents, workers and families affected by a peculiarly effective virus that is all too often lethal when it infects frail elderly people.
Joanne Lynn, MD, is an analyst for the Program to Improve Eldercare at Altarum, in Washington, DC, and a former geriatrician and hospice physician. She also serves as a Health & Aging Policy Fellow in the office of Representative Tom Suozzi. Terry Fulmer, PhD, RN, is president of The John A. Hartford Foundation in New York City.
Editor's Note:The opinions expressed in this article are those of the authors. They do not necessarily reflect the opinions or views of ASA management or its members.