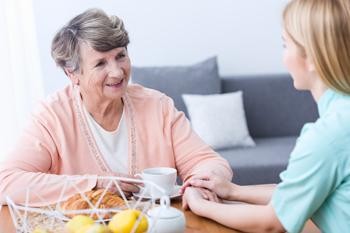 By Ann Wyatt and Tena Alonzo
Those of us who have worked in the field of aging have long been concerned with how to provide the best care possible for individuals who are frail, ill and in need of help. This concern remains, but our understanding of how to achieve such care continues to evolve, starting with parsing what is meant by the "best care possible."
The Best Care Possible, the Best Life Possible
The most progressive among us came earliest to the notion that the best care possible is inextrica­bly linked to the best life possible, and that this standard is personal, specific and differs for every­one: we cannot provide the best care for someone if we do not figure out all that we can about what constitutes a person's best life, from their perspective.
What does it mean to live the best life possible? In this time where efficiency rules the day, some might believe that living a best life is too complex and therefore unattainable—especially for those living in long-term-care settings. But in reality, living one's best life boils down to simple things that most of us who don't live in these settings take for granted.
In simplest terms, a best life possible means recognizing that adults living in nursing homes are the experts on their own lives. They have spent decades perfecting every aspect of meeting their own needs; they know what works for them and what doesn't, and they deserve to maintain a sense of their expertise no matter how frail or ill they may become.
Nowhere is the link between quality of care and quality of life more apparent than in nursing homes, where people live for weeks, months and years with increasing frailty, and where choices about what matters most can easily be overwhelmed by organizational priorities.
Changing the culture of long-term care to accommodate each person's life expertise has been in process for years and is the basis of the person-centered movement. However, the challenge of fully embracing person-centered care lies in the struggle to change how organizations get things done. To acknowledge and accommodate each person's sense of expertise require not only a change in how things are done, but also a change in our beliefs. Long-term-care organizations with the greatest suc­cess in embracing residents' individuality allow the following opportunities:
•    People can establish and maintain a daily routine that feels right for them, regardless of their circumstances.
•    People are afforded comprehensive pain management that focuses on physical discomfort and, when needed, effectively addresses emotional distress.
•    People are assisted with activities of daily living—on their own terms.
•    People retain connections to those they care about and pursue life-long interests that bring them joy.
•    People can live in environments that meet their needs, and which can be adapted as their physical, cognitive and medical needs change.
Further challenges lie with caring for an ever-increasing number of people with dementia, who struggle to make basic needs known and require almost constant assistance. A tendency in the past has been for others to decide what is best for these adults. Professionals have learned that persons living with dementia also are experts on their own needs and they tell us all we need to know through their actions. Armed with this knowledge, it is possible for everyone, regardless of circumstance, to live as fully as possible. For example, the United Church Homes of Ohio have deeply embedded these princi­pals in all that they do.
Care Practice Progress Since OBRA
The Omnibus Reconciliation Act of 1987 (OBRA '87), also known as the nursing home reform law, provides an extraordinary vision and blueprint for providing high-quality care to people needing long-term-care services—a vision that has become only more relevant and more important than it was at inception.
In the years since OBRA was introduced, there has been tremendous progress on a number of fronts: care practice standards have greatly improved; the role of rehabilitation has been enhanced; there is increased focus on the essential role of cultural competence; there have been improvements in equipment and environmental standards and design; the value of palliative care is gaining attention; and discipline-specific professionalization has made great strides.
Along with this progress, however, has come a tendency for increased compartmentalization, as the focus is sometimes more on diseases, illnesses, disabilities and "behaviors," than on the person. While cancer, heart disease, stroke and dementia are common late-life conditions, they do not af­fect any two people in the same way. Care providers still struggle with how best to help people in their care to retain meaning and comfort in their daily lives.
This is all the more true in a growing multicultural world, wherein differences (among staff as well as residents) in health status, race, national origin, religious affiliation, language, physical size, gender, sexual orientation, age, disability (physical and mental), political orientation, socio-economic status, occupational status and geographical location all contribute to the challenge of differentiating between one person's comfort and another's.
As Josepha Campinha-Bacote reminds us, "In obtaining cultural knowledge, it is critical to remem­ber the concept of intra-cultural variation—there is more variation within cultural groups than across cultural groups. No individual is a stereotype of one's culture of origin, but rather a unique blend of the diversity found within each culture, a unique accumulation of life experiences, and the process of ac­culturation to other cultures".
This idea, though challenging, gets right to the heart of why nursing homes exist in the first place. Aging, frailty and death are part of life, and as Dame Cecily Saunders, founder of the hospice movement, put it, "You matter because you are you and you matter to the end of your life."
Those of us providing care in long-term-care settings face many obstacles. We don't always suc­ceed in supporting people, whatever their circumstances may be, to find meaningful lives, but we must never stop trying. As a 15th century folk saying advises, "Cure sometimes, treat often, comfort always."
Ann Wyatt is consultant, Palliative and Residential Care, at CaringKind, in New York City. Tena Alonzo is director of Edu­cation and Research at Beatitudes Campus, in Phoenix, Ariz.