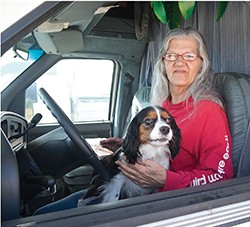 By Alison Biggar
Jessica Bruder, 39, an adjunct professor in the New York–based Columbia University Graduate School of Journalism, set out to write a book about a 21st century labor issue, chronicling itinerant workers who toil for companies like Amazon and other seasonal employers. With Nomadland: Surviving America in the Twenty-First Century (New York: W. W. Norton & Co., 2017), she has produced an important piece of advocacy that conjures images reminiscent of those in Steinbeck's Grapes of Wrath. However, Bruder focuses not on families fleeing drought, but on people left destitute from the Great Recession—retirees seeking ways to survive in a new world order.
Bruder spent three years researching Nomadland, traveling more than 15,000 miles, for up to two months at a stretch, living next to 
campers, from coast to coast and from Mexico to Canada.
An article in Allentown's The Morning Call alerted her to Amazon's labor practices. The piece described an Amazon warehouse in which temperatures reached 110 degrees; instead of providing air conditioning, Amazon parked ambulances outside the facility to transport workers felled by heatstroke. One older worker told a Mother Jones reporter writing in a later article about Amazon's CamperForce program (designed to attract older traveling workers) that they continued working at the warehouse because they couldn't afford to retire, at which point Bruder's reporting instincts kicked into full gear.
"I [thought] wait, wait, wait—people need to know more about what the heck is going on!" Bruder told Aging Today. She had assumed any RVers were on the road for fun—the last of the great pensioners.
Many such "workampers" are women, who typically live longer than men, and on lower lifetime earnings. Bruder, familiar with these economics, says, "I probably shouldn't have been surprised to see so many bad-ass older women out there on the road."
Bruder's subjects generally have one of two backstories. "Some of the people I met on the road had worked low-wage jobs all their lives, had no pensions [and] were faced with working in an ageist marketplace where work got harder and harder until they dropped dead," she says. "With minimum wage at $7.25 an hour, and housing the biggest expense, something had to give. The other people were folks who believed in the gospel of ever-increasing housing prices or the safety of the stock market and got whacked by the Great Recession."
It is impossible to estimate accurately the numbers of these workers (they move constantly), but the population is more than people might think and is ever growing. Nomadland quotes a number from parks concessionaire Recreation Resource Management, which manages 110 campgrounds and during most years hires 300 "workampers," but in 2008 had to limit their applicant list at 25,000. That's likely a fraction of the retiree-age workers roaming America in old vans (even retrofitted Priuses), hoping to find work that will sustain them until the arrival of their next Social Security check.
A Grueling, Unsustainable Lifestyle
Jobs popular with this workforce include flipping burgers at Spring Training in Arizona, selling fireworks, pumpkins and Christmas trees, and working North Dakota's lucrative—but arduous—sugar beet harvest. Workamper News, with 14,000 readers, lists available work, and when and how to prepare for it.
"It blew my mind that there was such a wide network of employers offering work not ideal for older bodies," says Bruder. "Even camp hosting jobs are marketed that way, with flyers that say, 'Retirement has never been so much fun!,' 'Get paid to go camping,' etc. But I've known people who have sustained real injuries," she says.
Though Bruder interviewed many older adults, she focused on a small cadre, which included Linda May, age 64 and a grandmother, who definitely does not want to be a burden to her children, who also are struggling.
May worked blue collar jobs all her life and cannot survive on her monthly Social Security check of $424 (post-Medicare premium deduction). She travels in search of work in a not-so-gently used Jeep, towing a small yellow trailer she calls the Squeeze Inn—when standing in the trailer, her head nearly brushes the ceiling. May works summers as a campground host, making $9.35 an hour for cleaning camp outhouses, shoveling out fire pits, checking in campers and often assisting them in the middle of the night.
In the fall, winter and spring months she takes other temporary work, including at an Amazon "fulfillment center," where she scans items for shipping. The Amazon CamperForce—a name invented by the electronic commerce giant—works shifts that last 10 hours or longer, walking up to 15 miles a day on concrete floors, stooping, squatting, reaching, climbing stairs and often suffering injuries in the process. These jobs are still sought after by itinerant people, though, as they pay around $11.50 per hour, plus overtime. In 2014, an Amazon representative said the program's head count had reached 2,000 such workers for the pre-holiday rush. In 2016, the company turned away campers, citing a "record year" of applicants.
Bruder was intrigued by these workers, specifically for their resilience and for what their plight could reveal about America's larger economy. While traveling, she realized that the trait that makes the human species successful—adaptability, or what she calls the "ability to normalize" a situation—may be ruinous in our current economic climate. The workampers may not prefer to roam, but have accepted it as a permanent way of life.
Perhaps most alarming is when the book questions the sustainability of this lifestyle. Linda May has a plan for when she's done working tough jobs: she will build herself an Earthship, a sustainable home in the desert, hopefully near a few people, and on a cheap piece of land. She has selected her site, but building is constantly delayed, as vehicle expenses and other costly emergencies arise.
Other workampers have bleaker plans. One told Bruder, "My long-term healthcare plan is bleached bones in the desert." Some campers Bruder met are no longer alive, having not "reintegrated with traditionally housed society" at their time of death. They never left the road.
The Power of Story and Social Policy
Although there will always be employers willing to exploit this (or any) workforce, it is clearly not a sustainable lifestyle. When asked about policy that might help this cohort, Bruder cited Social Security as the one stable income source.
"I get terrified about all the threats around Social Security. … I worry about [where], with Trump in power and with [the] so-called personal responsibility crusade raging on every front, policy intersects with social responsibility," she says.
Bruder also is concerned with the increasing criminalization of the homeless, calling it "economic profiling." "I wish people could pull out of their NIMBY-ism … they think your car is good enough to stay parked on your street, but not if you're in it." In the book's coda, Bruder enters an industrial area of New York City and, with eyes opened by her research to details like blacked-out windows and curtains, realizes many parked cars, vans and trucks in this gritty neighborhood actually house people.
She admits she is not a policy wonk; adding that there's no magic bullet for fixing this issue excepting to preserve Social Security, raise the minimum wage and create more affordable housing solutions. Bruder is also following and encouraging people to support local initiatives such as
San Diego's Safe Parking Program
, which provides a safe place to park as well as transitional services for people living in their vehicles, and
a new resolution
in Portland, Ore., to allow tiny houses and overnight RV camping on private property.
Her aim in writing the book was to promote empathy that might lead to more equitable public policy. "My biggest goal with the book," Bruder says, "was primarily [to be] a storyteller, hoping that after people read it, when they see someone living in van, they [can better] imagine that [person] has a story, and that they … won't make assumptions about [them]."
Alison Biggar is Aging Today senior editor.
Editor's Note: This article appears in the January/February 2018 issue of Aging Today, ASA's bi-monthly newspaper covering issues in aging research, practice and policy nationwide. ASA members receive Aging Today as a member benefit; non-members may purchase subscriptions at our online store.