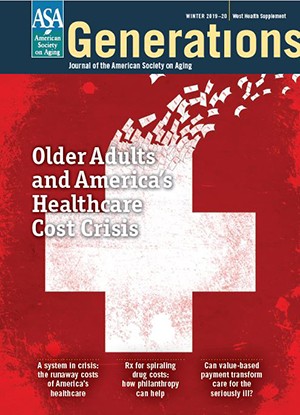 The West Health Supplement to the 2019–20 Winter issue of Generations, "Older Adults and America's Healthcare Cost Crisis," offers a frank assessment of the scope and impact of nation's ever-rising healthcare spending and strategies to curb rising costs.
West Health is committed to lowering healthcare costs to enable seniors to successfully age in place with access to high-quality, affordable health and support services that preserve and protect their dignity, quality of life and independence. This Supplement examines multiple ways in which this can happen, from accelerating the adoption of value-based payment models and supporting the development of critical generic drugs to encouraging physicians to be more responsive to the impact of out-of-pocket expenses. Also included are discussions about applying employers' purchasing power to lower costs, Medicare negotiating drug prices, expanding Geriatric Emergency Departments and home-based acute care, and much more.
In "America's Healthcare Cost Crisis," West Health President and CEO Shelley Lyford and Chief Strategy Officer Timothy A. Lash succinctly assess the financial and social tolls of America's public health crisis of unaffordable healthcare and argue that an effective response requires immediate action across public and private institutions. Lyford and Lash offer three commonsense solutions: reduce excessive  drug prices, accelerate adoption of value-based healthcare, and enable transparency in assessing the value of care.
In an additional article, "Leveraging Philanthropy for Bolder Action on Costs," Shelley Lyford takes readers through the history of generic drug manufacturing and how reduced profit margins disincentivized some pharmaceutical companies from making drugs, resulting in shortages, spiked prices, and hospitals experiencing low inventories of critical drugs. Lyford details how three philanthropic organizations (including the Gary and Mary West Foundation) joined forces with seven healthcare systems to fund and oversee public interest drug manufacturer Civica Rx to ensure a reliable medication pipeline for essential generics.
"The Physician Perspective on Reducing Healthcare Costs," by President of UNC Health Alliance Mark Gwynne and West Health's Chief Medical Officer Zia Agha, speaks to the unique position doctors hold to advocate for lower healthcare costs. High costs impact physicians when patients cannot pay for or take prescribed medications, when fee-for-service payments reward quantity over quality, and when payors' cost-cutting strategies translate into increased administrative burden. The article offers concrete strategies for how physicians can help to control costs and promote quality care.
"Value-Based Payment Reform for Serious Illness" details why alternative payment models that limit preventable or wasteful spending while improving quality are well-suited for individuals with chronic illnesses. They explain how Accountable Care Organizations can support innovative efforts to transform care for older adults by improving quality measurement and risk adjustment and building a diverse palliative care–trained workforce.
"Emerging Priorities and Opportunities in Geriatric Emergency Care" discusses the increasingly key role of Emergency Departments around the country in treating older adults, and how the advent of Geriatric Emergency Departments (GED)—an initiative which has received robust support from West Health—means better care for this age cohort. Evidence for this young and growing field is still building, however GEDs are put forward as important components of age-friendly health systems as well as catalysts in the shift toward value-based healthcare.
"Improving Access to Oral Healthcare Among Low-income Older Adults" emphasizes the need for investment in oral healthcare to ensure low-income elders have access to much needed dental services. Oral health is key to overall health, but insufficient public funding has been allocated to ensure older adults have access to timely, quality oral healthcare. The article highlights the Gary and Mary West Senior Dental Center as a committed organization addressing the lack of oral health services for low-income seniors and encourages state and federal policymakers to elevate oral health as a priority for older adults' healthcare.
ASA and West Health are pleased to offer this West Health Supplement to Winter 2019-20 Generations.