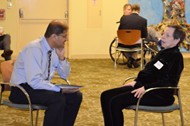 By Nicole Bruce and Mary Keen
When it comes to eldercare research, whose opinion matters the most? Until recently, research on and about older adults has been devoid of a key component: the perspectives of the older adults themselves. That's why the director of CJE's Leonard Schanfield Research Institute, Dr. Amy Eisenstein, decided to break down the barriers between older adults and researchers and initiated a proposal to "get the voice of our clients and residents into national research." As a result, the applied research division of CJE received a prestigious contract from the Patient-Centered Outcomes Research Institute (PCORI) in 2016 to form a new learning group called the Bureau of Sages with the goal to engage nursing home residents and isolated older adults in the research process.

Bureau of Sages Open House in December, 2016.
Though many professionals, including doctors (neurology and internal medicine) and researchers (in gerontology, public health, disability studies and health care policy) were initially skeptical about having seniors discuss research, the Bureau of Sages program is now entering its second year. Together, the entire group has discussed everything from how they feel about doctors addressing their concerns at appointments to residents' perspectives on life at Lieberman Center for Health and Rehabilitation, CJE's skilled nursing community. Eisenstein enthusiastically describes the regular group meetings with participants: "They chime in with meaningful and thoughtful responses to questions that provide great information to our eldercare research."
Lieberman Center resident and Bureau of Sages' participant Nancy Weinberg notes, "There is a free exchange of ideas and acceptance of them." Eisenstein adds: "Just because you're moving into a nursing home doesn't mean that you're invisible—that you've lost your 'voice' or interest in feeling heard." Another participant, Sherri Persin, weighs in on the importance of including older adults more directly in the research process, "Being old is not an ugly or terrible thing. It is real and will happen to all of us. We need to speak for ourselves."

Bureau of Sages Retreat group.
Weekly breakout discussion groups and larger quarterly retreats are held at Lieberman Center. Another group of older adults who have difficulty traveling from their homes have also been interacting with researchers and residents through technology powered by a former CJE video-chat program called the Virtual Senior Center. One at-home participant, Bonnie Stein Kammer, is grateful for the ability to work directly with researchers, nursing home residents, and others from their homes: "To be asked for my opinion on these topics and be respected as an individual has been wonderful. I think we get things done. I come away learning from the others, including the Lieberman Center residents, and the researchers learn from us."
The Bureau members are quite diverse and include Lieberman Center residents, stay-at-home older adults, CJE staff and volunteers, and researchers in the fields of gerontology, disability, public health, nutrition, and medicine. We meet regularly to discuss how to establish collaboration among researchers at CJE and nationally as well as patient networks across the country to promote timely, patient-centered research that is compassionate, intelligent, informative, understandable and, most important, relevant and useful in improving our lives.
We hope that by learning about our work you will also be moved to view us as the "new senior citizens": we are active, stimulating, and very much alive. We are not old folks sitting in rocking chairs all day.
—MaryAna Namenski, Bureau of Sages participant and Lieberman Center resident
Eisenstein believes participants are discovering and processing the many dimensions of research quickly, and applying this new knowledge to their own responses. Their contributions have been so incisive that three of the Bureau's members have been invited to join a National Patient-Powered Research Network. Other members were invited to serve in an advisory capacity for a study at LeadingAge, a national association of organizations dedicated to providing programs and services to older adults. "As a clinical psychologist who has done a lot of research, I feel it is very important for researchers to collaborate with older adults so that the research is relevant to those we're talking about and trying to help. I've enjoyed working with researchers, clinicians, other Lieberman residents, and Virtual Senior Center users," says participant and Lieberman Center resident Linda "Ariella" Balkin.
In addition to feeling that their opinions really matter, participants are getting another emotional and psychological "boost" by just having the opportunity to interact with other people. Eisenstein refers to a study confirming that peer groups established in nursing homes, in which residents come together to talk with one another, can reduce depression. "By participating in the group I realized I am not alone, which makes me feel good. I'm better prepared to offer researchers comments about their work," says participant and Lieberman Center resident Susan "Susie" Beryl Rabinowitz.
Researchers involved in the Bureau of Sages pull insight from the participants into focus for their own specializations, whether it's to help shape new policies in lifespan transitions and disabilities or to advance research on providing quality palliative or long-term care.
What's in store for the future of the Bureau of Sages? According to Eisenstein, "As we move into year two of the project, we will continue working with Bureau members on defining research priorities to improve the well-being and healthcare of older adults. We will also work on guidelines for sustaining and expanding the program into year three and beyond."
To learn more about the Bureau of Sages and other research projects at CJE's Leonard Schanfield Research Institute, visit www.cje.net/research.
Nicole Bruce is Senior Digital Marketing Specialist, and Mary Keen is Manager, Marketing Communications, both with CJE SeniorLife in Chicago, Ill.