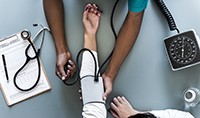 By Kyle Moore and Teresa Ghilarducci
After 11 years of economic expansion, the difference in unemployment rates between black and white older workers is at a historic low—just 1.1 percentage points apart. Black work­ers usually suffer from much higher rates of unemployment than whites, so the small gap between the two racial groups is good news (the gap between black and white men is usually larger than the gap between black and white women—for this period the men's gap was 1.5 per­centage points, while the women's gap was just .7 of a percentage point). But the good news about a small racial unemployment rate gap likely is temporary, and history shows the racial gap in job­lessness will grow in the next recession.
Why do employers—
as labor economists have noted
—retain black workers when labor markets are tight, only to lay them off when downturns hit?
One explanation relies on the concept of "upgrading"
: that employers reach "down" into pools of workers they wouldn't normally hire (those with low skills and experience) when labor markets are tight and the queue of job applicants is short, only to lay off the less-skilled/less-experienced workers when times get tough.
But lower skills and experience falters as an explanation of the racial gap in joblessness when confronted with empirical data.
Field experiments
have shown that re­sumes with "white-sounding" names elicited more callbacks than those with "black-sounding names" and similar credentials.
Au­­dit studies
, where matched pairs of black interviewees and white interviewees (again with similar education and job experience) were sent to apply for the same positions, have shown that black applicants received fewer callbacks than white applicants with criminal records. Clearly, upgrading is an inadequate explanation for the ra­cial joblessness gap growing in recessions and shrinking during booms.
Another way to explain why employers are more willing to hire blacks and members of other subaltern groups when labor markets are tight is that
employers treat subaltern groups as "surplus."
A surplus population, as defined by economist William (San­dy) Darity, is that portion of the population that is considered "excess," or "non-productive." Mem­bers of populations considered surplus (often the non-white, older adults, and-or the disabled) have less social and economic status and bargaining power, but still need to work.
Surplus populations are accessed when needed and disposed of when not needed. The result of blacks being treated as a surplus population is that the gap between white unemployment rates and black un­­em­­ployment rates is the lowest before a recession, and black workers are dispropor­tionally the first fired during a downturn.
How the Gap Fares Over the Business Cycle
Let's look closely at the racial unemployment rate gap over time. In 2003, the aftermath of the re­cession caused by the dot-com bubble bursting, the black unemployment rate for older workers was 6.8 percent, 2.9 percentage points greater than the older white unemployment rate of 3.9 per­cent. By the time that expansion peaked in December 2007, just as the Great Recession began, unemployment rates dropped to 4.2 percent for black older workers and 3.3 percent for white older workers, narrowing the racial jobs gap to 0.9 of a percentage point.
When unemployment increased again in 2011, black older workers' unemployment rate grew to 10.1 percent, 3.6 percentage points higher than white older workers' rate of 6.5 percent—the largest gap in the past 15 years. As of February 2018, almost 11 years since the last round of low unemploy­ment, the racial jobs gap has narrowed to 1.1 percentage points.
Economist Michele Holder
found that in the aftermath of the Great Recession, black men were further and disparately marginalized in the workforce. She shows that black men became less represented in high- and mid-wage occupations and were pushed out of the labor market because of the recession.
Black men are the worst-off in terms of unemployment throughout the business cycle
, and the unemployment gap be­tween black men and white men tends to exceed the gap between black women and white women. In the next recession, black men may be hit hardest by unemployment at all levels.
Racial Jobless Rates and Retirement Security
Employment discrimination and economic downturns make it harder for older people to save for retirement. One solution to both employment discrimination and unemployment is a
federal job guarantee
. Senators
Bernie Sanders
and
Cory Book­er
are both supporting versions of a job guarantee. In most iterations of the plan, jobs would be provided through a permanently established government agency, and workers would be guaranteed non-poverty wages, plus of­­fered benefits such as health insurance. A job guarantee would benefit those seeking work at all ages; but blacks, Hispanics and members of other subaltern groups, who have greater difficulty finding work when labor markets are soft, would benefit disproportionately. A job guarantee would also benefit older workers who are laid off and may need a few more years to bridge the gap between work and retirement.
Each of these policies would serve as an important precaution to mitigate the historically likely ef­fects of the next recession upon the racial gap in joblessness.
Kyle Moore is a doctoral student in Economics at The New School for Social Research in New York. Teresa Ghilarducci is a professor of Economics at the New School for Social Research.