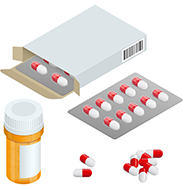 By Jerry Avorn
These are times of great ferment in relation to prescription drugs, especially as they relate to older patients. Controversy and change are brewing in the areas of medication research, approval, promotion, pricing and reimbursement. From the perspective of care for elders, many proposed changes are worrisome, and few are encouraging.
Drug Research and Development
Despite the oft-heard claim that most important drug discovery comes from the pharmaceutical industry, the data do not bear this out. In a 2015 study led by Aaron Kesselheim and published in Health Affairs, we found that more than half of the truly transformative drugs of the last quarter-century had their origins in publicly funded research that took place in academic medical centers. This was particularly true for medications that address chronic illnesses afflicting older patients—cancer, heart disease, osteoporosis and hypertension. And only about 15 percent of drug industry revenues are plowed back into research—a far smaller proportion than is devoted to sales and marketing. If one considers only truly innovative new products, the proportion is even smaller.
Despite this, while company revenues have been rising for the last two decades, funding for the National Institutes of Health (NIH) has for years been flatlining or even falling, in inflation-adjusted terms. The National Institute on Aging has not been spared.
The "21st Century Cures Act," approved in December 2016, calls for increasing NIH funding to address part of this shortfall, but its recommendations will still need to be appropriated by a Congress intent on shrinking expenditures by "Big Government."
Drug Approval
Another myth that is as pervasive as it is false is the idea that Americans are being denied needed drug treatments because the Food and Drug Administration (FDA) is slow and enforces unnecessarily stringent requirements. Both these contentions are the opposite of the truth. Researchers at Yale have shown that the FDA is as fast as—and often faster than—the regulatory bodies in other advanced countries, and can turn around a complicated new drug application in just six months. Its standards, depicted as "excessively high" by FDA critics, are actually quite permissive, with more than half of new drugs approved on the basis of simply improving a laboratory test or other "surrogate measure," rather than requiring demonstration of actual benefit in a patient's clinical outcomes. The new 21st Century Cures Act could well exacerbate this problem, as it calls on the FDA to support greater use of such intermediary measures to approve drugs, rather than requiring evidence that a new drug improves patients' clinical status.
Drug Pricing and Affordability
As the new Administration prepares to repeal the Affordable Care Act (ACA), access to prescription drug coverage for patients older than age 65 will be somewhat more protected than for the rest of the population because this provision was enacted into law as part of the Medicare program rather than through the ACA. However, the new President has also made statements about "reforming" Medicare, so it is too early to see how much of this protection will continue to be provided to the nation's most prominent and vulnerable consumers of medications.
The United States remains the only nation that allows drug makers to set any price they like for their products, rather than empowering the government or its agents to negotiate those prices. In fact, such negotiation was explicitly prohibited in the legislation that created the Medicare drug benefit—even though Medicare does negotiate prices with hospitals, physicians, medical equipment makers and essentially all of its other vendors. While Mr. Trump had declared during his campaign that drug prices are too high, it is not yet clear how that rhetoric will be translated into coherent policy action, if at all.
Drug Promotion
Unrelated to these developments, there has been a quieter but important movement in the courts that could transform the way doctors and patients learn about the risks and benefits of drugs, especially for older patients. After all, this group representing the largest and clinically the most important users of medications is made up of those often strapped economically to pay their growing share of prescription expenses; it is also the most lucrative population for drug manufacturers.
In recent years, a series of court cases brought by the pharmaceutical industry have argued that a company's right to make claims about its products should not be limited by the FDA, because such regulation amounts to a restriction of its First Amendment rights to commercial free speech. The FDA and the U.S. Department of Health and Human Services have not challenged these adverse decisions, with the expectation that they would likely lose if a case were brought to the current Supreme Court, which has shown itself sympathetic to other commercial free speech cases brought by corporations. As a result, there will likely be fewer checks and balances on the marketing statements that companies can make about their products to prescribers and—eventually—to patients.
For example, in 2013 Johnson & Johnson was forced to pay $2.2 billion for illegal promotion of its antipsychotic drug for use in nursing home patients with dementia—a use for which it does not have convincing efficacy, and which can substantially increase risk of death. If these commercial free speech cases prevail, such promotion, as long as it has a grain of "truthiness" to it, would no longer be prohibited.
Public Interest Education about Prescription Drugs
These developments described above will increase the need for greater use of a pro-patient approach known as "academic detailing", in which medical school faculty actively disseminate non-commercial, evidence-based recommendations about optimal and cost-effective medication use to physicians in their offices. The oldest such publicly supported program has been funded by the Pennsylvania Department of Aging, which in 2005 began supporting the provision of such services to physicians, provided by the nonprofit Alosa Health. (The organization is named after the genus of fish that swims upstream, like salmon. I serve as an unpaid consultant to Alosa.)
In the past several years, the Veterans Health Administration has rolled out a nationwide program of academic detailing to educate physicians about better prescribing for its aging patient population. Given the continuing dearth of education in geriatric pharmacology at most of the nation's medical schools, the increasing permissiveness about drug promotion that is likely in the coming years, and the growing challenges many aging patients face in trying to pay for their medicines, this is one encouraging development in the ongoing struggle to provide optimal and affordable drug therapy to our older patients.
Jerry Avorn, M.D., is professor of Medicine at Harvard Medical School and Chief of the Division of Pharmacoepidemiology and Pharmacoeconomics in the Department of Medicine of the Brigham and Women's Hospital in Boston.
Editor's Note: This article appears in the March/April, 2017, issue of Aging Today, ASA's bi-monthly newspaper covering issues in aging research, practice and policy nationwide. ASA members receive Aging Today as a member benefit; non-members may purchase subscriptions at our online store.