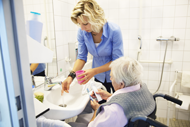 By Jessica Nagro
Oral health has routinely been excluded from public policy initiatives aimed at improving access to and quality of healthcare in the United States. Extending back to the debates around the creation of Medicare and Medicaid and continuing through to the more recent Affordable Care Act (ACA) discussions, oral health has consistently been left out of policy proposals aimed at improving the health and well­being of America's older adults.
Due to this exclusion, the state of oral healthcare and insurance coverage for older adults is dismal. Almost 70 percent of older Americans have no form of dental insurance (Center for Medicare Advocacy, 2016). This puts many older adults at a profound disadvantage, as oral health is closely tied to overall health and well-being. As a result, nearly one in four Americans older than age 65 have lost all of their teeth, and many face broader health complications due to poor dental care(Sub­committee on Primary Health and Aging, 2012).
However, advocates for improved oral health are working toward new policy reforms that will increase access, advance education, and expand training opportunities to improve the state of oral health for America's older adults.
Oral Health Coverage, Policy, and Advocacy
Medicare covers less than 1 percent of dental services. America's health coverage program for people older than age 65 includes essentially no coverage of routine dental services such as exams, cleanings, fillings, or dentures. It covers some inpatient dental procedures and provides some coverage for dental care that is necessary for another health service covered by Medicare (Subcommittee on Primary Health and Aging, 2012). However, the exclusion of the vast majority of dental services from Medicare leaves many older adults without dental insurance coverage.
Medicaid, the public health insurance program for low-income Americans, doesn't do much better. The joint federal and state program was created with an optional dental benefit. In 2016, eight Medicaid programs did not cover any dental services and only four covered the full range of optional services (Oral Health America, 2016). This leaves the majority of the 4.6 million older adults covered under the program without adequate cover­age to meet even the most basic dental care needs.
Even more recent health reform efforts have not been more inclusive of dental care. The ACA lays out a set of ten essential health benefits that all health insurance packages must include. The ten categories include pediatric dental care, but the same requirement does not extend to adult coverage (Families USA, 2013). This means that older adults who purchase private insurance are left without adequate coverage options.
Excluding dental coverage from these safety net programs was due to a perceived differ­ence between healthcare and dental care. For generations, dental care and medical care have been viewed as distinct medical practices, due in large part to how both fields devel­oped (Khazan, 2014). This can also be seen in our higher edu­cation system, which often separates medical school from dental training. This separation of the two fields has persisted for hundreds of years and has resulted in our current bifurcated health system (see Messina's article on the history of dentistry, page 19).
There is, however, a renewed push to expand dental coverage and improve dental care for older adults as more is learned about how oral health impacts overall health.
Reform, Looking Forward: New Proposals and Initiatives
There are several policy proposals and programs aimed at increasing access, improving education, and expanding training opportunities to improve the state of oral health for America's older adults. These reforms range from comprehensive policies to address the lack of health insurance coverage, to smaller initiatives aimed at particular components of the broader issue.
Expanding insurance access
On the broad end of the spectrum, there is interest in Congress to rectify the current exclusion of dental health coverage from our largest health insurance programs. Introduced by Senator Bernie Sanders (I-VT) and Representative Elijah Cummings (D-MD), the Comprehensive Dental Reform Act of 2015 would expand dental coverage through Medicare, Medicaid, the ACA, and the Department of Veterans Affairs (U.S. Congress, 2015c).
The bill mandates comprehensive coverage, enhances federal funding for Medicaid dental services, and improves public reporting. The legislation also addresses issues related to the shortage of dental providers, a lack of access to dental services at health clinics, oral health research, and primary care provider education, among others (U.S. Congress, 2015c).
The bill has been introduced in both chambers of Congress, but has yet to receive a hearing. Advocates interested in this type of comprehensive approach to expanding access are encouraged to raise awareness of the bill with their representatives.
There also are other initiatives aimed at more discrete components of the dental health issue.
Training the healthcare workforce
The federal government supports the training of health­care providers in the care of older adults through a federal grant initiative called the Geriatrics Workforce Enhancement Program (GWEP). The GWEP, administered by the Health Resources & Services Administration (HRSA), seeks to expand high-quality, interprofessional geriatric education and training (HRSA, n.d.). The programs support developing a healthcare workforce that improves health outcomes for older adults by integrating geriatrics with primary care, maximizing patient and family engagement, and transforming the healthcare system (HRSA, n.d.). The program trains a wide array of health professionals, including dentists and other members of the dental care workforce.
There are forty-four GWEP sites in twenty-nine states across the country (HRSA, n.d.). While each of these programs provides critical resources to train health professionals in the care of older adults, issues related to geographic access and training gaps create barriers for many professionals (especially dentists) to take advantage of these programs. More needs to be done—by requesting increased funding from Congress and program revisions from HRSA—to ensure this critical initiative improves older adults' oral health.
Disease prevention and health promotion
In April 2016, President Obama signed into law the Older Americans Act Reauthorization Act of 2016. After passing both chambers of Congress earlier this year, the legislation provides support to older adults and their caregivers so individuals can remain healthy while living in their homes and communities (U.S. Congress, 2015a). Originally established in 1965, the Older Americans Act (OAA) legislation encompasses services such as caregiver support programs, assistance with transportation and meals, elder abuse protection initiatives, and others.
This year's reauthorization also includes provisions related to oral health (U.S. Congress, 2015a). Going forward, aging services providers are permitted to use disease prevention and health promotion funds to provide oral health screenings. These screenings are an important component of overall health, as they identify signs of disease and can be used to recommend further care.
While it is promising that oral healthcare is now included in OAA programming, oral health screenings are not mandatory. Advocates nationwide will need to ensure that local aging networks direct these resources toward dental screenings and that these programs continue to be funded in the future.
The crucial role of family caregivers
Family caregivers play an important role in ensuring proper dental health for America's older adults. According to the AARP Public Policy Institute, the nearly 40 million family caregivers in the United States provided 37 billion hours of care in 2013, worth an estimated $470 billion (Reinhard et al., 2015). The RAISE Family Caregivers Act is legislation that aims to support family caregivers by requiring the development of a national caregiving strategy that would identify actions stakeholders can take to improve the availability of resources, training, and education for caregivers (U.S. Congress, 2015d). This legislation has powerful potential to increase education and awareness about critical oral health topics among caregivers and their loved ones.
The RAISE Family Caregivers Act passed the U.S. Senate late in 2015 but is still awaiting action by the House. Family caregiver and eldercare workforce advocates are currently urging the House to take up this important legislation.
Reaching Vulnerable Populations in Residential Settings
The Action for Dental Health Act of 2015 would allow organizations to apply for oral health grants administered by the Centers for Disease Control and Prevention that are aimed at improving oral health education and dental disease prevention (U.S. Congress, 2015b). The grants would also be used to expand dental home programs for children and adults, including older adults.
This legislation would be particularly beneficial to older adults who live in nursing homes; these residents often face the greatest barriers to dental care, even though federal law requires nursing homes provide them with oral health services. The Dental Health Act will improve access to oral health for these older adults by funding the development and implementation of initiatives aimed at targeting this hard-to-reach population.
Though the initiatives outlined above are promising policy and program reform proposals, much more remains to be done to ensure that the oral—and overall—health and well-being of older adults is a priority for policy makers in Washington, D.C.
Jessica Nagro, M.P.A, is the policy and communications manager for the Eldercare Workforce Alliance in Washington, D.C.
References
Center for Medicare Advocacy. 2016. "New Report: Expanded Dental Coverage Needed to Con­front Health Crisis." www.medicareadvocacy.org/new-report­expanded-dental-coverage-needed-to-confront-health-crisis/. Retrieved May 4, 2016.
Families USA. 2013. "10 Essential Health Benefits Insurance Plans Must Cover Starting in 2014." http://familiesusa.org/blog/10­essential-health-benefits-insurance-plans-must-cover-starting­in-2014. Retrieved May 12, 2016.
Health and Resources Services Administration (HRSA). n.d. "Geriatrics Workforce Enhancement Program." http://bhpr.hrsa.gov/grants/geriatricsalliedhealth/gwep.html. Retrieved May 1, 2016.
Khazan, O. 2014. "Why Don't We Treat Teeth Like the Rest of Our Bodies?" The Atlantic. www.the atlantic.com/health/archive/2014/09/why-dont-we-treat-teeth-like-­the-rest-of-our-bodies/380703/. Retrieved May 4, 2016.
Oral Health America. 2016. A State of Decay: Are Older Americans Coming of Age Without Oral Healthcare? Chicago, IL: Oral Health America.
Reinhard, S. C., et al. 2015. Valuing the Invaluable 2015 Update: Undeniable Progress, but Big Gaps Remain. Washington, DC: AARP Public Policy Institute.
Subcommittee on Primary Health and Aging. 2012. Dental Crisis in America: The Need to Expand Access (report prepared by Sen. Bernard Sanders and Rep. Elijah Cummings). Washington, DC: U.S. Senate Committee on Health, Education, Labor & Pensions.
U.S. Congress. 2015a. Senate Bill 192: Older Americans Act Reauthorization Act of 2015. 114th Cong., 1st sess., S. 192. (January 20). Washington, DC: U.S. Government Printing Office.
U.S. Congress. 2015b. House Bill 539: Action for Dental Health Act of 2015. 114th Cong., 1st sess., H.R. 539. (January 30). Washington, DC: U.S. Government Printing Office.
U.S. Congress. 2015c. Senate Bill 570/House Bill 1055: Comprehensive Dental Reform Act of 2015. 114th Cong., 1st sess., S. 570. (February 25). Washington, DC: U.S. Government Printing Office.
U.S. Congress. 2015d. Senate Bill 1719: RAISE Family Caregivers Act. 114th Cong., 1st sess., S. 1719. (December 9). Washington, DC:, U.S. Government Printing Office.
Editor's Note: This article is taken from the Fall 2016 issue of ASA's quarterly journal, Generations, an issue devoted to the topic "Aging and Oral Health." ASA members receive Generations as a membership benefit; non-members may purchase subscriptions or single copies of issues at our online store. Full digital access to current and back issues of Generations is also available (and free of charge to ASA members and Generations subscribers) at Ingenta Connect.
Support for the Fall 2016 issue of Generations, "Aging and the Importance of Oral Health," was provided by the Gary & Mary West Foundation.