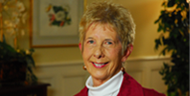 By Alison Biggar
The Puzzle of Life with Alzheimer's
The following excerpt is from The Other Side of Alzheimer's: What Happens to You When Your Spouse Has Alzheimer's by Martha-Lee B. Ellis, 2012, Balboa Press.
Life when you live with Alzheimer's is the epitome of confusion. There are times, however, when the puzzle pieces come marked for easy placement to make at least part of the picture recognizable. When Michael would call me by name after not doing so for weeks; when he remembered meaningful things about our family; when he told me he had to return to the Air Force after watching the events of September 11 on television: these were the things that made him who he was. These were the pieces that fit together with love and comfort.
Other parts of our life picture would sometimes appear, too, adding the sound of levity to the shape and form of one of our days. These were the pieces that made a beautiful scene. When Michael used the electric leaf blower that had a habit of coming loose where the plug joined the handle, he would yell each time it quit, "This damn thing's out of gas!" I learned quickly to stay nearby, since I would need to walk to where he was, plug it back in, and leave him for the next two minutes or so (if I were lucky) and he'd have a happy afternoon doing what he loved to do. I would also invariably end up laughing at the spectacle we made of ourselves in the back yard. Humor was far more important than Alzheimer's disease and any puzzling phase of life.
—Martha Lee Ellis
There is never an adequate way to prepare for taking care of a spouse with Alzheimer's disease. Countless blogs address Alzheimer's, giving advice and including thoughts from those with the disease. But when someone is faced with the prospect that their spouse or life partner may make a slow, heart-wrenching journey of mental decline over many years—and that they will be traveling that road with them—denial can set in.
That's where Martha-Lee B. Ellis, author of the book The Other Side of Alzheimer's: What Happens to You When Your Spouse Has Alzheimer's, found herself when her husband Michael was first diagnosed. She read all she could find about what would happen, but was so stumped by his initial lack of symptoms that she asked a nurse friend to accompany her to a second appointment with Michael's neurologist to make sure she had heard the diagnosis right: she had.
Ellis's next step was to join a support group. In a recent conversation with ASA she said, "What I had was a wonderful support group, and I know that not everyone has that, so I decided to write a book as a connection for people who need to know they are not alone."
While not always a pleasant read, the book is an endearingly honest page-turner—often amusing in its portrayal of the journey's key markers such as forgetfulness, confusion, paranoia and helplessness. The narrative is broken down into chapters by subject matter for ease of reference, making it convenient for caregivers to quickly access information on a pertinent topic or issue. For caregivers, these chapters can serve as lessons in how to deal with the disease's phases (while keeping in mind that no two patients experience the same symptoms).
Ellis is now retired from a 30-year career in Raleigh, N.C., as executive director of a nonprofit school for children with disabilities, but worked full time during the 10 years she spent caring for her husband. She's quick to point out that although it may seem as if someone experienced with disabled children would have an inside track on caregiving for an Alzheimer's patient, it's a reverse process, and nothing she knew applied.
"Every ounce [of effort] I put into children with disabilities was about improving skills, so they could participate [in life] as contributing people. With Alzheimer's it only gets worse, not better, it's a total reverse of my experience, and my motivation in my career. It's very difficult to deal with the fact that nothing I could do, or anyone else could do, would improve [Michael's] condition.
"Particularly during the last seven years, I began to realize that although my husband was the one with the disease, there was a side that was my side—how I felt. I had learned a lot about [Alzheimer's], but I did not learn how it would feel to be in it," Ellis adds.
Ellis's anecdotes in the book about specific caregiving challenges stand out, for example Michael's confusion over the shower—he gets in, scalds himself, and then yells for help—unaware he can change the water temperature. Then there was his sudden conviction that someone was stealing his socks.
"Those were the daily puzzle pieces that I had to fit together," Ellis says. "It was every single day something going on, another piece of my day, another thing I had to pay attention to, to take care of."
There are many books written about Alzheimer's caregiving that detail its difficulties, but this one is particularly approachable in how it uses story to clarify the disease's progression; also, Ellis makes clear this caregiving journey is an emotional one, and caregivers may not always react appropriately each step of the way. When Ellis takes Michael to a daycare center, it is hard for her to see that he's convinced he works there and that the facility needs him to make craft projects. But she knows the center is crucial for her sanity and his safety.
"Knowing that I was taking him to a safe place with social interaction and stimulation allowed him to remain at home longer because he had somewhere to go—sometimes even his symptoms would improve."
Ellis recounts how she eventually moved her husband into a nursing home for 24-hour supervision, but that the decision weighed heavily on her. Though physically and emotionally spent, she vacillated over whether she could bear to leave him there. Once she decided, however, she developed intensely personal relationships with Michael's new caregivers.
Though Michael has passed away, Ellis still attends her support group because "the people who are in the support group saved my life," she says. And she hopes to be there when a new caregiver asks a question she can answer.
For caregivers just beginning this journey, Ellis advises that they "learn about the symptoms, because knowing about them will help you prepare for caregiving. Learn not to argue—there are instances in which even physical conflict arises from arguing—so don't correct someone with Alzheimer's. And please, find a support group."