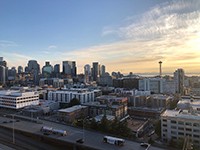 Editor's Note: The American Society on Aging continues to monitor the world's response to the COVID-19 pandemic and wishes to highlight resources on this page that are pertinent to our membership and those who work with older adults. 
As soon as the first surge of coronavirus cases hit Seattle in late February, the National Domestic Workers Alliance and LeadingAge knew they immediately needed to get help to the frontline workers in nursing homes and residential settings and-or private homes.
Robyn Stone, senior vice president for research and co-director of the LeadingAge LTSS Center, said, "It became very clear right away that number one, the frontline workers in nursing homes were at serious risk, and number two, they are the frontline in all of our settings, whether residential or homecare settings. They are essential workers."
On April 1, NextStep, a Seattle-based digital training startup, LeadingAge, an association of nonprofits dedicated to making America a better place to grow old, and the National Domestic Workers Alliance (NDWA), a domestic worker advocacy group, launched an online caregiving certificate to improve the safety of the nation's more than 4.5 million long-term-care workers and 2.5 million domestic workers.
"The training has been developed to help staff and employers who need to make sure that their frontline staff know how to address the COVID challenge and protect the people they care for, and themselves," said Stone.
The National COVID-Ready Caregiver Certificate features cell phone−accessible video-based skills trainings, which are broken into bite-sized pieces for easy access. Trainings include how to protect yourself from the virus; a caregiver skills refresher; instruction for how to don and remove protective equipment and how to take temperatures; and tools for managing stress and anxiety (even guided meditation). The course culminates with a quiz, and participants who pass the quiz are awarded a certificate.
There is also clinical advice from world-renowned pulmonologist Dr. Vin Gupta, state-approved CNA training from registered nurse Melissa Mills and mindfulness instruction from master mindfulness teacher Lynn Morrison. Anyone, from family caregivers to maintenance staff and others serving in the public sector can access this information at any time, free of charge (use access code: PROTECT2020).
NDWA Director Ai-Jen Poo echoed Stone's sentiments, saying, "We represent the millions of women who work in homes providing caregiving and cleaning services. When COVID-19 hit, we knew homecare workers—who are essentially guardians of the people at highest risk of getting the virus—had a new giant set of challenges."
On top of the fact that the average homecare worker makes $16,000 per year, these workers have no financial cushion with which to stock up on groceries nor do they have access to a safety net or benefits, never mind paid sick days or paid family leave.
"All domestic workers, from a financial standpoint, are facing an impossible choice to either stay home and prevent the risk of spreading the virus, or to put their own health at risk. But if they don't work, they can't put food on the table for their families," Poo added.
Even more critically, Poo heard from homecare workers repeatedly that they really wanted to continue to work, as they felt very much responsible for their charges, and they saw themselves as being an important part of the emergency response effort.
"Essentially, we're finding out what it means to care in the midst of a public health pandemic. We felt we needed to increase the information, education and training that people have so they can continue to do their jobs safely, to the best of their ability. Home care workers themselves asked for this training. And we are really proud to offer it," Poo said.
Both LeadingAge and NDWA hope for the widest dissemination possible of the training course, extending the offer out to maintenance workers, family caregivers and anyone who works in any capacity with older adults— even to the public at large.
"We anticipate all kinds of caregivers will take the training—family caregivers, home health aides and others. If this can be a resource to as many workers as possible, it will be a win for us. Too many workers feel alone in this crisis," said Poo.
"I believe very strongly that this training will help in overall infection control, too," said Stone. LeadingAge and NDWA are pushing the training out to their entire membership communities.
Three important things for ASA members to note:
√  Please access the training here, spread the word and the access code: PROTECT2020.
√  NDWA is looking for help from public health experts. Anyone with this expertise is asked to go to info@caringacross.org or info@domesticworkersalliance.org to connect and help.
√ NDWA has launched a coronavirus fund for those who can afford to help frontline caregivers with emergency financial assistance. Begun in early March, this fundraising appeal has raised $3 million, and the goal is to raise $4 million