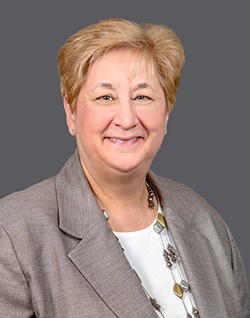 Editor's note: This past January, ASA surveyed its members about what it takes to be a leader in the field of aging, what members would like to learn about how to develop leadership knowledge, skills and abilities, and who best personifies leadership. ASA members identified respected leaders in aging—many of whom are well known to the ASA community and to the field at large. This following Q&A with Paula Basta is one in a series of leadership profiles we will feature in Aging Today and online at ASA's AgeBlog in the coming months.
Paula Basta directs the Illinois Department on Aging, overseeing all aging programs and services in the State of Illinois—the sixth largest state in the nation. She manages a budget of $1.2 billion, a 20-member staff in Chicago and a 130-member staff in Springfield.
Basta began her career as a caseworker, visiting lonely older adults in Chicago (which she finds ironic considering that "now all we talk about is social isolation"). She worked in nonprofits in aging for 15 years, then studied at the McCormick Theological Seminary for a Masters in Divinity. As a Catholic, she had considered ordination, but as an out lesbian, admits her "options were limited." Instead, she studied in a Presbyterian Seminary as a Roman Catholic.
Basta calls her time in graduate school "a terrific interfaith experience"—one that allowed her to discern what it was she wanted to do in life, which was to pursue her passion for helping elders. Her first job out of the seminary was as a social worker in the Catholic church. After eight years working for the Archdiocese of Chicago, she ran a nonprofit housing organization for five years, eventually leaving that position to work for the City of Chicago running a large senior center for 18 years, then to the Chicago Housing Authority for a year before being asked by Gov. J.B. Pritzker to head up the Illinois Dept. on Aging at the State of Illinois.
ASA: How might you describe the way leadership in the field of aging differs from leadership in other fields?
Paula Basta: I've been working in the aging sector for 40 years, so I'm not sure I can talk about other fields, but the aging world speaks to my passion, it keeps me energized. It is truly holistic, and it focuses on wellness. We care about people, about how to keep them well, and how to ensure they remain engaged, as they age.
ASA: How did you use networking to progress in the field of aging?
PB: I think networking is so critical. We really need each other, even more than we understand or know. In this field, it's so important to be able to talk to each other, to understand the differences in what we do and also the similarities. In social service delivery, we're always looking to consolidate, to do more with less, because at some point the budget will be crunched and we all need to know how to continue to serve older adults with fewer resources. Networking energizes us so we know we aren't alone. At the end of the day, it's our passion for aging that solidifies why we do what we do.
ASA: What sort of education did you find most helpful?
PB: You learn the most when you are out of your comfort zone. I had great role models and mentors, great bosses who were really helpful and lots of folks who were incredibly generous, who gave me time to make mistakes and to learn.
As a leader, you must have a willingness to learn. I was an Adjunct Professor at Loyola University and although I had never thought of myself as a teacher, for five years I learned so much from my students. We need to stay in touch with our humility and be open to others teaching us.
ASA: What do you think is the most critical skill to have as a leader?
PB: You have to be generous. You have to be open; you have to respect people, no matter who they are or where they come from or what they tell you. You must value them, even if you don't agree with them. You must be accessible, and not closed off to anyone. And you have to have a lot of energy, as people look to their leaders to energize them.
ASA: Can you speak to one leadership challenge encountered on the job and how you met it?
PB: I started this job last March, in the first year of a four-year term. That year was just about learning. I had no knowledge of so many things to do with waivers, rules, regulations and working with legislators. It all continues to be fascinating and multidimensional, plus there's the budget.
Then this year, it has been about dealing with the fear brought on by the pandemic. There has been a lot of sickness and death, which always happens when you are working with this [older] population, but now it has tainted how we do our work. We have to do all of our work alone and can't interact in the ways we've been used to.
In a leadership position, you have to stay constant, steady and calm because people look to you when they're fearful. And all around you people are dying—some of our staff have died—and people in the ombudsman program are tasked with going into nursing homes: how can they possibly do their work remotely? This is where networking comes into play, as I look to the federal government for guidance—the ACL, CMS, the CDC. The pandemic has brought the public health component of aging right up to the surface. Healthy aging is at the core of how we will see people live through this pandemic.
Leaders have to deal with it all with calm confidence, and straightforwardness. A sense of humor is key; you need to give people levity when things are dire.
ASA: What might you say to inspire younger potential leaders in the aging sector?
PB: Come at the aging profession with a passion. At the end of the day, all that's going to matter is that you care deeply about older adults. It's the only thing that will sustain you—that, and your belief in how you want to make the quality of life of older adults better than what you had found it to be. When I think about why I'm here, I realize I'm here to make a difference in the lives of older adults if at all possible. You should stay mission-focused.