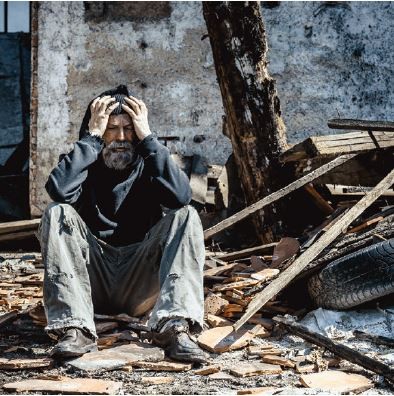 By Kathy Sykes
Carmen McReynolds, 82, was a motorcycle-riding septuagenarian cruising down the back roads of Sonoma County, based at her longtime home on Kilarney Circle [in Santa Rosa]. … Her nephew, Gabriel Coke of San Jose, said she was a trailblazer—who knew her way around a rifle and gave him his first pocket knife—who once considered Joan Baez among her friends,"
reported an Oct. 10 article in The Mercury News
.
"Carmen McReynolds was so independent and resourceful her family held out hope until the very last moment that she had escaped the Tubbs Fire," according to the article. The paper then reported that McReynolds, who had for decades been devoted to her work as a doctor, had died in her garage on Oct. 9, overcome by the fire.
The National Oceanic and Atmos­pheric Administration
reported
that hur­­ricanes, wildfires, floods and other disasters in 2017 caused $306 billion in total damage, shattering a previous 2005 record of $214 billion from the impacts of hurricanes Katrina and Rita. Climate disaster events were responsible for 362 deaths in 2017.
The
Climate and Health Assessment
by the U.S. Global Change Research Program found that people differ in their sensitivities to climate change and the very young and very old are particu­larly sensitive. Older people are more sensitive due to lifetime exposures, physiolog­ical changes and limited adaptive capacity. With increasing years, the body's defense mechanisms decline. Older people also often are living with chronic health conditions and functional limitations that may contribute to frailty and disability.
And climate change impacts not only physical health.
According to the Climate Psychiatry Alli­ance
, "Mental health is profoundly impacted by the disruptions associated with climate change." 
Numerous studies
conducted following disasters found "post-traumatic stress disorder among persons who experience a disaster, with the extent of exposure to a disaster being the most important risk factor for the development of disaster-related PTSD" .
Wildfires Increasing in Number and Severity
Prolonged stretches of record high temperatures associated with droughts
contribute to dry con­ditions
that promote wildfires. Short-term factors affecting wildfires include weather (i.e., winds, temperatures, humidity, lightning storms).
Long-term factors
promoting wildfires include hazardous fuels accumulations (plants and tree density), non-native plant inva­sions, insect infestations and drought.
The largest wildfire in California history, the Thomas fire, burned 281,893 acres from Decem­ber 12, 2017, to January 12, 2018. Since 1922, when CAL FIRE began keeping records, half of the 20 deadliest wildfires have occurred since 2000, and a quarter occurred in 2017.
The median age of fire victims was 75
, while three-quarters of those who lost their lives were older than age 60.
The Oct. 9, 2017, Redwood Valley wildfire took the lives of Jane Gardiner, 83, and her caregiver, Elizabeth Foster, 64. They had reportedly phoned Gardiner's stepson at 1:30 a.m., informing him the house was surrounded by fire and that they were waiting to be evacuated by the fire department.
Sally Lewis, born in 1927, lived in the house built by her grandparents. On Oct. 8, 2017, the Atlas wildfire took the lives of Lewis and Teresa Santos, her 50-year-old caregiver.
The Perils of Extreme Heat, Flooding
In May 2015, Texas and Oklahoma experienced severe flooding due to record rainfall.
The Na­tional Weather Service tweeted
, "There has been enough rain across Texas during May to cover the entire state nearly 8 inches deep. That's over 35 trillion gallons!" Among the 43 people who died was an 11-year-old girl, along with her grandmother and great-grandmother.
In October 2015, record rainfall fell over portions of South Carolina due to the combined effects of a low-pressure system off the coast, and a persistent plume of tropical moisture associated with Hurricane Joaquin. Waters rose above established flood stages in 20 locations, tak­ing the lives of 19 people.
State officials cal­culated damage losses at $1.492 billion
.
The most destructive storm in Houston's history, Hurricane Harvey, set a new U.S. rainfall re­cord with 64.5 inches (5.4 feet). Amounting to trillions of gallons of water, the deluge was "enough to fill the Astrodome more than 3,300 times," according to the Houston Chronicle. The flooding exposed the costly price of the city's dynamic economy that "relies heavily on abundant, cheap housing and lax regulation." Houston was faced with "a death toll in the dozens and a price tag in the billions."
Sad Stories, Lessons Learned
Following the 2007 and 2008 wildfires in Southern California, a
report
produced by Western Uni­versity's Center for Disability found "most disaster response systems are designed for people who can: walk, run, see, drive, read, hear, speak and quickly respond to instructions and alerts." Its report highlighted the system's problems addressing the needs of older persons with functional needs and disabilities (for example, a deaf commu­nity never received emergency noti­fications). People who needed special transportation assistance were left to fend for themselves.
The report contains this sad anecdote from an independent living center: "I got a phone call from a woman who was using a power chair who was given literally seconds to get evacuated out of her home. The policeman came with a hand on his gun telling her to get out. There was no way for her to get out, no transportation. [The police] grabbed a neighbor [to help], picked her up, put her in the back of a car and took her to the high school. When she got to the high school ... she was left in the back seat, nobody wanted to be responsible. That 'l' word of liability came into play and nobody wanted to do anything for her ..."
The report stated the importance of having emergency plans that must identify methods and providers of access to appropriate transportation (i.e., lift-equipped vehicles) available to help evacuate people with disabilities.
The National Weather Service evaluated its performance before and during the 2015 South Carolina flood and released a report with 40 recommendations. It found inaccurate rain gauges, out-of-date flood maps, staff vacancies and inadequate communications to diverse populations of people with differing age and education levels. Sadly, eight of the 19 flood victims died trying to escape in vehicles. The report found a majority of the emergency managers responsible for com­munications to the public were unaware of the "Don't Drown, Turn Around" warning signs.
The growing impacts of climate change injustices upon health demand we commit the neces­sary resources for adaptation, mitigation, supportive services and effective communications to en­sure we protect those at greatest risk—older people. First responders, neighbors, caregivers and policymakers need to fully understand the special needs of older people during evacuation, reloca­tion and for assistance as necessary for the longer term.
Unless we take action, we will continue to read the tragic stories about people like Carmen McReyn­olds. Her nephew, Gabriel Coke,
said her house was completely leveled
, and "we know she was trying to escape the fire. But without electricity, there was no way to open the garage door." The authorities identified McRey­nolds in part through serial numbers from her hip replacements.
Kathy Sykes retired in 2017 after nearly three decades of public service with the United States Envi­ronmental Protection Agency, The National Institute for Occupational Safety and Health, the U.S. Senate Special Committee on Aging and Rep. David Obey (D-WI). She is a new member of the Aging Today Edito­rial Advisory Committee.