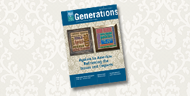 By Laura A. Robbins
If you are not already part of a group disadvantaged by prejudice, just wait a couple of decades—you will be. Unlike all other prejudices, ageism is relevant to every person fortunate enough to make it beyond a sixth decade of life. Unlike the attention focused on other prejudices, however, ageism has been poorly studied and rarely confronted. Until recently, little was known about its origins and consequences.
The consequences of ageism influence how we are able to live the last third of our lives, and can even affect our life span. Individuals of advanced age are both under-treated and over-treated by our healthcare system (Palmore, 2001). Age limits our ability to be hired and re-hired after market downturns (U.S. Department of Labor, Bureau of Labor Statistics, 2015), putting further economic pressure on the lives of older adults. Perceptions about older adults constrain the types of roles they assume in the community, limiting them as individuals and preventing communities from gaining the wealth of knowledge, wisdom, and energy from what some call our fastest growing natural resource (Greenya and Golin, 2008). At the extreme, ageism is believed to shorten our lives. One study reported that older adults who held negative views about old age faced life expectancies that were, on average, seven and a half years shorter than those of their peers (Levy et al., 2002).
This is a staggering statistic when considering the ubiquitous nature of ageism. In one study, 70 percent of older adults surveyed reported that they had been insulted or mistreated on the basis of their age. In a survey of eighty-four people, ages 60 and older, nearly 80 percent of respondents reported experiencing ageism (Dittmann, 2003).
Discrimination and a Dearth of Champions
Ageism is just wrong. Are we all to be discounted as we get older? We don't tolerate making fun of other population groups, why do we allow this kind of prejudice to go unchallenged? We can't imagine "anti-women" or "anti-black" products, yet we buy into ads for billions of dollars worth of "anti-aging" creams and cosmetic products.
Discrimination of any type is not part of the American charter. Other groups facing prejudices have risen up and challenged the status quo. They have champions who speak out when they see discrimination. Unfortunately, this is not the case with ageism, which sees a dearth of champions.
Ageism is even built into the working definition of older adults. Older adulthood covers about forty or more years (from age 60 to ages 100 and older, approximately). Our society would never lump together a 10-year-old with a 50-year-old, yet routinely we lump older adults together, assuming a 60-year-old is the same as a 100-year-old. Such a notion can be perceived as a form of ageism itself.
As the articles in this issue of Generations reveal, ageism is prevalent, dangerous, and limits individuals and our communities.
(Re)Framing Ageism
Generations' focus on ageism was inspired by a new study that provides powerful insights into how the public views older adults. As the study shows, the public's perception of elders is negative and out of date. The research provides a baseline from which a more accurate and modern understanding of aging can be viewed. The goal is to reframe how the public views aging, so that improvements across services, policies, and opportunities for older adults can be perceived as not only possible, but also desirable.
According to Nathaniel Kendall-Taylor of the Washington, D.C.–based FrameWorks Institute (in an email to the author on June 9, 2015), ". . . framing refers to the subtle selection of certain aspects of an issue in order to cue a specific response; as researchers have shown, the way an issue is framed explains who is responsible, and suggests potential solutions conveyed by images, stereotypes, messengers, and metaphors."
The reframing research grew out of a gathering in the fall of 2012 of the leaders of eight national aging organizations: the American Society on Aging, AARP, the American Federation for Aging Research, the American Geriatrics Society, Grantmakers in Aging, the Gerontological Society of America, the National Council on Aging, and the National Hispanic Council on Aging.
The research, captured in the report, Gauging Aging: Mapping the Gaps Between Expert and Public Understandings of Aging in America, by the FrameWorks Institute (Lindland et al., 2015) and described in the second article in the first section of this issue, will likely have you thinking, "Oh, that explains it!" For instance, the public believes decline is inevitable as a person ages.
Why then, would they opt to invest in a program or policy that supports vitality? A majority of the public also thinks older adults can't learn, and are thus incapable of working with computers, and are less likely to be hired.
Working collaboratively, these eight organizations are seeking to secure a stronger place for older adults and aging organizations in American society. Perplexed about the apparent resistance to policies and services directed toward older adults, they determined that a first step would be to understand how the public perceives older adults. Such understanding was to provide a base from which to craft effective future actions to increase older adults' quality of life.
With this baseline of understanding, the FrameWorks Institute has begun to investigate language—a new frame, so to speak—that expands the public's willingness to more productively engage with older adult issues and opportunities.
Seven funders endorsed and supported this work, and they include AARP, The Archstone Foundation, The Atlantic Philanthropies, the John A. Hartford Foundation, the Fan Fox and Leslie R. Samuels Foundation, the Retirement Research Foundation, and the Rose Community Foundation.
Structuring This Issue of Generations
This issue of Generations is divided into three sections. The first provides background and evidence on ageism in America. The second highlights the impacts of ageism, and the final section identifies opportunities to move beyond ageism. An international comparison provides an example of how the society could benefit from a dedicated anti-ageism movement.
Section one opens with an article by W. Andrew Achenbaum, offering insights on how ageism has been defined and measured, and noting challenges faced by compounded prejudices, such as those seen against older black women. Following my article about the FrameWorks findings on the public's perceptions of aging, O'Neil et al. share research findings from the Institute on how the media and aging organizations tend to portray aging. Michael North, one of the few academic researchers studying ageism, in the final piece in the section, compares ageism to racism and sexism.
The middle section, which focuses on the impact of ageism, begins with an article by Linda Barrington describing how ageism can impede older adults' ability to earn a living. Jean Setzfand and Mike Watson describe how passive ageism negatively impacts older people's finances. Drs. Ouchida and Lachs describe the health consequences of ageism, including over- and under-treatment, higher costs, and an inadequate number of health professionals. Barbara Raynor's article explains the opportunities lost because older adults are not engaged in their communities, despite their interest in making a difference. Section two concludes with a personal perspective by Ashton Applewhite on how we self-impose beliefs about the limits associated with aging.
The final section, which highlights options for changing public and private policies that perpetuate or exacerbate ageism, begins with John Feather's insights about limited philanthropic funding for aging research and innovation, and he describes a potential path forward. Dr. Brendan Murtagh provides a case study of how Northern Ireland has evolved considerably from an ageist society into one where older adults and aging issues are now actively incorporated into the public life. Sarah Raposo and Laura Carstensen lay out a research agenda that would help to turn the tide, and Larry Polivka describes the types of changes possible with true leadership, such as that of Senator Claude Pepper. The issue concludes with an article by Robert Blancato and Meredith Ponder about the scope of policies needed if we are to redress the harm imposed by ageism.
The American Society on Aging's hope for this issue of Generations is that it will elevate the recognition and discussion of ageism in America, and inspire us all to declare that we will no longer tolerate this prejudice—and that we will take action accordingly.
Inside Generations
Is Ageism Real Today?
A History of Ageism Since 1969
By W. Andrew Achenbaum
Gauging Aging: How Does the American Public Truly Perceive Older Age—and Older People?
By Laura A. Robbins
Shaping Professional Discourse: An Analysis of the Frames Employed by Organizations Working in Aging
By Moira O'Neil, Abigail Haydon, and Nathaniel Kendall-Taylor
Ageism Stakes Its Claim in the Social Sciences
By Michael S. North
The Impacts of Ageism
Ageism and Bias in the American Workplace
By Linda Barrington
Passive Ageism and Its Effect on Older Adults' Finances
By Jean Setzfand and Mike Watson
Not for Doctors Only: Ageism in Healthcare
By Karin E. Ouchida and Mark S. Lachs
Ageism In Action? Ageism Inaction!
By Barbara Raynor
How I Became an Old Person in Training
By Ashton Applewhite
Options for Changing Public and Private Policy
Engaging Private Philanthropy in Aging: It's Time for a New Approach
By John Feather
The Politics of Age in Northern Ireland
By Brendan Murtagh
Developing a Research Agenda to Combat Ageism
By Sarah Raposo and Laura L. Carstensen
The Legacy of Claude Pepper and the Future of Aging Advocacy
By Larry J. Polivka
The Public Policies We Need to Redress Ageism
By Robert B. Blancato and Meredith Ponder
---
Laura A. Robbins, M.S., M.B.A., is founder and principal of Laura A. Robbins Consulting, LLC, in Arden, North Carolina.
Editor's Note: This article is taken from the Fall 2015 issue of ASA's quarterly journal, Generations, an issue devoted to the topic "Ageism in America: Reframing the Issues and Impact." ASA members receive Generations as a membership benefit; non-members may purchase subscriptions or single copies of issues at our online store. Full digital access to current and back issues of Generations is also available to ASA members and Generations subscribers at Ingenta Connect. For details, click here.
---
References
Dittmann, M. 2003. "Fighting Ageism: Geopsychologists Are Striving to Stop Negative Age Stereotypes and Meet the Growing Mental Health Needs of Older Adults." Monitor on Psychology 34(5): 50. Washington, DC: American Psychological Association. Retrieved June 2, 2015.
Greenya, J., and Golin, I. 2008. "Building an Experience Dividend: State Governments Lead the Call to Engage Boomers." Civic Ventures Policy Series. Washington, DC: Civic Ventures. Retrieved June 2, 2015.
Levy, B. R., et al. 2002. "Longevity Increased by Positive Self-perceptions of Aging." Journal of Personality and Social Psychology 83(2): 261–70.
Lindland, E., et al. 2015. Gauging Aging: Mapping the Gaps Between Expert and Public Understandings of Aging in America. Washington, DC: The FrameWorks Institute. Retrieved June 2, 2015.
Palmore, E. 2001. "The Ageism Survey: First Findings." The Gerontologist 41(5): 572–5.
U.S. Department of Labor, Bureau of Labor Statistics. 2015. "Labor Force Statistics from the Current Population Survey." Retrieved June 2, 2015.