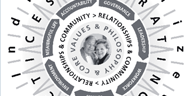 By Karen Love and Jackie Pinkowitz
In 2001, the Institute of Medicine (IOM) released a seminal report, Crossing the Quality Chasm: A New Health System for the 21st Century, that described American healthcare as impersonal and fragmented and called for a redesign of the nation's healthcare system (IOM, 2001). The report noted that a critical element necessary to this redesign was a shift to patient-centered practices. Patient-centered practices are rooted in humanistic psychology and in the work of Carl Rogers and Abraham Maslow, among others. Humanism holds that people are unique and multidimensional beings, and psychosocial and spiritual dimensions are as important as physical health for their holistic well-being (Rogers, 1980).
Toward a Definition of Person-Centered Care
Depending upon the constituency, various terms are used for these practices, such as personcentered, resident-directed, and relationshipcentered. We use the term person-centered for its widespread acceptability and to honor its holistic and personalized ethos. Patient-centered is also widely used, but it is not considered as desirable among proponents of the culture change movement, as it connotes a bio-medical orientation to care. Also, because the word patient comes from the Latin word patiens, meaning "one who suffers," patient-centered can obscure the term's spirit and intent.
Person-centered care focuses on the individual needs of a person rather than on efficiencies of the care provider; builds upon the strengths of a person; and honors their values, choices, and preferences (McCance, McCormack, and Dewing, 2011; Edvardsson, Fetherstonhaugh, and Nay, 2010; Brooker, 2007; McCormack and McCance, 2006; McCormack, 2003; Kitwood, 1992). A person-centered model of care reorients the medical disease−dominated model of care that can be impersonal for those oriented to holistic well-being that encompasses all four human dimensions: bio-psycho-social-spiritual.
Imagine having a doctor's appointment in an office that is freezing cold, receiving impersonal treatment from the staff, and being made to wait forty-five minutes beyond your appointment time. While the physician may be extremely competent, the physical discomfort and impersonal treatment detracts from the overall quality of care. The visit may leave you feeling distrustful and lacking confidence in the healthcare received—despite skilled medical care—because of poor psycho-social aspects of the service. In healthcare and long-term services and supports, the interplay between bio-psychosocial-spiritual needs is especially important because the person receiving care is more vulnerable. Person-centered care recognizes the multi-dimensionality dynamic and reorients practices to be delivered in a positive manner, which, in turn, helps support holistic well-being.
Toward Person-Centered Care Practices in Dementia Care
When a person with dementia has progressed to a point where they need significant help and support, they may no longer be able to articulate insights about their care. However, we can offer here a (published) quote from an individual with a mental health disorder who could articulate personal feelings about person-centered care: "The nurses got to know me and could support me in ways that were personally meaningful … These might sound like little things—a soda, an art project, a few minutes spent talking … nothing they did cost extra money or required intensive training, but the fact that they saw me as a person—and treated me like one—helped restore my dignity and sense of personhood" (Clayton, 2013).
Tom Kitwood's influential work in the 1990s at the University of Bradford in England connected the beliefs and values of person-centered care specifically to dementia care. His work and research gave voice and credence to the need to realign dementia care practices to a model oriented to the "personhood" of the individual living with dementia. Unfortunately, Kitwood passed away at age 62, before he produced a working person-centered dementia care framework. But his influential work lives on, and has been built upon globally through the efforts of outstanding providers of dementia care services, researchers, and advocates.
In the early 1990s, the Alzheimer's Association began convening an annual dementia care education conference. This provided a way for many of the early adopters of person-centered dementia care in the United States to connect, share experiences, and discover there were commonalities for those practicing what later became known as person-centered dementia care. Publications, books, and educational sessions began appearing about person-centered dementia care, such as the Alzheimer's Association's Guidelines for Dignity, Virginia Bell and David Troxel's The Best Friends Approach to Alzheimer's Care, Susan Gilster's A Way of Life: Developing an Exemplary Alzheimer's Disease and Dementia Program, and work and trainings by Carly Hellen, Bill Keane, Anna Otigara, Jeanne Heid-Grubman, Kathy Laurenhue, Betsy Brawley, and others.
In 2005–2006, the Alzheimer's Association convened the national Campaign for Quality Residential Care in order to form practice recommendations, based on holistic, personcentered values and practices, for residential long-term-care communities (Tilly and Reed, 2006). These recommendations, though an excellent starting point, are not sufficient for long-term-care service providers to learn how to implement person-centered dementia care practices. There are a host of resource materials and trainings in the marketplace. It would be helpful if a recognized, knowledgeable entity reviewed the person-centered dementia care materials to identify those that can be recommended. No such effort has happened, leaving people and companies who want to learn how to implement person-centered dementia care practices to find the right experts to educate them.
For those of us who have been family caregivers for parents living with dementia and who have worked with staff in long-term-care settings, we have seen care partners who have their own person-centered, relationship-based, approaches and automatically provide care and support in this manner. However, organizations like The Commission on Accreditation of Rehabilitation Facilities, the American College of Health Care Administrators, and the National Association of Long Term Care Administrator Boards recognize that person-centered principles, attitudes, and skills need to be included in professional training and assessment so they become the norm for research, public policies, and care delivery in our country.
Toward a Single Framework for Person-Centered Dementia Care
In 2011 and 2012, a number of developments raised concerns for many national dementia care experts. First, many of these experts perceived a predominant focus on finding a "cure" for Alzheimer's Disease, and minimal focus among members of the newly appointed Advisory Council mandated by the National Alzheimer's Project Act (NAPA) on caring for those with dementia. Second, person-centered care, considered by IOM as the gold standard of care, was mentioned only once in the country's national Alzheimer's plan. Third, a report from the office of the Inspector General of the U.S. Department of Health and Human Services described an overuse of anti-psychotic medications for nursing home residents with dementia. Fourth, a hearing by the U.S. Senate Special Committee on Aging heightened awareness of the need for alternate approaches to reduce overuse of anti-psychotics for treating behavioral expressions by people living with dementia.
These developments highlighted the fact that little progress is being made in creating policies, programs, and evidence-based practices to support transitioning to what is considered the gold standard of care. Many experts felt that progress to make person-centered dementia care practices the norm was not occurring because there were no common definitions or framework to detail them. Without a common understanding and framework for person-centered dementia care, poor dementia care practices, including the overuse of anti-psychotic medications, would persist. The concerns catalyzed more than sixty national dementia care experts to collaborate in what became known as the Dementia Initiative.
In June 2012, these thought leaders came together in Washington, D.C., to form an agreement on a definition and framework for personcentered dementia care. The Dementia Initiative was organized by the two of us, as well as Jayne Clairmont from English Rose Suites, Angela Lunde from the Mayo Clinic's Alzheimer's Disease and Research Center, Lene Levy-Storms from University of California, Los Angeles, Luskin School of Public Affairs, and Anne Montgomery from the U.S. Senate Special Committee on Aging.
A Consensus-Based Strategy for Establishing a Framework for Person-Centered Dementia Care
Beginning in January 2012, preliminary steps were taken prior to the June meeting of the Dementia Initiative participants. These included the following:
Researchers at UCLA's Luskin School of Public Health conducted an extensive literature search and review on dementiacare practices published in peer-reviewed journals and gray literature. All articles in the 92-page literature composite were reviewed by a group of experts to identify personcentered dementia-care practices.
Dementia Initiative leadership ensured that invited participants included a diverse mix of dementia care experts from the practice, policy, and research sectors to represent a wide spectrum and balance of knowledge and experiences.
Information from the literature review informed the development of a discussion paper circulated to participants two months before the meeting to initiate online discussion about person-centered dementia care. A robust exchange of e-mails followed the paper's distribution, generating a high level of pre-meeting exchanges and discussion.
Following the meeting in Washington, D.C., Dementia Initiative meeting participants formed three workgroups to accomplish action items identified in the meeting that would result in the white paper, "Dementia Care: The Quality Chasm," released in early 2013. (To access the white paper, a list of meeting participants, and the literature review, click here.)
The Person-Centered Dementia Care Framework
The Dementia Initiative's person-centered dementia care framework includes four parts (readers will find more details in the white paper mentioned above).
The Dementia Initiative's Person-Centered Dementia Care Framework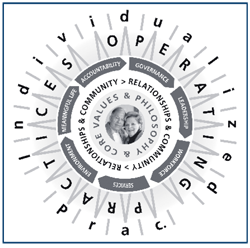 View larger image
The person living with dementia is at the center and is shown with his lifelong love—his wife. The innermost ring signifies the network of people who care about him. The next ring shows the core values and philosophy at the heart of the framework. The first structural domain of relationships and community is also included in this ring to show its importance. Next are the other seven structural domains. Radiating from them are specific operational practices. The rays beyond the operational practices are the individualized practices.
Source: The Dementia Initiative, May 2013.
Part 1: Core Values and Philosophy
Values and philosophy are essential, as they form the foundation for the whole person-centered dementia care conceptual framework.
Every person has his or her meaning of life, authenticity (personality, spirit, and character), history, interests, preferences, and need to continue to experience life at all stages of dementia. The person is not their dementia illness; rather, the condition is only one aspect of their current being. It is important to focus on the strengths of the person living with dementia rather than on diminished or lost abilities and capabilities. Also, to help support their personhood, it is important to "enter the world" of the person living with dementia to best understand, communicate with, and interpret the meaning of his or her behavioral expressions from their perspective.
Part 2: Structure
The structure of the framework consists of eight domains, which are universal to all long-term service and support settings (e.g., homecare, adult daycare, assisted living, hospice, nursing home). The governance, leadership, and accountability domains do not apply for care being provided at home by family or friends who are care partners. The eight domains are relationships; community (belonging); governance; leadership; care partners or workforce services; meaningful life and engagement; environment; and accountability.
Part 3: Operational Practices
Within each structural domain there are operational practices supporting person-centered care. Practices include aims such as having interesting, purposeful, and meaningful things to do as part of daily life for the domain of meaningful life and engagement.
Part 4: Individualized Practices
These are the individual ways of interacting with a person that support and honor the person's unique interests, preferences, and needs. Examples of individualized practices include those mentioned earlier in this article—the offering of a soda, initiating an art project, and making time to talk; these help a person to feel human and convey that they have worth and value.
Explaining the Framework
The four framework items have a specific order. Understanding and applying person-centered core values and philosophy provides the knowledge platform for the next item—structural elements. The eight structural elements are interconnected, meaning that desired person-centered outcomes cannot be achieved or sustained by only implementing some elements. If the owner or governing body of an entity does not fully understand and support person-centered care, these practices are not sustainable after personnel changes. There is also a specific order, starting with having and maintaining a meaningful relationship with the person (relationship and community domain). Having meaningful relationships and a chance to learn about each other engenders trust.
Not all of the structural elements apply to care provided at home, as family members are not operating within a corporate structure. Thus the domains of governance, leadership, and accountability are not applicable. However, it is important to have a coordinated system in which all care partners share the common values of personcentered dementia care, understand their roles in caring for the person who has dementia, and openly communicate with one other.
While the structural elements and operational practices are inextricably linked, the last item in the framework, individualized practices, is customized and flexible. Every person receiving services and supports is a unique being, as is every person providing services or supports. The interplay of knowing the person well, coupled with a focus on supporting their strengths, abilities, interests, preferences, and needs creates the platform for individualized practices. Knowing, for example, that Mr. P (who has dementia and resides in an assisted living community) needs quiet time away from others after lunch prevents him from becoming agitated. Taking Mr. P somewhere quiet and settling him comfortably in a glider with his favorite music playing is a person-centered individualized practice. If Mr. P had been left to sit in the dining room after lunch and had become agitated, the staff might mistakenly focus on his behavior. The individualized practice honors his personhood and helps to maintain Mr. P's psycho-social well-being. 
Looking Ahead
Despite the fact that the United States spends substantially more on healthcare per capita than other developed countries, it does not provide "notably superior" quality of care (The Commonwealth Fund, 2012). The IOM describes quality as "the degree to which health services for individuals and populations increase the likelihood of desired health outcomes and are consistent with current professional knowledge." While person-centered practices are considered the gold standard by the IOM, the World Health Organization (WHO, 2012), and other respected organizations, the practices in most of this country's healthcare and long-term-care settings have yet to rise to the level of current professional knowledge.
There is a dearth of research studies on the business case, return on investment, and cost benefits of using person-centered care practices. Yet there is abundant anecdotal evidence that person-centered care can not only improve the bottom line for services providers and improve job satisfaction, but it can also improve quality of life and well-being for the person. The United States faces enormous economic and caregiving demands as an unprecedented number of people are currently living with dementia—one in every eight Americans ages 65 and older, with a projected tripling of this number by 2050.
Dementia is an especially devastating condition, as it impacts all aspects of daily life and functionality for the individual living with it, and it necessitates significant caregiving support. With the dramatic growth in the number of people ages 65 and older who are the largest users of healthcare, there is little time to delay in transitioning to a standard of care that represents the gold standard, has the potential to reduce cost and use rates, and enhances personal outcomes and well-being. 
Our nation can and must do better! Three national organizations with person-centered values at the foundation of their missions (CCAL, Eden Alternative, and Planetree) have teamed up to begin organizing and coordinating a national Dementia Action Alliance to advance diffusion of person-centered dementia care practices across all aging services and supports.
Influential Work in Dementia
The development of the Dementia Initiative's person-centered dementia care core values and philosophy was informed by the work of many, including the following individuals:
Kitwood (1997). Positive interactions are key to supporting the personhood of persons with dementia by facilitating deep and mutually empathetic relationships between people.
Adams and Clarke (1999). Partnerships in care allow for direct involvement in decision making by persons with dementia, families, and formal service providers based on reciprocity, mutual sharing, and collaborative relationships between all partners in dementia care throughout disease progression.
Epp (2003). Key elements include a focus on treating the person, not diseases or disabilities; understanding that individuals have unique histories and preferences; eliminating dehumanizing practices; maintaining dignity and autonomy; and recognizing the centrality of relationships.
McCormack (2003). Fundamental principles are that all individuals have dignity, autonomy, worth, and a set of unique moral principles, view, histories, and desires.
Eden Alternative (Fox et. al., 2005). Seven primary domains for well-being (the path to a life worth living, the ultimate outcome of a human life) are identity; growth; autonomy; security; connectedness; meaning; and joy.
Brooker (2007). Four major elements are that a value base that asserts the absolute value of all human lives regardless of age or cognitive ability; an individualized approach recognizing uniqueness; understanding the world from the perspective of the individual living with dementia; and providing a social environment that supports psychological needs (VIPS).
Edvardsson, Fetherstonhaugh, and Nay (2010). Core components as defined by people with dementia, family members, and staff in residential care are the following: to promote a continuation of self and normality; know the person; welcome family; provide meaningful activities; be in a personalized environment; and experience flexible routines and continuity of care partners.
Byrne et al. (2012). Focus on the person, preservation of autonomy, and interactions characterized by recognition, validation, collaboration, and negotiation.
Similarly, the structural domains were significantly informed by the work of the "Authentic Consciousness Framework" (McCormack, 2003); the V+I+P+ S model (Brooker, 2007); the "Person-Centred Nursing Framework" (McCormack and McCance, 2006, 2010); "Dementia Care Practice Recommendations" (Alzheimer's Association, 2006); and published non-peer−reviewed models, including The Best Friends Approach to Alzheimer's Care (Bell and Troxel, 1997); and A Way of Life: The S.E.R.V.I.C.E. Model (Gilster, 2006).
---
Karen Love is the founder of CCAL-Advancing Person-Centered Living and co-founder of FIT Interactive in Falls Church, Virginia. She can be contacted at Karenlove4@verizon.net.
Jackie Pinkowitz, M.Ed., is board chair of CCAL-Advancing Person-Centered Living in Colts Neck, New Jersey. She can be contacted at Jpinkowitz@gmail.com.
Editor's Note: This article is taken from the Fall 2013 issue of ASA's quarterly journal, Generations, an issue devoted to the topic "Integrating Services for Dual Eligibles." ASA members receive Generations as a membership benefit; non-members may purchase subscriptions or single copies of issues at our online store. Full digital access to current and back issues of Generations is also available to ASA members and Generations subscribers at Ingenta Connect. For details, click here.
---
References
Adams, T., and Clarke, C. L. 1999. Dementia Care: Developing Partnerships in Practice. London, UK: Baillière Tindall.
Alzheimer's Association. 2006. Dementia Care Practice Recommendations for Assisted Living Residences and Nursing Homes. Chicago, IL: Alzheimer's Association.
Bell, V., and Troxel, D. 1997. The Best Friends Approach to Alzheimer's Care. Baltimore, MD: Health Professions Press.
Brooker, D. 2007. Person-Centred Dementia Care: Making Services Better. London: Jessica Kingsley
Publishers.
Byrne, K., et al. 2012. "Valuing the Older Person in the Context of Delivery and Receipt of Home Support: Client Perspectives." Journal of Applied Gerontology 3(13): 377−401.
Clayton, A. 2013. "How 'Person-Centered' Care Helped Guide Me Toward Recovery from Mental Illness." Health Affairs 32(3): 622–6.
The Commonwealth Fund. 2012. "U.S. Spends Far More for Health Care Than 12 Industrialized Nations, but Quality Varies" (news release). Washington, DC: The Commonwealth Fund. Retrieved October 15, 2013.
Edvardsson, D., Fetherstonhaugh, D., and Nay, R. 2010. "Promoting a Continuation of Self and Normality: Person-Centred Care as Described by People with Dementia, Their Family Members and Aged Care Staff." Journal of Clinical Nursing 19(17–18): 2611–18.
Epp, T. 2003. "Person-Centred Dementia Care: A Vision to Be Refined." Canadian Alzheimer Disease Review April 2003: 14−18. 
Fox, N., et al. 2005. "Well-Being: Beyond Quality of Life." Rochester, NY: The Eden Alternative.
Gilster, S. 2006. A Way of Life: Developing an Exemplary Alzheimer's Disease and Dementia Program. Baltimore, MD: Health Professions Press. 
Institute of Medicine. 2001. Crossing the Quality Chasm: A New Health System for the 21st Century. Washington, DC: The National Academies Press.
Kitwood, T. 1992. "Towards a Theory of Dementia Care: Personhood and Well-being." Ageing and Society 12(3): 269–87.
Kitwood, T. 1997. Dementia Reconsidered: The Person Comes First. Berkshire, UK: Open University Press.
McCance, T., McCormack, B., and Dewing, J. 2011. "An Exploration of Person-Centredness in Practice." The Online Journal of Issues in Nursing 16(2).
McCormack, B. 2003. "A Conceptual Framework for Person-Centered Practice with Older People." International Journal of Nursing Practice 9(3): 202–9.
McCormack, B., and McCance, T. V. 2006. "Developing a Conceptual Framework for Person-Centred Nursing." Journal of Advanced Nursing 56(5): 472–9.
McCormack, B., and McCance, T. 2010. Person-Centred Nursing: Theory, Models and Methods. Oxford, UK: Blackwell Publishing.
Rogers, C. 1980. A Way of Being. New York: Houghton Mifflin. 
Tilly, J., and Reed, P. 2006. Dementia Care Practice Recommendations for Assisted Living Residences and Nursing Homes. Chicago, IL: Alzheimer's Association.
World Health Organization (WHO) and Alzheimer's Disease International. 2012. Dementia: A Public Health Priority. United Kingdom: World Health Organization.