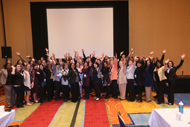 By Krystal L. Culler
Last fall I received a scholarship from the Cleveland Foundation to attend the American Society on Aging's Leadership Institute. Being new to my organization, I was grateful for the opportunity to join the training and the conference, although I didn't know anyone else who would be attending.
In preparation for the Leadership Institute, attendees were asked to complete two online self-assessments on communication and leadership styles; results were received at the training. I looked forward to the results because I'm new to management, and joked with my supervisor that I thought my organization may have sent me to the training as a more in-depth look at my initial hiring. But my results were not surprising—"S-steady."
By learning the strengths of each leadership style and that no one style is better than another, I gained an appreciation for different management types, and created a toolbox of new skills to improve my interactions with other managers and staff. By identifying the leadership styles of others, I can address their priorities, motivations and limitations. The Leadership Institute offers valuable information about the qualities and behaviors desired by leaders. Participants gain information about their personal leadership strengths, as well as challenges. The training offers plenty of time for discussion with other participants and self-reflection to adapt personal behaviors to become a better leader. For me, the time spent learning from others was vital in the application of the leadership material to everyday life and work experiences.
Training facilitator Robert Carpenter compared our "comfort zone" to a rubber band. At rest, a rubber band covers a known area—the comfort zone. But leaders have to be flexible and adapt to situations—stretching beyond their comfort zone. This was the challenge implicit in the Leadership Institute training as we learned diverse management styles and how to better support staff with varied leadership preferences.
Related Resources
Registration is open now for the 2017 ASA Leadership Institute. Click here for more information and to register.
ASA's 2017 Aging in America Conference, which includes the in-person portions of the Leadership Institute, is the nation's largest multi-disciplinary national conference on aging, and offers up to 26 ​CEUs that are complimentary for registrants. Click here to learn more!
I hadn't been sure of what to expect from the five-day training, but can now confirm ASA's claim that graduates will leave the leadership development program with a broad exposure to key influencers and with multiple opportunities to say connected with other bright professionals who aspire to be their best. That was my experience. The Leadership Institute and conference were exciting. Each event I attended during the conference—general sessions, evening receptions, symposiums, roundtables and constituent group meetings—was informative and offered valuable networking opportunities.
Not only did I meet Kathy Greenlee, then Assistant Secretary of Aging, shake her hand and congratulate her on winning the Rosalie S. Wolf award, but also I was able to establish appropriate contacts for my organization at the government level. My rubber band "snapped" after this situation—I stretched way beyond my comfort zone! (Thank you to the support of a few fellow Leadership Institute attendees that encouraged me to meet her. I likely would have slipped out the side door of the session if it wasn't for you.)
It was motivating to meet AARP CEO Jo Ann Jenkins, and to receive a free copy of her recent book Disrupt Aging: A Bold New Path to Living Your Best Life at Every Age. The resources and technological solutions to peruse throughout the exhibit hall were encouraging. From exploring the exhibit hall I was able to contribute an article to Today's Geriatric Medicine on Brain Health's Triple Aim. I was also able to present new intervention ideas to my organization that were well received and implemented on our campus.
Following the conference I was invited to host a webinar for ASA presented by ASA's Healthcare and Aging Network (HAN). This opportunity presented itself after I met Steve Moore, ASA's education program and web seminar producer, during one of the conference's evening networking socials. I have been able to contribute to ASA's AgeBlog as well with articles on cognitive fitness for older adults and community-based approaches to brain health.
Toward the end of summer when ASA had a variety of open positions, I reached out to Krista Brown, director of education at ASA, for a recommendation on how I might get more involved with ASA following the Leadership Institute. She told me to start with one of the Constituent Group Councils. I applied to get involved with the Healthcare and Aging Network (HAN) given my interests and their support of my webinar, and recently had a phone interview to join the HAN Council. Regardless of the outcome, it was another opportunity to connect with fellow colleagues with similar interests.
By staying in touch with a few Leadership Institute graduates, I have learned that though we're in different careers in aging at diverse organizations, we have all applied and used the new information and skills we learned at the Institute. One colleague says her increased understanding of work styles and how they interact with one another helps her facilitate meetings and organizational culture discussions. Another colleague and I have found success in pitching ideas to our supervisors and improved communication with co-workers.
Although I didn't have a chance to meet everyone in my Leadership Institute training class, I have a network of professionals that I connected with who share an interest in aging. I share our intensive training experience and appreciation for what each leadership style has to offer an organization and team. I highly recommend the Leadership Institute training class to those who want to build personal leadership skills and capabilities.
Every aspect of the conference was beneficial personally and professionally as I embark on a professional career in aging. I plan for Aging in America to be my conference of choice for the upcoming years and I look forward to being a contributing member to ASA.
Acknowledgements:
I would like thank the Cleveland Foundation for their scholarship support to attend the Leadership Institute. The Cleveland Foundation support of the Leadership Institute is meant to strengthen Northeast Ohio's aging organizations and to help develop local leaders and advance the work of the sector. I am grateful to have been one of the recipients of their scholarship for 2016.
I would also like to acknowledge the fantastic group of aging professionals that I had the privilege to work with and learn from during the training institute. A special thank you to Cheryl Krisko, Tori Windsor Foisy, Bethany Henderson and Sara Smith. I appreciate your experience and advice that you offered during our training. I put many of your suggestions to good use.
Krystal L. Culler, MA, DBH candidate, is a Brain Health Certified Gerontologist. Culler is the inaugural director of the first non-pharmacological, non-hospital-based brain health center on a senior living campus in the United States. The community-based Center 4 Brain Health offers assessments, education and support for people living in Northeast Ohio with and without brain health concerns.
Krystal- was thinking of you and wondering where your research has taken you!