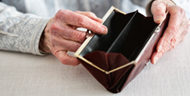 By Kevin Prindiville
Imagine trying to live on less than $24 a day, especially in our current economy. Mary, a 74-year-old widow who lives alone in an apartment in Cleveland, Ohio, has just $721 a month to pay for rent, prescription drug co-payments, grocery bills, utilities, car insurance and gas. Aileen, a 74-year-old woman living near Boston, Mass., with no children or family members nearby to support her, just scrapes by. As does Rita, a 79-year-old cancer survivor in Baltimore, Md., who relies on her minimal income and subsidized apartment to make ends meet.
Millions of Elders Living in Poverty
A May 2013 issue brief from the Kaiser Family Foundation revealed that while under the Official Poverty Measure, 9 percent of people ages 65 or older live in poverty. Under the Supplemental Poverty Measure, which more accurately accounts for the cost of living for elders, the rate rises to 15 percent nationally. That amounts to more than 6.3 million older adults who live in poverty today.
According to the National Women's Law Center 2012 National Snapshot, elder poverty disproportionately impacts women and women of color—twice as many older women as men lived in poverty in 2012 and poverty rates (looking at the official measure) were particularly high for black (21.2 percent), Hispanic (21.8 percent) and Native American (27.1 percent) women ages 65 and older.
The numbers of poor older adults will only rise as baby boomers age, defined benefit pension programs disappear and we feel the full impact of the prolonged economic recession. Action is needed now to alleviate the impact of poverty on the elder population.
Strategies to Solve Elder Poverty
There are a number of ways the National Senior Citizens Law Center believes policymakers can act to address elder poverty and blunt its negative impact.
First, they must strengthen the existing safety net upon which elders rely. Older adult poverty would be much worse without Social Security, the Supplemental Security Income program, Medicare and Medicaid. The Center on Budget and Policy Priorities says that these programs are almost single-handedly responsible for reducing the elder poverty rate (per the official poverty threshold) from 35 percent in 1960 to today's rate. In 2012, Social Security alone lifted 22 million people out of poverty. Without Social Security, the Center reports that nearly half of all elders would be poor. Proposals should be advanced for increasing the adequacy of Social Security, Medicare and Medicaid benefits to meet the growing need.
They must improve the Supplemental Security Income (SSI) program. The poorest 2 million people older than age 65 receive SSI payments, but the rate of elders in extreme poverty is increasing in part because this program—originally intended to lift all elders out of poverty—has not been significantly updated since first passed in 1972. The SSI Restoration Act of 2014 (S. 2089), introduced by senators Sherrod Brown (D-OH) and Elizabeth Warren (D-MA) this past March, would make needed improvements to the program such as increasing the asset limit from $2,000 to $10,000 so recipients can retain enough assets to pay for emergencies. A similar House bill (H.R. 1601) was introduced by Rep. Raúl Grijalva (D-AZ) in 2013 and has 13 co-sponsors and 51 national and local aging, disability, legal, youth and other consumer groups endorsing it.
They must increase the availability of programs that provide assistance with health and long-term-care costs such as Medicaid, Medicare Savings Programs and the Medicare Part D Low-Income Subsidy. One of the drivers of elders' economic vulnerability is the rising cost of healthcare. Healthcare programs designed to help the poorest older adults afford healthcare (such as those mentioned above) should be expanded. Senior eligibility for Medicaid should be brought up to the levels found in the Affordable Care Act's Medicaid expansion. The income and asset limits for the Medicare Savings Programs and Low- Income Subsidy should be increased. The Qualifying Individual Program should be made permanent.
They must enhance federal support for the long-term-care safety net. With 10,000 Americans turning 65 every day, numbers of those needing long-term-care coverage are projected to rise from 12 million to 27 million in 2050. A year in a nursing home can average $75,000 or more and homecare costs, while often less, can still be significant (home healthcare aides charge $21 per hour, on average). For poor and economically vulnerable elders, proposals that rely on this cohort's ability to save more of their already inadequate incomes to cover such costs are unrealistic. Public programs must be strengthened and modified to meet long-term-care needs and to encourage the provision of more home- and community-based services.
Finally, we must reauthorize the Older Americans Act (OAA), which expired in 2011. The OAA provides funding for critical services that older adults rely on to remain independent and healthy, such as meals, benefits counseling, caregiver support, transportation, health promotion, legal services and more. While these services are not always limited to poor older adults, elders in poverty rely on them heavily to ensure their basic needs are met.
Mary, Aileen and Rita deserve the kind of attention needed to strengthen the safety net for poor elders. Proposals to weaken the programs that have worked to alleviate the burden of poverty must be rejected; instead we must update and improve them to meet the needs of all older adults.
---
Kevin Prindiville is executive director of the National Senior Citizens Law Center and is based in the Center's Oakland, Calif., office.
Editor's Note: This article appears in the May/June 2014 issue of Aging Today, ASA's bi-monthly newspaper covering issues in aging research, practice and policy. ASA members receive Aging Today as a member benefit; non-members may purchase subscriptions at our online store.