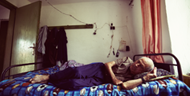 By Brendan Murtagh
Northern Ireland is a small region of 1.8 million people within the United Kingdom, but whose politics have been shaped by nearly thirty years of conflict between Catholics who want to reunite Northern Ireland and the Republic of Ireland and Protestants who want to maintain Ireland's union with Britain. A 1998 Peace Agreement brought an end to violence, established a new parliamentary Assembly and power-sharing executive, and introduced equality legislation. This was designed to prevent discrimination—especially between Catholic nationalists and Protestant unionists. Mainstream political discourse, social attitudes, even international relations have been shaped by this binary, which has made it difficult to recognize or forge other social movements. However, the years since the Agreement have seen economic modernization, the emergence of new (primarily class) interests, and a growing divide between rich and poor.
Significant among those on the wrong side of the bargain have been the poorest older adults—reflected in low incomes, an increasing reliance on (declining) welfare support, and a rise in winter deaths linked to lack of access to fuel for heat. The growing acknowledgement of new social divisions, the impact of demographic restructuring, and the solidarity of interests shaped by age, not religion, has opened an interesting space. From this space, it may be possible to reject an increasingly sterile politics of the past for new forms of advocacy around economic exclusion, ageism, and discrimination.
This article examines the emergence of politics around age and how the Non-Governmental Organization (NGO) sector reorganized, campaigned, and formed new business models to create a better life for older people. It draws on research carried out by the Queen's University (Queen's University Belfast [QUB], 2004) in 2004, which showed that aging was a low political priority; routine discrimination, especially in healthcare, went unchallenged; and age, as an identity with rights as well as responsibilities, was not well formed. It then maps the shift to a more progressive expression of aging using similar research published in 2014, which in particular evaluated the impact of investments made by The Atlantic Philanthropies (QUB, 2014). The foundation had invested in aging in the United States, Ireland, Vietnam, and South Africa, and places a particular emphasis on NGO performance, giving voice to older people, and tackling economic exclusion (O'Cleary, 2007).
The narrative focuses on the experiences of three strands of The Atlantic Philanthropies' work, including attempts to restructure the age sector and professionalize its approach; the centrality of research as an advocacy tactic; and the importance of the social economy in the delivery of services by and for older people. Not all strands were successful. The private sector still has no legal protection for discrimination against age, winter deaths from fuel poverty remain depressingly high, and loneliness in older adults presents enormous challenges to community groups (Kappes, Greve, and Hellmers, 2013). However, the shift in skills, programs, and practices, the use of knowledge, mobilizing coalitions, and creating ethical business alternatives emerge as important lessons with implications for other organizations tackling the complex effects of demographic restructuring.
Advocacy and Ageism
Healey (2010) has written extensively on civic advocacy and suggested there has been too much emphasis on consultation at the expense of inclusive, participatory practices that put people at the heart of decision making. Such practices can descend into manipulative approaches that seek to co-opt objectors and fail to alter the power relations that exclude older people (Stewart, Browning, and Sims, 2014). Ultimately, empowerment means being able to exercise meaningful authority over decisions that affect their quality of life, as Irving (2015) said:
Self-empowered aging means taking control of one's life, learning, updating and improving skills, taking risks, building confidence, assuming power over personal circumstances, and developing the resilience to overcome inevitable challenges to come. In a society that has yet to fully appreciate the potential of older adults, self-empowered aging improves one's odds to accomplish later life goals that others may discount, and to enjoy self-esteem and satisfaction that others may lack.
However, in achieving such a shift, Healey (2010) argues that it is necessary to understand the governance structures; policy discourse; resources (knowledge, skills, finance, and so on); and, organizational networks central to attaining self-empowerment. Innes and Booher (2010) similarly claim that the key task is to build these actions into "network power," which values the solidarity and agency of groups in arguing, brokering, and challenging various forms of political, institutional, or state authority. Self-empowerment needs to recognize a range of advocacy tactics, including collective protest, evidence-based "authentic argumentation," legal and quasi-legal challenges, and the creation of alternative economies that allow people to produce and consume their own services (Whitelaw and Hill, 2013).
Ultimately, for Stewart and colleagues (2014), the ability to own and control the resources necessary for self-satisfaction enables the NGO sector to operate more independently from state agendas, business interests, and donor ideologies. They highlight the emancipatory role of the social economy and its capacity to trade goods and services for community rather than private benefit, and to help build stronger solidarity ethics across the NGO sector.
But there are significant challenges to such advocacy approaches. In the United Kingdom and in other countries with strong welfare systems, neoliberal policies are rolling back the state, downloading risk and responsibility to local entities (and individuals), and implicating the NGO sector in delivering a range of cut-price health- and social-care services (Grimshaw and Rubery, 2012). There is always tension when using social enterprises to take more control of services, while at the same time enabling the state to withdraw from its commitments to the most marginalized populations. Similarly, these approaches often overestimate the capacity of older adults to participate, and wrongly assume all older adults are politically literate and want to be so engaged (Wistow, Waddington, and Davey, 2011).
There are also significant issues about the competence, political connectedness, and motivation of the NGO sector, especially in underdeveloped areas including aging, where advocacy has been weak. Funders and donors, no matter how inclusive or responsive, make all sorts of assumptions about the skills and tactical abilities of NGOs as advocates and their capacity to use a range of methods (e.g., legal, research-based, critical policy) to advance the rights of older adults.
The (Non-)State of Aging
In 2004, Queen's University reviewed the state of aging in Northern Ireland, looking at the structure and capacity of the NGO sector, policy performance, and the critical social and economic issues confronting the elder community. The analysis made for depressing reading. None of the five main political parties in the region had policies on aging, or even acknowledged it in their manifestos. Aging was not considered an issue that had political capital, even in the post-conflict era. There were no distinctive government policies on aging and key programs in health and social care displayed a lack of understanding of, or empathy with, older adults. There were routine practices on resuscitation, access to cancer drugs, scanning, and treatments, as well as dementia diagnosis, in which older people were treated differently and detrimentally when compared to others. Key policy areas such as housing, transportation, and policing also marginalized or ignored aging altogether. Equality legislation, brought in after the Peace Agreement (and which included age) had not defined a single issue relating to older people and service use.
The NGO sector fared little better. Two large organizations (Age Concern and Help the Aged) largely competed for the same space, offered similar services, and were primarily concerned with service delivery rather than advocating for change. They also displayed a paternalistic stance on some age issues, were inexperienced using evidence as the basis for campaigning, and generally failed to mobilize older people as agents of change (QUB, 2004).
Changing Aging in Northern Ireland
This following section looks at three issues. First, the restructuring of the NGO sector, in particular, the attempt to build one leaner but more inclusive and effective age agency. Second, it shows how knowledge, especially formally produced research, has emerged as an advocacy tactic, and, finally, it demonstrates the centrality of social enterprise models to developing a more sustainable and independent economy for older people. The Atlantic Philanthropies, in partnership with local donors, municipalities, and NGOs supported much of this work.
Streamlining—and empowering—NGOs
Age Concern and Help the Aged both acknowledged the inefficiencies created by their duplication of services, as well as synergies that could be created by forming a single organization. The two groups ultimately became AgeNI (Northern Ireland). AgeNI established eleven sub-regional networks of age groups that are located in the local authorities that were also set up as part of the broader Peace Agreement. With these formal structures, a new Pensioners Parliament was created that mimicked democratic models to enable 180 older people to debate key issues and bring forward a limited number of priorities to form the basis of the advocacy work. This stimulated a focus on heating fuel poverty, but also fostered a significant increase in elders' political awareness, especially in the Northern Ireland Assembly.
Between 2009 and 2014, Elected Members asked 975 Assembly questions on aging (which increased steadily over time); there was a 73 percent increase in the number of plenary items discussed in Business Committees; there was a 44 percent increase in formal statements on aging by political parties; and, there was a 74 percent increase in regional media news items about aging. The shift in political cultures has to some extent been reflected in changing societal attitudes. In 2003, 36 percent of the Northern Ireland population thought that older people were "poorly respected," but by 2008, that percentage had fallen to 27 percent (QUB, 2014).
Moreover, it is the content, as well as the volume of activity that has produced meaningful results for older people. The Can't Eat or Heat campaign involved joint work by AgeNI, the Pensioners Parliament, and a network of green energy organizations to address fuel poverty and the increase in winter deaths, especially among the very old. This involved yearlong protests at the Assembly, lobbying of housing and healthcare committees and at Party conferences, and a letter-writing campaign to all elected representatives. Action research to understand the scale of the problem and to demonstrate its deeply personal effects, especially upon older people who routinely choose between spending income on food and heating their home, was an important element of the campaign. These testimonials provided a powerful depiction of everyday loneliness and despair, but also showed NGOs the power of education as an advocacy tactic.
Ultimately, the campaign resulted in a new allowance that provided 85,000 pensioners with a special winter payment of £150 ($230) per person per year, relief on local property tax valued at £22m ($34 million) per annum, and an increase in funding for Carers Welfare Allowance in 2008 from £90m ($140 million) to £124m ($192 million) in 2013. The Northern Ireland government has now extended free public transport for those older than age 60, and launched new age-specific strategies on crime and community safety, dementia, and healthcare.
AgeNI and the Pensioners Parliament had concerns about how they might meet these new commitments, how to resource their implementation, and how to involve and respect the rights of older people when delivering services. The organizations combined on a three-year campaign to establish a Commissioner for Older People (COP), with strong investigative powers to monitor policy implementation, protect older people's rights, and champion anti-discrimination legislation in the private and public sectors. Established in 2011, the COP provides an ombudsman function, but has significant statutory powers to take test cases, investigate service delivery organizations, and enforce determinations against any legislative breach—especially of equality and human rights laws. The extension of anti-discrimination law to the provision of goods, facilities, and services in the private sector has not been achieved and the sector and the Commissioner still struggle with more powerful business interests in trying to get legislation through the Northern Ireland Assembly.
Education spurs advocacy
The NGOs acknowledged the significance and power of evidence-based research, and working with The Atlantic Philanthropies and the two regional universities, AgeNI helped to assemble a stronger research infrastructure focused on applied policy and action research methods. Effective lobbying is correlated with better evidence, and more precise knowledge about needs, failing programs, and new interventions translates into action.
The Atlantic Philanthropies was instrumental in investing in a partnership between universities and the NGO sector (the Changing Age Partnership); a new ten-year longitudinal study on older people; a societal attitudes research initiative called "Life and Times"; and, the establishment of the Centre for Ageing Research Development in Ireland (CARDI). CARDI aimed to bring new academic scholars in to work on aging, provide seed funding for small- and medium-size projects, build international networks, and translate academic research into useable formats for activists and lobbyists. Between 2007 and 2013, the number of scholars involved in age research in Ireland increased from 176 to 285, and CARDI estimates that there are currently active grants in age research valued at £104m ($160 million), from a combination of European Union, government, and charitable sources. The partnership has funded seventy-one age research projects; held 664 research dissemination events; attracted 3,241 people to attend research seminars and conferences; and, enabled the establishment of thirteen new age-research networks.
This effort has professionalized lobbying, created more convincing advocacy arguments, identified critical issues (especially fuel poverty), and strengthened the quality of debate within and between the NGO sector and government. It is difficult to attribute changes in policy to research, but the various types of knowledge imparted help advocates to raise issues, better understand problems, and prioritize where investment is needed to strengthen outcomes for older people.
Moreover, the power of knowledge has been recognized by NGOs in specific projects that now place action research at the heart of advocacy. Older people have been involved as co-producers of a range of data on loneliness and social isolation, rural poverty, the experiences of dementia, and intergenerational work that speak more authentically about their needs and priorities. Empowering older people with knowledge and the skills to use it has emerged as an increasingly important strategy in anti-ageist practice. New policies and financial commitments were not the product of research, but evidence helped to shape the approach in more inclusive, informed, and person-centered ways.
The New Economics of Advocacy
While knowledge may represent a form of advocacy, controlling economic resources is central to the concept of empowerment, ownership, and independence. The social economy has been an important site of political struggle and community mobilization, especially for older people (Whitelaw and Hill, 2013). The concept is that goods and services can be traded, as in the private sector, but that ownership and profits should be retained for community purposes. Surpluses are redistributed to increase social and ethical impact, and provide NGOs with a sustainable, long-term income stream. Direct support from The Atlantic Philanthropies, in partnership with social finance providers (via the Community Foundation Northern Ireland), helped to support a range of social economic projects within a single integrated program. Atlantic's funding also supported investment readiness training, establishing an intermediary labor market to help older people into work, and supported older social entrepreneurs to establish new ethical businesses. It also helped to capitalize Charity Bank, a community finance institution, with a £500,000m ($750,000 million) grant for age charities to strengthen lending at preferential rates and repayment terms. The analysis showed that by 2014, this had created the following significant outcomes:
One hundred and three people participated in investment readiness training and seventy-five community-based age charities have now developed a new social enterprise approach, service, or trading arm;
Between 2009 and 2014, the labor market intermediary (called Gasworks Employment Matching Scheme [GEMS]) helped ninety-four older people into work and re-trained 107 elders in skills, including information technology, math, and English; and,
Forty new social enterprises have been created, generating twenty full-time equivalent jobs in a range of care, recycling, and transport businesses.
A Social Return On Investment calculation showed that every £1 ($1) of The Atlantic Philanthropies grant aid created a value of £2.61 ($4.00) (in welfare savings, new wages, and turnover in start-up social enterprises). However, there are limitations to this approach. By the second quarter of 2015, the Charity Bank made no loans, and while new businesses have been created, their impact on employment remains weak. Without financing, they are unlikely to reach the scale necessary to offer a meaningful alternative to private providers, particularly in the care sector. Existing and new social enterprises have not yet reached the scale or ambition to draw loans, despite investments in training, start-up, and accelerator-type support.
Conclusion
No skilled, loan-ready social economy spinning out new businesses and recycling wealth within a progressive, ethically independent NGO sector has materialized. Progress on anti-discrimination legislation in the private sector has been slow, and NGOs struggle to hold back welfare reform and the effects of austerity on the most vulnerable old. However, age as a category has emerged from a weak baseline of more than a decade ago where it competed with ethno-religious identities for political attention and resources.
The age sector has been restructured at multiple levels to advance older people's rights in key decision-making arenas, and social enterprise models have demonstrated a capacity to take greater control of their economic welfare. The campaign on fuel poverty built a crosscutting alliance to secure new resources and rebates for the very poor, but also demonstrated the capacity for more complex advocacy coalitions to challenge the punitive impact of increasingly neoliberal policies. New democratic spaces, such as the Pensioners Parliament, re-centered activism on behalf of older adults' life experiences, priorities, and capacities. The Commissioner for Older People created a regulatory mechanism to protect elders' rights, but austerity and cuts in public spending also expose the limits of such tactics.
Public litigation and legal advocacy are not well developed in the U.K. or in Ireland, but moving to more confrontational styles may be essential, especially with rising incidents of discrimination in the treatment of people with dementia, care-home scandals, and institutional elder abuse. Ageism is deeply embedded in cultures, professions, policies, and politics, and dislodging its worst effects can only be achieved by placing the people it affects most at the heart of reformist models and social movements. The creation of an environment that enables such expression is difficult to plan (and is unpredictable), but it has, at least, given a chance to put forth progressive politics that reflect the needs and aspiration of those most marginalized and excluded.
---
Brendan Murtagh, Ph.D., is a Reader at the Queen's University Belfast, United Kingdom. He can be contacted at b.murtagh@qub.ac.uk.
Editor's Note: This article is taken from the Fall 2015 issue of ASA's quarterly journal, Generations, an issue devoted to the topic "Ageism in America: Reframing the Issues and Impact." ASA members receive Generations as a membership benefit; non-members may purchase subscriptions or single copies of issues at our online store. Full digital access to current and back issues of Generations is also available to ASA members and Generations subscribers at Ingenta Connect. For details, click here.
---
References
Grimshaw, D., and Rubery, J. 2012. "The End of the U.K.'s Liberal Collectivist Social Model? The Implications of the Coalition Government's Policy During the Austerity Crises." Cambridge Journal of Economics 36(1): 105–26.
Healey, P. 2010. Making Better Places. Basingstoke, UK: Palgrave.
Innes, J., and Booher, D. 2010. Planning with Complexity: An Introduction to Collaborative Rationality for Public Decision-Making. New York: Routledge.
Irving, P. 2015. "Self-empowerment in Later Life as a Response to Ageism." Generations 39(1): 72–7. Retrieved May 5, 2015.
Kappes, C., Greve, W., and Hell-mers, S. 2013. "Fear of Crime in Old Age: Precautious Behaviour and Its Relation to Situational Fear." European Journal of Ageing 10(2): 115–25.
O'Cleary, C. 2007. The Billionaire Who Wasn't. New York: Public Affairs.
Queen's University Belfast (QUB). 2004. The State of Ageing in Northern Ireland. Belfast: Queen's University Belfast.
QUB. 2014. Age Program Stocktake Evaluation. Dublin: The Atlantic Philanthropies.
Stewart, J., Browning, C., and Sims, J. 2014. "Civic Socialising: A Revealing New Theory About Older People's Social Relationships." Ageing and Society 35(4): 1−15. Retrieved April 1, 2015.
Whitelaw, S., and Hill, C. 2013. "Achieving Social Enterprises for Older People: Evidence from a European Project." Social Enterprise Journal 9(3): 269–92.
Wistow, G., Waddington, E., and Davey, V. 2011. Involving Older People in Commissioning: More Power to Their Elbow. York, UK: Joseph Rowntree Foundation.