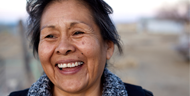 By Anne Montgomery and Elizabeth Blair
In times of fiscal restraint, older adults' voices can get lost in the lobbying among powerful stakeholders and legislative and executive branch discussions about budget allocations and funding priorities. It is often up to advocates to raise the real-world concerns of older adults at the state and national levels, and to explain and track the consequences of financial decisions made.
We highlight this important work in the following profiles of three leading aging advocates. The voices of individual elders are at the heart of these advocates' daily work, and their records of accomplishment demonstrate clearly how older Americans, working with advocates, can successfully shape the policymaking process for the common good. 
Kathy Cubit: Director of Advocacy Initiatives, Center for Advocacy for the Rights and Interests of the Elderly (CARIE), Philadelphia, Pa.
Kathy Cubit knew early on that she was an advocate. "I started as a hospital discharge worker," she says, "and I was assigned to half of the patients on the unit." She discovered the patients needed "much more systemic advocacy" than she could provide in that position, and moved to CARIE. Cubit was determined to work on broad-based education and policy change that "stems from work with individuals"—a "case-to-cause" model that promotes equity and justice on individual and systemic levels.
Twenty-five years later, Cubit develops CARIE's broad advocacy positions, writes its newsletter, staffs the Dorothy S. Washburn Legislative Committee and works on coalitions, including the Senior Support Coalition, the Disability Budget Coalition and Philadelphia Corporation for Aging's Long Term Care Committee. "There is never a shortage of issues," she says.
One challenge facing low-income elders who need long-term services and supports (LTSS) is Pennsylvania's push to quickly transition many of its home- and community-based waiver programs into contracts with managed care plans. It is troubling that there has been little consultation with advocates and families on this key issue, Cubit says. "We have not had a meaningful stakeholder process." A rapid shift to Medicaid MLTSS across the state by 2019, she adds, could prove disruptive for the aging network, composed of Area Agencies on Aging and community-based organizations that "understand local communities and are mission-driven."
At the heart of CARIE's advocacy is the belief that elders should be able to live in dignity, with autonomy. Pennsylvania's aging network is partially supported by proceeds from the state's lottery system. "All of the proceeds go into one fund," she explains, and are directed to "fund programs and services for older adults. The goal is to keep older adults at home." Among the programs supported is one offering respite for family caregivers, which Cubit said "served as a model" for the National Family Caregiver Support Program administered by the Administration for Community Living. CARIE is urging the state to preserve AAAs' role in the new MLTSS system, arguing that they have been focal points for older adults and their caregivers in the community for more than 40 years. In recent years, funds have been transferred from the lottery to the general fund, leaving aging programs struggling to serve rapidly rising numbers of vulnerable elders; CARIE advocates for the preservation of these funds for older Pennsylvanians.
Looking ahead, Cubit worries that the growing number of "unbefriended elders"—particularly those with dementia—will fare poorly in a society prone to ageism. One answer to this is to spend more time discussing "how the government and others view and treat older people," Cubit says.
Paul Greenwood: Deputy District Attorney, Office of the San Diego District Attorney, California

Twenty years ago, San Diego District Attorney Paul Greenwood was asked to take on several pending elder abuse cases that required some focused investigation. "When I saw the kinds of victims [that elder abuse harms] it lit a fire," he says.
More than 600 felony cases later, Greenwood is still at it, and in the process has become a leading authority not only in San Diego, but also across the country. He has testified before the U.S. Congress three times, and given more than 1,200 speeches and public statements on the subject. He has trained more than 3,000 prosecutors, social workers and law enforcement personnel in how to approach, identify, address and prosecute elder abuse.
Although Greenwood says public awareness of elder abuse has dramatically increased in the past five years, lack of quality statistics on prevalence remains a barrier, partially because there is no common legal definition of elder abuse. In California, elder abuse applies only to people ages 65 and older, but in many states statutes cover abuse of all "vulnerable adults" ages 18 and older. Also, statistics inform decisions about how many teams are established and deployed to address abuse. Today, Greenwood estimates the ratio of child protective workers compared to workers trained to address elder abuse is 10:1.
Considering demographics, Greenwood argues the time has come to address elder abuse as an urgent priority. Addressing the wide-ranging forms of elder abuse, from neglect to financial fraud, requires working with colleagues outside of law enforcement.
In San Diego, this work started six years ago when staff in the Adult Protective Services program approached Greenwood to cosponsor a series of community luncheons with other stakeholders where common interests and ways of tightening cooperation could be addressed. "The resulting conversations have made working across law enforcement, social work, banking and other financial institutions much easier," he says.
Still, there is much more that must be done, Greenwood says. At the state and local levels, "we desperately need to form task forces looking at ways to deal with the Internet, postal and telephone scams that are targeting our elders." At the national level, he suggests that the federal government could do more outreach. The Consumer Financial Protection Bureau (CFPB) offers "great resources online" for detecting and preventing financial exploitation. But the CFPB and other federal agencies might consider initiatives to "get the attention of financial institutions and law enforcement" nationwide to figure out how to make changes in legal and financial protocols that can prevent and stop elder abuse, such as expediting warrants and implementing screening protocols to scrutinize and deny suspicious financial transactions. Ongoing training of front-line staff, including bank managers, is key to success, Greenwood says.
Finally, there must be more discussion and education to put the harm of elder abuse in an appropriate context. The loss of even a few thousand dollars can decimate the life of a lone elder who has no way of replacing it, Greenwood explains. "I get excited about any felony" (the threshold for which is $950 in California) he says, "or even an attempt to perpetrate a scam." While this attitude is not yet shared by many law enforcement officials, Greenwood's work to forge relationships across disciplines to combat elder abuse is helping inspire many similar efforts, demonstrating how the work of a single determined individual can foster larger changes.
Stacy Sanders: Federal Policy Director, Medicare Rights Center, Washington, D.C.

As a university student, Stacy Sanders majored in bioethics and immersed herself in the "feminist ethics of care"—diving into complex, fraught topics such as caregiving and death and dying. She set out to be a researcher, but "quickly learned I wanted to get closer to what is actually happening." That led to a graduate degree in social work at the University of Michigan, and then to jobs in Washington, D.C., where she works as federal policy director with the Medicare Rights Center (MRC).
MRC assists consumers by providing services to State Health Insurance Programs (SHIP) as a partner in the SHIP National Technical Assistance Center, and through their National Helpline, which logs more than 15,000 calls a year. Sanders listens to what Medicare beneficiaries deal with every day through the helpline.
"My job is to take what we hear from consumers and turn that into an agenda," she explains, which means logging time on Capitol Hill and at meetings with Health and Human Services officials about challenges faced by Medicare beneficiaries and their families. Complex program rules can cause serious disruption in the lives of individual elders, she says, adding, it is "too easy to make mistakes" when initially enrolling in Medicare. If adults turning 65 fail to realize that they must sign up for Part B benefits within seven months of their birthday, they can face "lifetime premium penalties." Today, elders who are not yet collecting Social Security benefits receive no notice about Medicare enrollment, which is particularly problematic given that age 66 is now the full retirement age for Social Security.
Fortunately, at the White House Conference on Aging in July 2015, White House officials announced that Social Security statements, which are sent periodically to all Americans approaching retirement, would soon prominently feature information about Medicare enrollment.
Even in a polarized political arena, Sanders says it is possible to find consensus. Congress' recent budget deal addressed the issue of possible large Part B premium increases for some Medicare beneficiaries, effectively holding older adults harmless in a year when Social Security cost-of-living adjustments are set to zero. She also expresses optimism about the work being done by the Senate Finance Committee on Medicare beneficiaries with chronic conditions.
"What we would hope for is some direction to [the Center for Medicare and Medicaid Innovation] about pilot programs they should undertake," she says. But if Congress and the executive branch fail to consult beneficiaries and advocacy organizations while developing Alternative Payment Models that shift billions of fee-for-service Medicare dollars into an array of bundled and partially capitated models, "there is a risk of a real backlash," Sanders says. MRC's voice on these and many other issues will surely resonate in Washington, D.C., in the next several years as Sanders and her colleagues continue their work to ensure the needs of older adults are at the center of policy decision-making on Medicare.
---
Anne Montgomery, Ph.D., is senior policy analyst at the Altarum Institute in Washington, D.C. Elizabeth Blair is research and management associate at the Altarum Institute's Center for Elder Care and Advanced Illness.
Editor's Note: This article appears in the January/February 2016 issue of Aging Today, ASA's bi-monthly newspaper covering issues in aging research, practice and policy. ASA members receive Aging Today as a member benefit; non-members may purchase subscriptions at our online store or Join ASA.