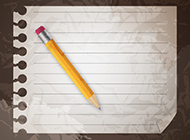 By Karen Sheriff LeVan
"Anyhow, it's fun. . . Even when I was sitting in the dentist's chair on Monday getting some teeth pulled, I was counting syllables," replied Helen, a leader in our small writing group. I'd asked her why she participated and was surprised when she continued with, "It's a pleasure. I'm eighty years old, and I'm still perking. I'm not just sitting in a chair in front of a TV waiting for the pills. That terrifies me."
With boredom, loneliness, and helplessness as "three plagues of assisting-living existence," an important part of care can be to cultivate and connect older adult voices (Bill Thomas, physician and older adult advocate, quoted in Atul Gawande's On Being Mortal: Medicine and What Matters in the End; New York: Penguin, 2014, p. 116). Counting syllables won't excite everyone as much as Helen, but don't overlook it as an activity to bolster older adult communication and even joy.
A writing group with simple activities such as "I am . . ." statements, 6-word stories, structured poems (haiku, tanka, sonnet), and published poem adaptations, to name a few, can help older adults explore and express still-developing identity. Even if older adults don't see themselves as writers, they can participate as listeners or pitch in on in-session collaborations. Those who choose can write on their own between sessions. Not all care settings have staff or volunteers who feel prepared to guide writers, but writing expertise isn't necessary. What is critical is a clear plan and respect for ideas shared.
In what follows I explain a descriptive checklist to guide writing group communication and analyze one of the expressive forms we practice: haikus. Both the checklist and haikus focus conversations on specific communication tasks. Participants restate words and then try new ones, sometimes enumerating the syllable count with fingertips in the air. But they also do more. A writing group offers opportunities for older adults to use their voices, to expand their sense of identity, and to practice interpretation and description skills that can improve communication.
A descriptive checklist to bolster multi-faceted thinking and expression
The checklist has three components: concrete nouns, active verbs, and sensory details. Each draws attention to specific aspects of experience. Concrete nouns nudge participants toward detailed thinking about places, events, and interactions. Active verbs turn attention away from passive generalizations toward actions that more fully represent experience. And sensory details push participants to use all five senses to represent experiences.
Known as "show, don't tell" strategies, these three word categories are hallmarks of strong writing because they enhance connection between writers and readers. The same can be true between older adults and the variety of audiences they encounter. For example, instead of telling the group he had grown up on a farm, Bob, a diligent and tender-hearted 85-year-old, showed them: "I am the pleased young farm boy as he spots the green sprouts that have popped out of the garden where he had planted seeds in rows a few days before. I am the sweating young man pulling and chopping the weeds out of the fence rows. . ." Through the description process, Bob represents his experience in detail and listeners know more about Bob with the help of "showing" words.
Whatever writing exercise we practice, the checklist generates words—details and perspectives—we otherwise might overlook.
Haikus: Exploring Words and More
A haiku is a three-line poem with a 5/7/5 syllable line pattern. Its short length and syllabic guidelines make writing more accessible. Plus, haikus adapt well to any number of topics.
Helen, the 80-year-old, happy syllable counter featured in the article's opening, wrote the following haiku for a prompt focused on contradictions in identity:
When I kissed a frog
the earth moved, the stars winked out,
the frog just dropped dead.
Helen's fairytale reversal incited laughter, but it also led to conversations about loss of spouses. She shared alternate versions of her 5-syllable last line (. . . the frog said, "You're mine" and . . . the frog kissed me back), but said the first one best fits her life now: her prince died early, and she didn't think it would be that way.
A few nodded their heads. One responded by expressing how difficult it is to reach out to new friendships once you're older. Another lamented how much he misses physical affection. Others listened, and one more thanked Helen for her humor. It felt great to laugh, several agreed, even in difficult conversations.
Haikus offer a highly structured format that can help older adults explore experiences and make choices about what to share. They can be as direct or indirect as they choose and take small steps as they practice expressing themselves.
Supporting Conversations About Still-Developing Identities
Short and to the point, haikus can also ease difficult conversations about personal experiences. Because listeners know the haiku form demands directness and adaptation, they pay attention to one another's choices and are generous in their support. In the haiku below, Wanda, a 93-year-old who recently experienced significant loss of sight, recounts an older adult turning point for many:
Give up driving? Never!
How'd I ever survive it?
Well, I have made it.
Recommended Readings
Charon, R., and Montello, M., eds. 2002. Stories Matter: The Role of Narrative in Medical Ethics. New York: Routledge.
Clark, P. 2015. "Emerging Themes in Using Narrative in Geriatric Care: Implications for Patient-Centered Care and Interprofessional Teamwork." Journal of Aging Studies 34: 177–82.
Grenier, A. 2008. "Recognizing and Responding to Loss and 'Rupture' in Older Women's Accounts." Journal of Aging Studies 22.2: 195–209.
Larson, R. 2007. "The Memoir and the Memoirist." Athens, Ohio: Ohio University Press.
Puente, A. C., and Bender, A. 2015. "Mindful evaluation: Cultivating our Ability to be Reflexive and Self-Aware." Journal of MultiDisciplinary Evaluation 11(25): 51&ndash9.
Romano, T. 2004. Crafting Authentic Voice. Portsmouth, N.H.: Heinemann.
Participants quickly related with Wanda's loss of independence, and many shared their own stories of car keys or licenses taken away. But with our focus still on Wanda's words, the group turned its attention to what her poem accomplished.
Reading the poem aloud, Wanda sounded sad but also determined. I wrote her poem on the flip chart for us to consider more carefully. One participant right away affirmed the micro-rebellion of Wanda's 6-syllable first line: Give up driving? Never! She could have put "No!" she suggested before celebrating Wanda's defiant "Never!" and reasoning that "No!" might have seemed argumentative rather than bold. Another asked who the poem was addressing before complimenting Wanda's successful second line apostrophe adjustment—How'd I ever survive it?—to keep the line at seven syllables. He liked the fact that it could mean "How did I ever survive it?" and "How would I ever survive it?"
Wanda's time-blending haiku opened a discussion about the ongoing nature of loss and adjustment. Every day, Wanda explained, she wants to drive herself somewhere and can't. Every day she survives it. Knowing she has made it so far gives her confidence that she can continue to adjust. Still, she needs support and wants credit for what she's doing.
Richard Larson, in The Memoir and the Memoirist, suggests that loyalty to both the "remembered self" and the "remembering self" is central to meaningful identity (Athens: Ohio UP, 2007. pp. 33-36). Conversations about time-based statements—whether in the context of active verb pursuits or a haiku syllabic-adjustment—can help people recognize and manage the complexities of ongoing change. Both the descriptive checklist and simple writing prompts such as haikus make space for such expressions.
Simple Exercises but Mighty Perspectives
Mini-adaptation exercises in themselves, haikus written collaboratively or independently can boost social rapport and contribute to problem-solving confidence. As participants try out various words, they consider alternate perspectives and practice making choices. Even participants who don't share very often can find themselves throwing out a word every now and then.
Recently, we searched for a two-syllable word or phrase to finish an opening five-syllable line beginning with "Transition: ______". With the descriptive checklist as guide, participants voiced several options and I recorded each one on the flip chart: walker, empty table, single, adapt, transform, unpack, off key, nasty cold winds, jingle bells. Some options didn't fit the two-syllable limit, but we considered them anyway. A few shared a story behind their suggestion; others just offered the words. But each counted and had the potential to turn the conversation in a new and valuable direction. We gained a broader sense of the kinds of transitions on their minds.
Writing and considering a variety of expressions won't take away loneliness, boredom, or sadness, but it can invoke the voices of "still perking" older adults, to use Helen's words. With each expression, older adults can experience the possibilities of their own narrative role, and such practice matters.
Karen Sheriff LeVan teaches writing and literature courses at Hesston College in central Kansas. With interests in writing identity across the lifespan, she currently researches and writes about the struggle for words in the 5th grade classroom, college writing culture, and older adult creative writing groups. For explanation and illustrations of more writing activities to bolster older adult communication, including 6-word stories, tankas and sonnets (poems), Photovoice statements, and published poem variations, visit Karen Sheriff LeVan's poster session "Activities to Support Still-Developing Identities in Care Settings" at the upcoming 2017 American Society on Aging Conference in Chicago, March 22, 12:00 Noon–1:30 PM.