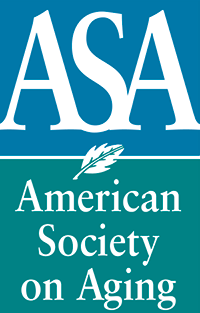 Today ASA announced its restructuring and programmatic initiatives that will create a stronger and more impactful organization that will continue to empower the field of aging for another 66 years.  ASA remains committed to ensuring that we are positioned to be your resource, guide and partner in the field of aging because we know that the stronger we are, the more we can do to serve you and all whom you serve.
Becoming More Nimble
2020 has brought momentous and extraordinary circumstances that have forced all of us to rethink how to remain resilient through these anything-but-normal times. ASA is restructuring to increase its capacity to continue to lead the field. While we're re-prioritizing expenses, we're also investing in growth. Two new Vice Presidents will come on board June 1. 
Leanne Clark-Shirley, PhD, a senior-level gerontologist will lead ASA programming as Vice President, Programs & Thought Leadership.  Dr. Clark-Shirley, currently AARP's Senior Evaluation Advisor, will bring experience in building strategy, capacity, and evidence-based programs in academic, non-profit, and consulting environments. 
Cindy Morris, will bring her experience in nonprofit marketing, fundraising and building partnerships to our lead our Development and Community Engagement team.  Ms. Morris' experience aligns with her new role as Vice President-Development and Community Engagement in providing innovative approaches to expand and engage ASA's multi-sector membership, community and corporate partners.
We also welcome the return of former ASA Communications Manager Betsy Dorsett as our new Manager of Community Engagement. Many of you may remember her as a valuable resource to ASA members.
Sadly, in order to best use ASA's resources and recognizing the economic impact of COVID-19 on ASA, we said farewell to several employees that worked tirelessly for ASA's members and its mission. We thank them for their service, dedication and commitment and truly wish them well.
Innovating for the Future
Over the coming months, we will be announcing further innovations to our programs, but our first focus will be ensuring that our publications are more accessible than ever.  That is why we are now offering all of our publications exclusively in digital format. You will find our new digital format will feature long- and short-form content, podcasts, and live broadcasts that will be up-to-the minute, engaging and continue to provide educational opportunities for members. This will allow us to be more responsive to our members' needs and experiences, while bringing everyone cutting edge content that will continue to inspire and inform the field. Given both the savings and the benefits to our environment of going green, we will eventually evaluate whether we return to printing publications.
Engaging opportunities for members to learn and connect are integral to the Society's future direction. We are working on a new website that will significantly improve how ASA and its members drive policy and advocacy to improve the lives of older people.
In addition, ASA's Annual Meeting will have a fresh look and feel in 2021. Not only will it be an opportunity for our membership to be celebrated and engaged, but it will also be the culmination of a series of digitally immersive roundtables that will seek solutions to so many issues we're confronting. We recognize that the world is changing rapidly, and our 2021 Annual Meeting will reflect that in appearance, accessibility and content.
Creating New Agency
While COVID-19 is forcing all non-profits to take a hard look at how we use our limited resources, we are now more agile. This allows ASA to meet the needs of an uncertain future while advancing the goals set by the Society's Board of Directors and the expectations of our members and wider community of partners and supporters.
As we embark on this new path ahead, know that ASA will continue to create the agency and empowerment necessary to support better lives for all older adults.  And as always, our focus will continue to be driven by the needs and desires of our membership in this truly unprecedented time.