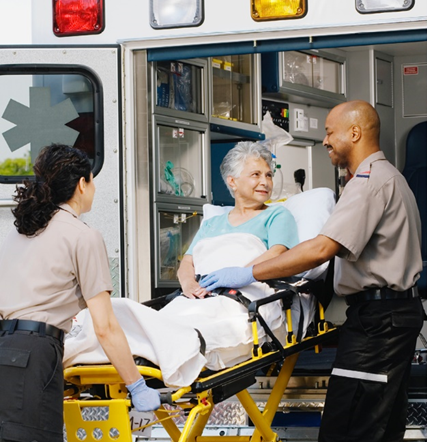 By Stephanie Hughes
Mary lives alone and has multiple medical conditions, including diabetes, heart problems, and Alzheimer's disease. Because of her dementia, she has trouble managing her medications and often becomes disoriented. On several occasions, she has called 911 when she is not feeling well and unable to get herself to the doctor.
Until recently, the paramedics were unaware of her Alzheimer's diagnosis and its impact on her other conditions. But through a new community paramedicine program, Mary was identified as a frequent user of ambulance services and someone who would benefit from periodic home checks. Her dementia is now noted in her records through coordination with Mary's medical team, and the paramedics can now provide proactive and integrated care.
Over 5 million Americans have Alzheimer's disease or other forms of dementia, and most of them live in the community. Increasingly, first responders such as law enforcement, EMTs and paramedics, and firefighters are encountering people living with dementia in the course of their work and need sound strategies for keeping the person with dementia and the rest of the community safe. 
There are many situations in which people living with dementia encounter first responders:
More than half of the people living with dementia will wander at some point, often necessitating a call to police.

Law enforcement or Adult Protective Services may be called if a person with dementia is unsafe living alone, or if they are being mistreated by a family member or other caregiver.

People living with dementia may forget to pay for an item in a store and be stopped for shoplifting.

They often have co-existing medical conditions and are frequent users of emergency medical services; medical personnel may not always know of their dementia diagnosis.

Many people living with dementia continue to drive and are at greater risk for accidents than other drivers.

People living with dementia may have delusions and believe that a family member is trying to harm them or may suspect that a lost item has been stolen.

People living with dementia may exhibit socially inappropriate or harmful behaviors such as public indecency or aggression.
Community organizations, including Alzheimer's organizations, Area Agencies on Aging, and other senior service organizations play an important role in helping first responders understand dementia and how to respond to situations involving people living with dementia. These organizations can provide basic dementia training, helping first responders learn how to spot possible dementia, how best to communicate with people living with dementia, and what community resources are available.
Relationships between community organizations and first responders may also involve referrals and collaboration. These relationships provide benefits to people living with dementia, their families, and first responder agencies, increasing safety and often saving time and money.
For example, most people living with dementia will wander at least once. When police are involved in the search, they spend an average of 9 hours and more than $10,000. If law enforcement refers the family to a local Alzheimer's organization, perhaps even before wandering occurs, they may be able to prevent these incidents through education and simple steps such as moving keys away from the door or putting a bell on the doorknob.
Training for law enforcement can also improve outcomes once wandering occurs: these incidents require different search approaches than standard missing persons cases and having proper procedures in place can increase the likelihood of finding the person more quickly. An officer who understands dementia basics is also more likely to check for an active missing persons alert when encountering an older adult, perhaps a driver, who seems disoriented.
Sometimes community organizations and first responders develop systematic approaches such as registries for people living with dementia that can facilitate search operations, or referral systems through which people living alone with dementia are linked with case management services.
As the population ages and the number of people with dementia grows, first responders are becoming ever more aware of the need for dementia training and for procedures and systems that will help them best respond to this special population. As aging services professionals, we can play an important role in helping equip them with dementia knowledge and skills.
Don't miss this session in New Orleans:
Helping Persons With Dementia Through Collaboration With First Responders on April 15, 2019 during the 2019 Aging in America Conference.
Plus: The National Alzheimer's and Dementia Resource Center has also developed a resource guide for community organizations: Working Together: How Community Organizations and First Responders Can Better Serve People Living with Dementia.
Stephanie Hughes is a Research Public Health Analyst at the National Alzheimer's and Dementia Resource Center of RTI, International.