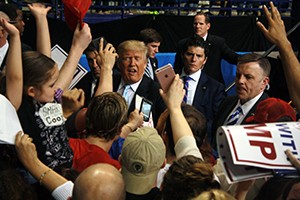 By Diane Yentel
Federal investments in affordable housing benefit us all—America's older adults, their fami­lies and our nation. A growing body of research has found that having a stable, affordable and accessible home with access to supportive services helps older adults with aging in place and maintaining improved health and quality of life, while also reducing healthcare costs and expensive interventions.
Despite the positive impact of having an affordable place to call home, President Trump has pro­posed to slash, through cuts to HUD and the USDA Rural Housing programs, the very housing ben­efits that allow America's lowest income elders to live with dignity. This is the wrong direction for America and would only result in more low-income older adults who are unable to afford housing.
New Research Augments an Already Bleak Outlook
In rural, suburban and urban communities nationwide, far too many older adults and their families are struggling to pay rent and make ends meet. According to new research (nlihc.org/gap) from the National Low Income Housing Coalition (NLIHC), there is a shortage of more than 7 million rent­al homes that are affordable and available to America's 11 million extremely low-income families—almost a quarter of which are headed up by an older adult (ages 62 years or older). As a result, three out of four extremely low-income individuals are forced to pay more than half of their limited in­come on rent, leaving few resources to cover other basic needs, such as buying medications and healthy food or saving for retirement.
Federal housing investments play a critical role in ensuring that low-income older adults can afford a place to call home. Today, nearly 800,000 elder households live in public housing or re­ceive housing vouchers to cover the difference between what they can afford and their rent. Due to chronic underfunding, however, three out of four families in need of housing assistance are turned away. A 2016 NLIHC study shows the median time spent on a waitlist was 1.5 years, and the average waitlist count for housing vouchers numbers more than 2,000 households (tinyurl.com/ya8c3f8b).
We must expand housing resources to reach more low-income elders in need. Instead, Presi­dent Trump proposes cutting housing investments by $6.8 billion compared to 2017. His plan would eliminate more than 200,000 housing vouchers, and it would zero out funding to repair leaky roofs, to replace outdated heating systems and to improve living conditions for millions of public housing residents. It would also eliminate key programs like the national Housing Trust Fund, which is used to build and preserve affordable homes for people with the lowest incomes, including older adults with the greatest needs. Additionally, President Trump calls for eliminating resources to help elders heat their homes and funding that supports local Meals on Wheels pro­grams, which provide low-income older adults with healthy food.
Massive Cuts, Increased Rents
In addition to massive funding cuts, President Trump proposes to increase rents on nearly all low-income households receiving housing subsidies, including older adult households. Low-income elders would see their rents increased, paying 30 percent of their gross income on rent, or a mini­mum of $50, whichever is higher. Older adults living with family members who are young adults would face even higher rent increases (paying 35 percent of their gross income on rent), and all households would no longer be able to deduct medical or childcare expenses. The proposal also would give broad authority to housing providers to require adults younger than age 65 to work outside the home.
Cuts to housing benefits—whether by slashing funding, increasing rents or imposing work re­quirements—will only make it more difficult for the lowest income elders to live in stable, healthy, affordable and accessible homes. If en­­acted, the president's plan would force even more older adults to live in substandard or overcrowded conditions or to make untenable choices between paying rent and buying the medications they need to stay healthy. In turn, this could lead to great­er housing instability and, in worst cases, to homelessness.
The NLIHC and advocates across the nation are calling upon Congress to protect America's low-income elders, people with disabilities, families with children and individuals by not only re­jecting President Trump's proposal to cut housing benefits, but also by expanding these critical investments to ensure that all low-income individuals—including older adults —have an affordable place they can call home.
Together, we have already made significant progress: last March, advocates and congressional champions secured a 10 percent increase in federal housing investments—most notably for home­less assistance, public housing and housing vouchers that help older adults and other vulnerable populations. While this is an important step forward, there is still much work to be done to build on the momentum of our recent victory and to protect vital housing benefits in the year to come.
Diane Yentel is the president and CEO of the National Low Income Housing Coalition in Washington, D.C.