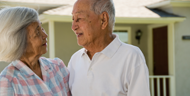 By Sheena Jaffer, CASP, CAPS
According to general statistics, 95% of us are reactive. Rather than investing some time to plan ahead, we react to circumstances as they happen. All of us know that aging is an inevitable phenomenon. As we get older, the probability of health and physical issues are likely to increase and for that, we need to proactively think, plan and act.
According to a study by AARP, more than 90% of Americans over the age of 65 have indicated a desire to "age in place," a term that implies being able to live in the home you love, confidently and comfortably, with the best quality of life, despite changing needs as you age.
So whether you are 36 or 66, it is wise to incorporate "universal design" concepts in your home which allow for easier accessibility for people of all ages, including those with special needs.
Here are 7 steps you can take towards planning ahead to successfully age in place:  
Make remodeling of your home a part of your retirement planning strategy.
 
Educate yourself on Home Accessibility Remodeling and Universal Design. Apart from a lot of information on the Internet, one such free resource is The Home Fit Guide booklet available from AARP. Call 1-888-681-2277.
 
Undertake the safety and livability assessment of your home by mobilizing a Certified Aging in Place Specialist, (CAPS). Click here for a list of CAPS.
 
Find out about the types of support services available in your area. For more information get in touch with your local Area Agency on Aging. 
 
Speak to as many groups or persons as you can that specialize in "aging in place," and aim to view and learn from an already remodeled home. Click here to learn more about Smart Choice Homes.
 
Aim to get more than one quote for pertinent modifications to your home and compare costs. Many modifications can be fairly low cost.
 
Look into the Livable Homes Tax Credits, which are offered by a number of states.
 
---
Sheena Jaffer, CASP, CAPS is a graduate of the 2012 ASA Leadership Academy
This post was originally published by OWL.
The 2015 ASA Leadership Institute will be accepting enrollees soon. Click here if you would like us to contact you with more information.