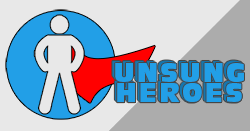 There has been much written of the heroism of healthcare workers during the pandemic, and they are certainly to be lauded. But there's less talk of aging services staff and volunteers who are keeping older adults fed and housed, never mind much mention of older adults and how they are coping during shelter-in-place orders, or what they might have accomplished while sheltering. 
To shine a light on these lesser-known heroes, AgeBlog spoke to one Adult Protective Services Supervisor in San Francisco and one volunteer who is President of San Francisco's Disability and Aging Services Commission Advisory Council. As a bonus, through President and CEO of Self Help for the Elderly Anni Chung, we have highlighted short stories of local elders' reactions to shelter-in-place orders. 
New Job Description, Same Passion for People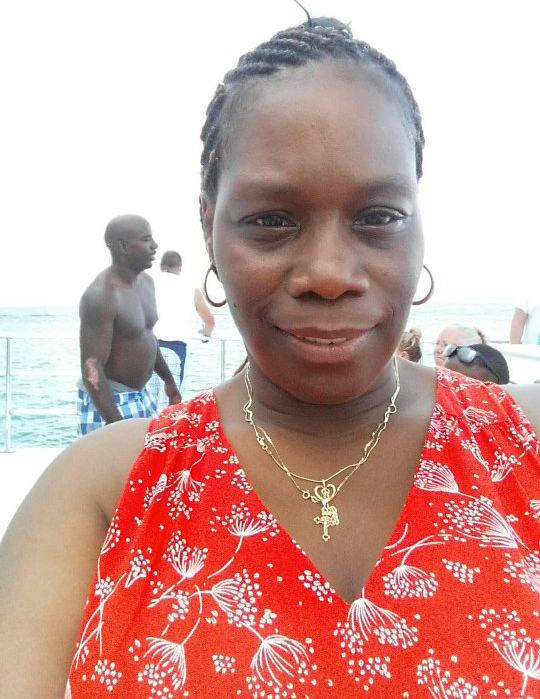 Phyllis Pettus, 50-something, lives in San Francisco and generally supervises a unit of four to six staff responsible for evaluating, assessing and taking action on allegations of elder abuse. Her role is to support their work and be a liaison when things get tough. "It is our mandate at APS (Adult Protective Services) to investigate allegations of abuse. Our target population are older and dependent adults. Older adults are anyone (ages 65 and older), and dependent adults are those between the ages of 18 and 64, with a mental or physical disability which interferes with their ability to self-protect," said Pettus. 
APS, unlike Child Protective Services (CPS) is a voluntary program (clients have the right to refuse services). APS receives approximately 500-700 reports of abuse per month, made by law enforcement, doctor's offices, neighbors, banks, caregivers, family members, "anyone, really," said Pettus. Supervisors assess reports and assign response times for master's-level Social Workers to investigate, and when allegations are confirmed put services are put in place to support clients and mitigate harm going forward.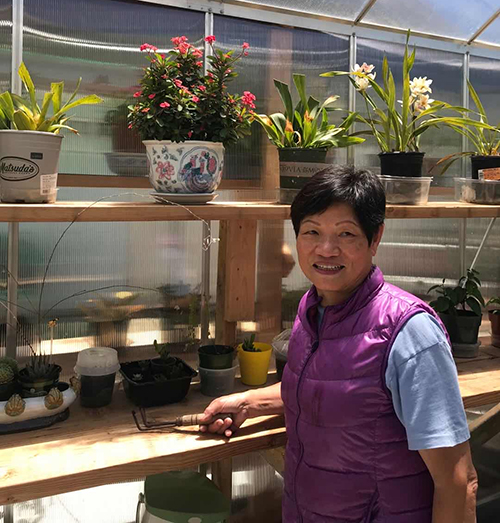 Linda L., 72—The Mask Seamstress
Linda L. lives with her son and his family. Around March 16, when shelter-in-place orders dropped, her son set up a greenhouse for Linda in their backyard. She exercises for an hour each morning and eats breakfast, then heads into the greenhouse to organize and take care of her potted plants. At noon she prepares lunch for her family. 
Then after lunch each day Linda, who's an expert seamstress, sews masks. So far she has completed more than 1,000 masks for older adults and her friends. Finding herself still not quite occupied enough, she cooks dinner for her family and enjoys the extra time she has with them. And she keeps track of her many friends through WeChat. 
Since the pandemic, Pettus' job has changed considerably. As soon as COVID-19 hit, Pettus, who like all city employees is a designated Disaster Service Worker, spent eight weeks telecommuting before becoming a site manager for one of the hotels the city of San Francisco is using to keep people off the streets during the pandemic. She's responsible for managing the hotel and all the contracted vendors who are providing for guest needs, from three meals a day to medical services to clothes, laundry, and behavioral health services. 
"I began by managing one site, and shortly afterward a second brand-new site was added, which is fine," said Pettus. Both sites are Shelter in Place (SIP) sites. One site is for transitional age youth and is partnered with a community-based organization that provides direct services to guests. "My role is to support the work they do, to make sure they have the tools, equipment, and supplies that they need. This includes some management of the vendors used to provide services such as food, clothing, PPE (Personal Protective Equipment), etc." 
The second SIP site she manages is for guests ages 18 to 89, who are expected to be independent—meaning that even if they have a physical or mental disability or age-related mobility issue, they are still able to manage their own care. 
Both hotels are housing people thought to be COVID-19 negative, Pettus says. "Our work is to try to make sure they stay negative."
The idea is to keep people in place to reduce the spread of the disease. "Some are coming in off the streets, and some don't have clothes. So we provide them with everything they need to stay inside—three meals a day, behavioral support, caregiver support, case management, there are a ton of services available to people," Pettus says. 
"These sites have the benefit of helping with homelessness," Pettus added. "There's a lot of misconception of who is homeless. Not everyone is out there because they want to be, there are a lot of older adults who were staying in houses or apartments for many years, but as the economy changed, and the rental market got hot, landlords were figuring out how to get people out, and raise those rents. 
"One factor of the aging process can include individuals who are cognitively impaired, who are often unable to manage their finances, they're not opening mail or paying bills and they get evicted. These people end up in shelters or on the streets," Pettus added. But now these same formerly housed older adults are in hotels run by people like Pettus. 
Statistically, it appears to be working. San Francisco Mayor London Breed declared a local emergency Feb. 25, and a stay-at-home order on March 16. As of mid-June, San Francisco had 2,971 cases and 46 deaths, with a case trajectory trending downward. As a quick comparison, Columbus, Ohio, which has a similar population size, has had 5,413 cases and 263 deaths.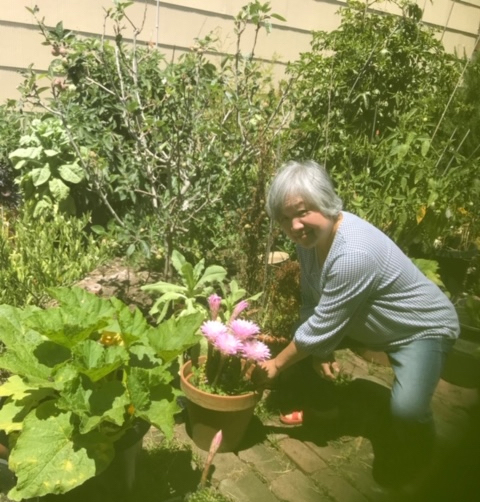 Jenny L., 70—Social Conductor and Dim Sum Maker
Jenny L. is generally a very active person. Like Linda, she exercises for an hour every day, then after prepping three meals she gardens. Since the shelter-in-place orders took effect she says she knew many of her older friends needed help, so she calls them daily, procures what they need and delivers it.
Sheltering in place also has allowed her to learn how to sew and to make dim sum. 
Keeping the Brain Nimble and the Resources Available
Diane Lawrence, 73, is a fourth generation San Franciscan who for years worked as a vice president of underwriting for the State Compensation Insurance Fund and now volunteers in her parish and as President of the Advisory Council to the Disability and Aging Services Commission. The Commission has 22 members, representing the 11 supervisorial districts in San Francisco. 
"We are the eyes and the ears in the community," says Lawrence. "We do site visits at congregate meal sites and senior centers, checking on the food, signage, etc. Some district members are very active in the local community with senior activities, and in my district, my counterpart has an organization called Senior Power that works in education and socialization."
Other members serve as ombudsmen for nursing homes and residential care facilities, and some teach senior programs. "Sometimes I look at what all the members are doing and think, Oh My God," said Lawrence. 
Of course, since the pandemic, all this energy has transferred to online outlets. "We literally haven't met since February," said Lawrence. They're having scaled-down virtual meetings instead. 
Ivy C., 72—Babysitter, Pastry Delivery Person
Ivy C. babysits her grandson two days a week, and has cleaned out all of her closets, sorted her clothes and taken the extras to homeless people and the Goodwill drop off-center. 
Missing her friends, she regularly picks up and delivers pastries to them and to her neighbors, as well as texting and emailing her buddies to share news about the virus and other health issues. When in need of fresh air she walks around Golden Gate Park and pulls weeds in her backyard. 
Lawrence thrives on the feeling that she's making some kind of a difference, she said, plus it is intellectually stimulating work and she has met some amazing people. "I love becoming aware of all that gets done and where to get help because that is so difficult for people. … Now I can refer people.
"It sounds silly, but I was doing a walk with a retired school teacher last year and because of my work on the pedestrian committee, I was able to describe exactly what you do to get a sidewalk fixed," said Lawrence.
She recommends that anyone who's on the fence about volunteering, to "just stick your neck out there. Most people are so welcoming, and they're glad for the extra pair of hands. There are so many opportunities, whether you're reading to little kids, picking up the phone, doing neighborhood outreach or checking in with a wellness call. My mother did that in the early stages of Alzheimer's and it gave her such dignity," Lawrence said. 
Her term as council member ends in December, but Lawrence has already applied to be reappointed. "I don't see any reason to stop as long as I can make a contribution and can physically do it!"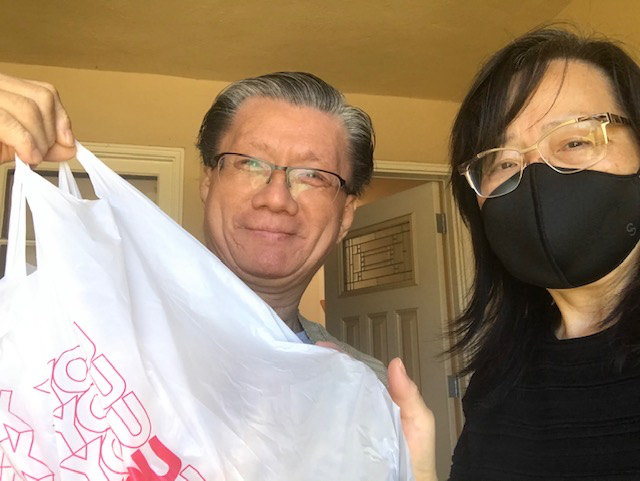 Stella L., 66—Food Bank Runner
During shelter-in-place orders, Stella L. has been picking up and delivering pop-up Food Bank pantry bags to older adults in need. And she volunteers as a food runner, collecting donated bakery goods and delivering them to high-risk elders who cannot take a chance by leaving their homes. 
Also, she keeps her 91-year-old mother entertained as she shelters in place, too, and can no longer attend activities at the nearby senior center.