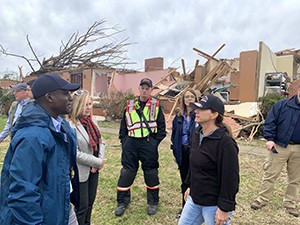 By Hodgen Mainda
America's older adults are invaluable members of our communities and deserve our utmost appreciation and attention. The older adult community offers all Americans their unique wisdom from years of life lessons, which is so important as our country continues to combat the coronavirus pandemic, and as we look toward fall, which can bring fires in the West and hurricanes along the eastern seaboard and in the South. In my home state of Tennessee, we are still recovering from a series of natural disasters throughout middle and southeast Tennessee. 
During this uncertain time, as older Americans are among those most vulnerable to the ravages of natural disasters and now COVID-19, we must acknowledge that far too many of them also face hardships from scammers, loneliness and social isolation. Additionally, many in Tennessee are seeing lingering effects from devastating tornadoes and the derecho—a fast-moving band of thunderstorms with highly destructive winds—that we experienced this year. Because of my Department's diverse role overseeing commerce and insurance during a disaster response, we have been on the front lines responding to this year's unfortunate events, as we have simultaneously safeguarded our most vulnerable population. 
According to the U.S. Senate Special Committee on Aging, older Americans lose an estimated $2.9 billion annually from financial exploitation. As Tennessee's older adult population is among the most susceptible to fraud and other financial schemes, one of my priorities is to safeguard older adults in Tennessee from financial exploitation and other harmful scams. 
One scam prevalent after Tennessee's series of natural disasters was the ubiquity of fraudulent contractors. In response, my Department held a press conference reminding Tennesseans that if someone offers you something that is too good to be true, often it is. We also encouraged people to go to the TN Depart of Commerce and Insurance License Search and Verification website to check that their contractor is licensed to work in Tennessee before agreeing to allow them to repair or rebuild a home following a disaster. Lastly, we encouraged everyone to visit the Comprehensive Online Regulatory and Enforcement System to file a complaint if they experienced fraudulent behavior. 
Additional tips are as follows:
If a contractor promises you something, get it in writing.
Keep records of all property damage and any repairs made to your property.
Avoid high pressure sales tactics urging you to act quickly before signing a contract. Take time to make a good decision.
Be wary of contractors selling repairs door-to-door, especially when they ask to receive payment upfront or offer deep discounts.
Generally, do not pay more than a third of the cost upfront, and make sure you have the terms of the payments to be made in writing.
If you feel pressured by a contractor or if someone claiming to be a contractor; or if an insurance adjuster approaches you and asks for personal information or banking information, walk away. Contact law enforcement immediately.
For additional resources, please check out our disaster website at tn.gov/commerce/disasters. 
Other relevant recent scams include fraud perpetrated by scammers via fake coronavirus testing sites, which carry the risk of identity theft. We recently sent out a press release detailing the threat of this nationwide COVID-19 scam and the steps to take to avoid it. Scam artists are using the pandemic to better themselves at the expense of the older adult community and others. It's important that older adults are aware of the fraudulent tactics being used by scammers falsely posing as legitimate insurance and healthcare providers. At these phony coronavirus testing sites, consumers give out insurance and other personal identification information as required to be tested. Unfortunately, valid tests are not administered, and the patient never receives the test results. 
After the guidance our Department distributed to health insurance companies in Tennessee, they agreed to fully cover medically necessary coronavirus testing. It is important for people to go to legitimate testing sites acknowledged by state or county health departments. Tennesseans can click here to find a testing site near them. 
If they suspect financial fraud they can file a complaint or speak with an investigator at the Tennessee Securities Division, 615-741-5900. For insurance specifics Tennesseans can reach out to the Consumer Insurance Services Section at 615-741-2218.
The combination of COVID-19 and disaster recovery made it even more difficult for many families to visit or assist their older parents and grandparents. Especially those living in nursing homes—who have been largely cut off from personal contact due to the pandemic. We must recommit to doing what we can to support and care for these older adults and to remember the signs of abuse, so that our loved ones do not become victims.  
Let's support our older adult communities to ensure they can continue to live lives filled with joy and to be able to appreciate the freedoms they have long fought to maintain; by familiarizing ourselves with these helpful red flags of abuse and scams, while staying in safe contact with them as we all continue to combat this year's series of unprecedented events.  
---
Hodgen Mainda serves as the Commissioner for the Tennessee Department of Commerce and Insurance and State Fire Marshal.
Image (top): From left: Commissioner for the Tennessee Department of Commerce and Insurance Hodgen Mainda, U.S. Sen. Marsha Blackburn, local firefighter, Gracia Szczech, FEMA Region 4 Regional Administrator, and Tennessee's First Lady Maria Lee survey what remained of Cookeville, Tenn., following the Middle Tennessee Tornado of March 2-3, 2020, which killed 25.
Photo courtesy of Abbey Dennis